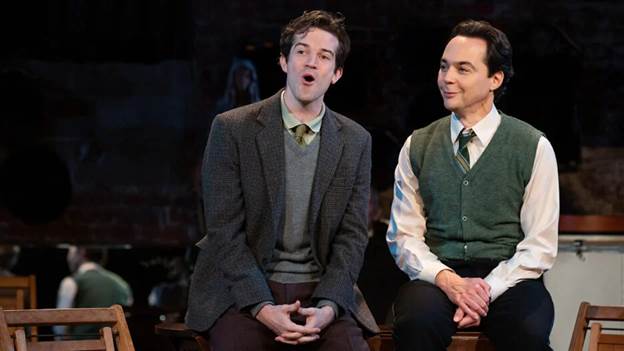 (l-r) A.J. Shively and Jim Parsons (Photo: Julieta Cervantes)
A Man of No Importance
By Fern Siegel
"You love who you love," Alfie Byrne, a middle-aged bus conductor in 1963 Dublin explains to a friend. Alfie is making a philosophical statement, but quietly underscores the "love that dare not speak its name." Yet in his specific circumstances, given the religious and social repressions of the time, the line is particularly poignant.
Alfie, played with gentle restraint by Jim Parsons, best known for The Big Bang Theory, is a deeply closeted man boasting two passions: directing productions of the St. Imelda Players' amateur theater group and Oscar Wilde. He wrestles with his small-minded conservative Irish world, forever hoping to invoke his hero's mantra: "The best way to resist temptation," said Wilde, "is to yield to it."
Now off-Broadway at the Classic Stage Company, the musical A Man of No Importance posits serious themes, but delivers them as drama lite. The violence and anger that inevitably accompanies a world of sexual and political repression is staged with minimalism by director John Doyle.
The revival of the 2002 musical, an adaption of the 1994 movie, is based on a book by Terrence McNally with music by Stephen Flaherty and lyrics Lynn Ahrens, the trio responsible for Ragtime. Importance also boasts a Doyle trademark: Actors play musical instruments on stage.
There is something touching about a group of ordinary people for whom theater is both distraction and salvation, evident in the stirring number "Going Up." But Alfie takes it a step further. His latest endeavor, The Importance of Being Earnest, was a bust, so he decides to produce Wilde's often-banned play Salomé.
Alfie encourages Adele (Shereen Ahmed), a country girl who has escaped to Dublin, to play his female lead. They form an emotional bond as outsiders, tacitly acknowledging that those who profess to uphold societal values often prefer cruelty to compassion.
The provocative show — intimations of sex, John the Baptist's head on a plate — proves too much for the parish priest and the church council, which threatens to ban it and the use of the church hall.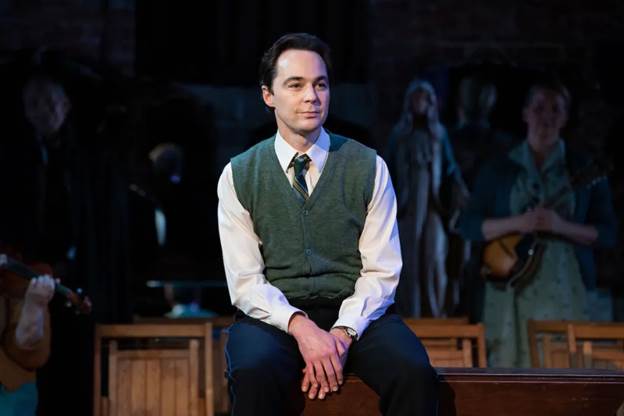 Jim Parsons (Photo: Julia Cervantes)
At the same time, Alfie's desire for his co-driver Robbie (A.J. Shively) bubbles to the surface, forcing him to acknowledge his own desires — with predicably awful results.
What speaks to audiences is the desire to censor a work deemed controversial and to obliterate someone for being different. Alfie is a sweet man whose enthusiasm for theater is infectious. He looks for color in a drab world. He hopes for a moment of artistic transcendence — even on a Dublin bus. Alfie sees purpose in ideas and values passion, but he fails to see how vicious the bigotries and myopia of Mr. Carney (Thom Sesma), the butcher and church council head, can be. Carney who professes to be enamored of the theater, remains imprisoned by his own pettiness and intolerance.
Parsons doesn't deliver the pathos Albert Finney did in the film version, but he does allow audiences to witness the pain of a bifurcated life. His loneliness is exacerbated by his sister (Mare Winningham), an insular woman defined by church and society. Dismissive of his literary and culinary efforts, she prays for her brother to find the right girl. Like most of Alfie's world, including the friendly riders he entertains with poetry and prose on their journeys, she is oblivious to the inner man.
Shively and Whittingham deliver their numbers well and though Parson doesn't possess their singing chops, his Alfie does evoke Thoreau's line: "Most men lead lives of quiet desperation and go the grave with the song still in them."
There are some moving ballads here, while Doyle's bare staging — a desk, a few chairs — illustrates the bleak, unfulfilled lives the characters lead. A strong ensemble deftly delivers that message.
Alfie is cast as a man of no importance, but his dreams and aspirations suggest that what is important is a full life, where everyone, if only for a few hours on stage, has a chance to soar. The terrible consequences of preventing such flights may be this thoughtful musical's most important lesson.
A Man of No Importance, CSC, 136 East 13 Street, through Dec. 18
Running time: 105 minutes, no intermission
Tickets: www.classicstage.org