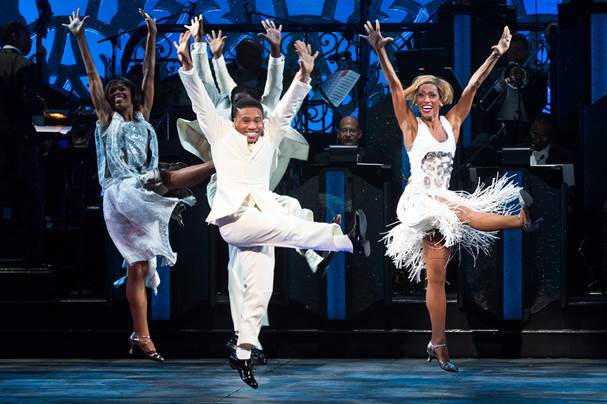 Erin N. Moore, Virgil "Lil O" Gadson, Karine Plantadit          Photos by Joseph Marzullo/WENN
After Midnight!
                                                              By Jeanne Lieberman
In a season rife with the cerebral pleasures of Shakespeare, Pinter, Becket, its time to get visceral. As Dulé Hill advises, drawing on Langston Hughes for narrative touches throughout: after midnight in Harlem your heartbeat is a drum beat.
And indeed the first  drumbeat laid out by the 16 musicians hand picked by artistic director Wynton Marsalis, called The Jazz at Lincoln Center All-Stars, launches you on a magical musical carpet ride that will eventually carry you on out to the street.
The fabric of that magic carpet is the music of Duke Ellington, Ted Koehler and Harold Arlen, Dorothy Fields and Jimmy McHugh and others.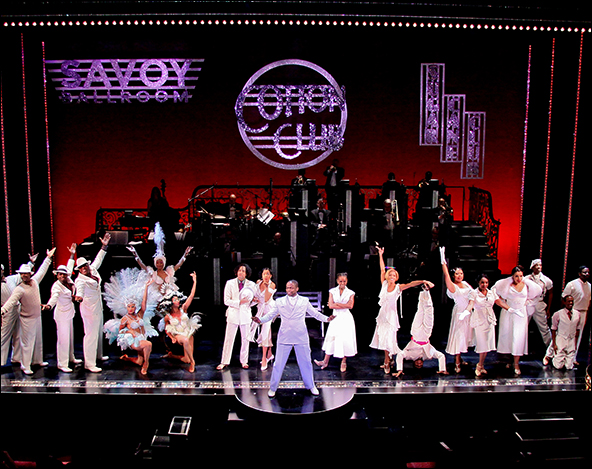 Dulé Hill and cast
That ride is a trip back to Harlem's Cotton Club of the 20's and 30's meticulously recreated by Jack Viertel who conceived it originally for the City Center Encores! production the Cotton Club, directed and choreographed by Warren Carlyle who keeps the show moving and the energy up, on minimalist yet striking sets by John Lee Beatty; enhanced by lighting designer Howell Binkley and the all important sound design by Peter Hylenski.  Isabel Toledo's costumes keep the cast chic ad sexy, and Charles G. LaPointe's hair designs keep them true to the era.
But that time was not as happy as depicted onstage. It was the Depression. Segregation reigned unchallenged and, though the cast was all black (including such greats as Ethel Waters, Bessie Smith, Billie Holiday, Cab Calloway, The Nicholas Brothers, Louis Armstrong, Dizzy Gillespie, Fats Waller, Ella Fitzgerald, and a 16-year-old Lena Horne) the audience was all white. On might see Eddie Cantor, Jimmy Durante, George Gershwin, Mae West, Irving Berlin, Moss Hart, Al Jolson, and New York Mayor Jimmy Walker lending their panache to the proceedings.
Escape was provided in the uniformly high spirited "acts" lovingly and ingeniously recreated. Some will appeal more than others according to individual tastes but the cumulative whole is greater than its parts even when its parts are individual polished sparkling gems.
Fantasia Barrino opened as current "headliner" in a series of celebrity guests who will be gracing the stage.   She credits her big voice to singing in church choirs, but she slips with surprising ease into a sophisticated scat and jazz as in vocals as in her spirited interaction with a quartet of taunting guys on  "Zaz Zuh Zaz" (by Cab Calloway and Harry White), or lending the Dorothy Fields and Jimmy McHugh classic "I Can't Give You Anything but Love" a bit of vampy sensuality.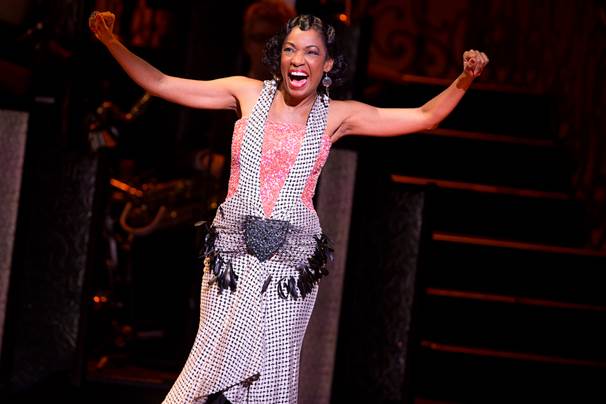 Adriane Lenox
Another  "chanteuse" is the sassy Adriane Lenox in  her cautionary musical lesson about not flaunting your man  in order to keep him "Women Be Wise," (by Sippie Wallace), or later the scolding "Go Back Where You Stayed Last Night," (by Sidney Easton and Ethel Waters). Carmen Ruby Floyd was absolutely spellbinding in Ellington's "Creole Love Call"  wordless yet ultimately expressive in musical conversation with the band.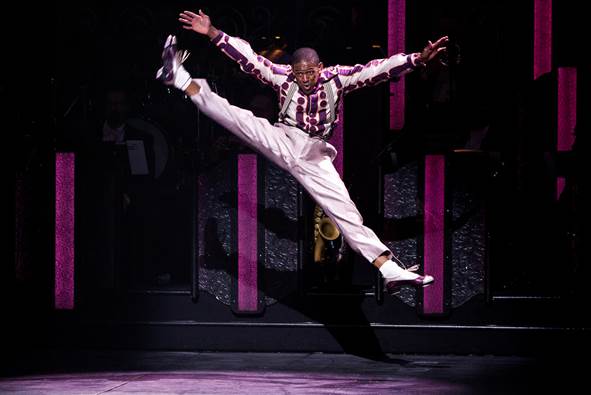 Jared Grimes
One might spot modern, jazz and ballet notable Desmond Richardson slinking through "The Mooche" or Jared Grimes, tops in taps. Certainly one of the many highlights is the stunning duo, Virgil Gadson sleek and speedy be it on his feet, back or hands and rubber limbed   "iGlide" Julius Chisolm in the number "Hottentot" (by Fields and McHugh) Other s in this 15 member cast of stand outs are Karine Plantadit, Dormeshia Sumbry-Edwards, Phillip Attmore, Christopher Broughton, C. K. Edwards, Erin N. Moore, Monique Smith and Daniel J. Watts.  Their performances a series of gems that shine brightly alone but blaze in unison.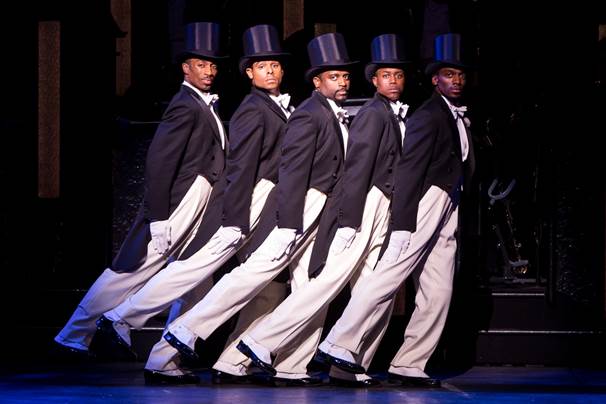 This said the ultimate star if the show is its music. As with the cast, each musician seems to have his moment in the spotlight inserting himself in solo moments which often speak as eloquently as lyrics. They are deservedly onstage through the excursion.
Spoiler Alert! Just when the energy of the show mounts higher and higher towards its inevitable concluding finale - don't leave!
As the performers leave the stage after their bows the band miraculously slides forward and just takes over – rewarding the audience (many of whom stood transfixed midway to the exits, mesmerized) with a mini concert filling the house with glorious, pure sound until the drumbeat actually does morph from cerebral to visceral and your heartbeat does echo the music's rhythm – cardiologists take note. It can happen!
Brooks Atkinson Theater, 256 West 47th Street, Manhattan, 212-745-3000, ticketmaster.com. Running time: 1 hour 30 minutes.