Brandon Haagenson and David Merten
                    By David Schultz
Upon entering The Loft at The Davenport Theatre I had to walk onstage to cross to my assigned seat. This Black Box mini theatre has a mere 99 seats. The stage is centered with seats facing each other. In the center of the stage sits a square boxing rink swathed in white sheets floor to ceiling. Sinuous music surrounds the atmosphere with a deep base undercurrent. As the lights go down, moans and orgasmic utterances emanate from within…as the climax reaches its zenith, the white sheets fall to the floor, exposing three young men, naked and exhausted from their sexual roundelay. Two men in their early thirties Josh (Brandon Haagenson) and Alex (Joe Chisholm) are a married couple that regularly enjoy threesomes; men they usually find on gay apps online. This evening their "trick du jour" is a young twink named Darius (David Merten). The men seem to have enjoyed themselves and it seems to be going along as per usual. But the sexual passion segues into affection and an attraction that strays from the usual path that Josh and Alex have been accustomed to having; and it soon rears its ugly head. With a benevolent nod Alex seems to have no qualms about his lover Josh making an afternoon play date with Darius later in the week.
This oh-so-shocking…. though not really that shocking scenario is the set up in playwright S. Asher Gelman's new play. One modern twist, the married couple is expecting a child with a surrogate in a few months. Underlying unspoken fears abound with this life-changing event. Any savvy theatergoer or moviegoer can see where this is heading of course. But nonetheless the machinations of plot, mingled with excellent performances from the trio still create an ineffable tension throughout its brief 90-minute running time.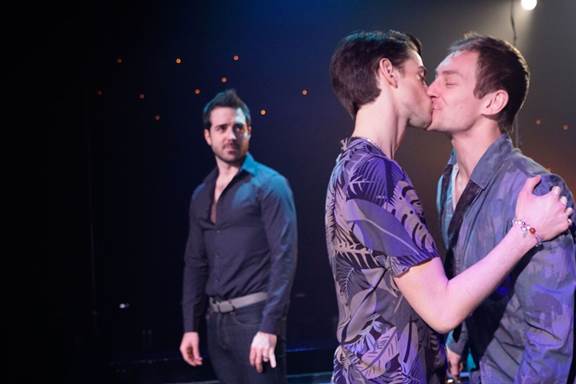 John Chisom, Brandon Haagenson and David Merten                   photos by Mati Gelman
Alex and Josh have been together for five years, and seem to communicate with each other both verbally and non-verbally with innate knowledge of each other. So it comes as a shock to the system that after a short time, with Josh spending inordinately more quality sexual time with Darius at his small pad, things start to get messy with slowly roiling jealousy coming to the forefront. Josh is the more needy of the two, since Alex shuns his puppy dog neediness. Josh's emotional needs are not being accommodated as it was in the early stages of his relationship, and hence Darius fills a void that has been there for a long time. Darius enjoys the attention, and is secretly envious of what appears, at least on the outside to be a perfect union of his newfound couple. Alex has slowly imperceptibly withdrawn from Josh, both psychologically and physically so the open marriage arrangement suits him more than he realizes…. until of course the realization that what he wanted all along was right next to him.  It is mysterious why Darius would stay in this ménage, since at heart he knows that it is doomed to fail.
In short scenes the men grapple with trying to figure out what can possibly come of this untenable situation.
Scenic Designer Ann Beyersdorfer cunningly works wonders with the postage size set. The center stage is deconstructed and moved about by the three actors throughout the production. The center stage bed is moved, and various black boxes become tables and chairs and a massage table. On two or three occasions the inner center section becomes a shower with actual running water cascading down with the men soaping and washing their naked bodies between sexual encounters. Even though full nudity is on display, Afterglow attempts rather unsteadily to tear away at the surface of these confused men and decipher an inner truth. The melodramatic material seems compelling while watching it unfold before you.
But in retrospect, in the inevitable morning after, it seems to be just a variation of any typical tale of an affair that starts fast and ends with a crash. There is something simultaneously comforting and disturbing watching the scenario yet again. The kicker is that the conflict of the participants involved is so compelling that you are in a suspended state of not really knowing what will happen at the finale. The play ends with a freeze-frame moment, leaving it up to each viewer to decide the outcome of this fractured, sex-fueled trio.    
Afterglow
Playing at The Loft at the Davenport Theatre
354 West 45th Street between 8th & 9th Ave.
$69.50-$79.50
212-956-0948
Playing through July 1st