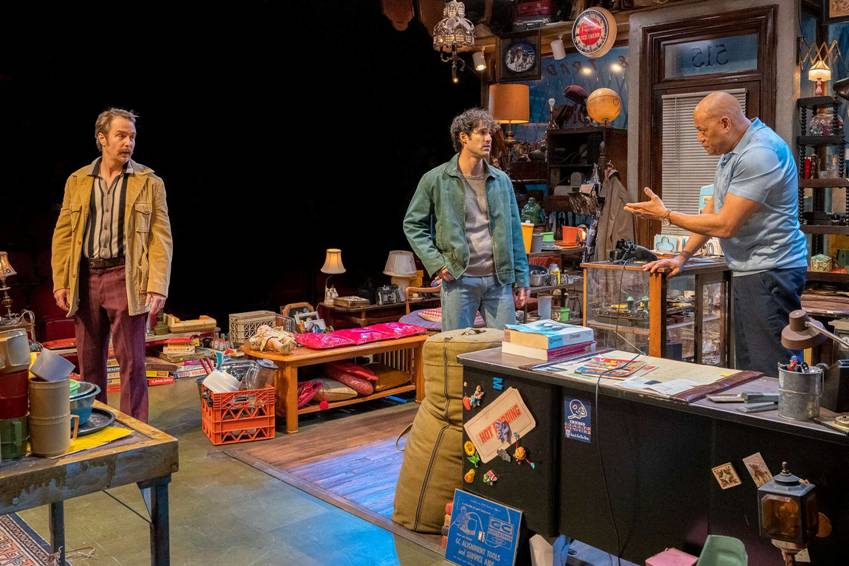 Sam Rockwell, Darren Criss, and Laurence Fishburne        photo by Neck Termine
American Buffalo
                        By David Schultz.
A starry cast of three superb actors Laurence Fishburne (Donny), Sam Rockwell (Teach) and Darren Criss (Bobby) try as they might can't hide this simple fact…. this once heralded play has not aged well at all. All the unique and fresh rhythmic cadences of speech mixed with awkward silence, comingled with portents of doom-laden atmospherics are not nearly as fresh as they seemed decades ago. The fact that Mr. Mamet, perhaps intentionally embroiled himself in lunatic controversy during previews was meant as a smokescreen to divert attention away from the play at hand. Going on Fox News Mr. Mamet calmly argued that most teachers are inclined to pedophilia, and students were being groomed. He also appeared on the Bill Maher show promoting his latest book and railed against his skewed thoughts on the end of free speech. His right-wing talking points were definitely wildly off kilter, and actually were more interesting in a bloated controversial manner than anything seen on stage at The Circle in The Square Theater.
One can and must separate the man from the play…. naturally. But the savvy New York Theatre crowd certainly had read all this claptrap in the news. His overarching conservatism has caused his worldview of humanity to dissolve. He stated his dark view in various news organizations. "I began to question what I actually thought and found that I do not think that people are basically good at heart; indeed, that view of human nature has both prompted and informed my writing for the last 40 years. I think that people, in circumstances of stress, can behave like swine, and that this, indeed, is not only a fit subject, but the only subject of drama"
This play certainly adheres to this withering worldview. The show's two brief acts are set in a huge disordered junk shop in Chicago, expertly rendered by set designer Scott Pask. The slow-moving scenario takes a while to gain steam. The classic staccato rhythmic cadences are there…. half-finished sentences…repetition…. Menacing glares…near operatic expletives bleated out in abandon. The mysterious elusive fragments of dialogue are all on vivid display. All this verbal pyrotechnical display falls strangely flat in this production. The seasoned cast is not to blame. They all bring decades of film and theatrical expertise to the stage. The director Neil Pepe certainly knows how to move his actors on the thrust stage with an amazing 4,000 piles of detritus and junk galore that clutters the environment. The problem oddly has to do with the story itself. Spiraling around in circles that form into other circles, this problematic storyline seems, at first glance to be heading toward an explosive epiphany, but the ride just lurches forward with a few side trips to a surprisingly meager ending.
The plot: Donny (Laurence Fishburne) has sold a supposedly cheap buffalo head nickel to a customer. The customer seemed overeager to purchase it, knowing it was worth much more than the 50 cents that initially was the sale price. Instead, Donny sensed this was a rare coin, and after a bit of back and forth offered to sell the coin for 90 dollars. After this scene (Taking place before the play begins) Don starts to think he was screwed out of a much higher price he could have charged his customer. Hence the plot begins in earnest, as he plans to break into his customer's house and steal back his coin. Of course, he needs a few shady pals to help him in this endeavor, enlisting Bobby (Darren Criss) and Teach (Sam Rockwell). Slow witted Bobby is no match for sly manipulative Teach, so naturally he attempts to convince Don that he alone can smoothly break-in and snag the coin. The entire play unfolds on a single day. Much of the remaining timeframe revolves around the lead up to the heist. Small talk, petty arguments and insignificant slights of miscommunication abound. A sense of desperation and unease adds to the slowly roiling tension. Friendship and honor among men is systematically laid out. The misguided trust and loyalty among the trio is severely tested as the storyline winds and bends to its surprisingly wan conclusion. It is peculiar that this once volcanic play seems rather mild and dare I say quaint. With all the embedded expletives thrown about like explosives, this once highly regarded work has not aged well.
Fun to watch in rare moments of course, this crackerjack cast surely enjoys this acting exercise. But to coin a phrase, albeit a corny one…. this emperor has no clothes.   
Circle in The Square Theatre
235 West 50th Street NYC
Playing through July 10th