ANN REINKING, Tony Award Winning dancer, choreographer, actress, director, dead at 71.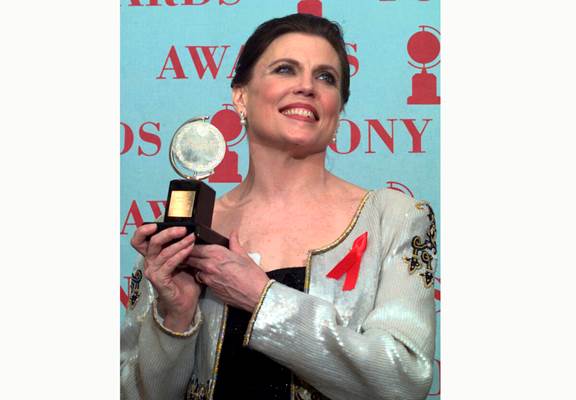 NEW YORK — Ann Reinking, the Tony Award-winning choreographer, actress and Bob Fosse collaborator who helped spread a cool, muscular hybrid of jazz and burlesque movement to Broadway and beyond, has died. She was 71.

Reinking died Saturday while visiting family in Seattle, said her manager, Lee Gross. No cause of death was disclosed.

Tributes poured in from the Broadway community, including from Tony Yazbeck, who called her "an absolute inspiration," and Leslie Odom, Jr., who thanked Reinking for being a mentor: "She honored the calling for real. RIP to a legend." Bernadette Peters took to Twitter to say her heart was broken and Billy Eichner said she was "one of the most mesmerizing people I've ever seen on stage. A singular genius. RIP."

with Chita Rivera
"I'm beyond words to hear of the sudden and untimely passing of my dear friend Ann Reinking. The world has lost such a beautiful soul and talent," said Chita Rivera. "I loved sharing the stage with her whenever we could. Her spirit and razzle-dazzle will be with me forever."

Kristin Chenoweth described Reinking as "an inspiration (to) all of us in the Broadway community." "May we remember her at her happiest: dancing," she added. "Rest In Peace, Ann. Thank you for always being so kind and supportive of me."

Lin-Manuel Miranda was among those praising her talent. "A singular talent has left us," he wrote on Twitter. Jason Alexander added: "She was a pure joy — fun and funny and endlessly kind and talented. Heaven's chorus line just got a star."

Reinking's career began in Seattle, where she grew up. In the beginning, she wanted to be a ballet dancer, "like all girls," she said. As a student, she won a scholarship in San Francisco with the Joffrey Ballet, but at many of the students' after-hours improvisations, she would just sing and not dance.

Robert Joffrey said that with her outgoing personality and other abilities, she should pursue musical theater. "I waited tables to save up enough money to get here," she said of New York City, where she arrived with a round-trip ticket back to Seattle and $500. She didn't need the return trip.

Reinking's break was strung out over several shows. She was in the ensemble for Broadway's "Coco," which starred Katharine Hepburn as Coco Chanel, in 1969, and was in the chorus of "Pippin" in 1972, picked by its director and choreographer, Fosse. The ensemble was so small — there were only eight — that the dancers were really seen.

Choreographer Pat Birch was one who noticed, and in 1974 put her in "Over Here," a World War II musical starring two of the three Andrews Sisters and featuring an another unknown, John Travolta. It led to a starring role in "Goodtime Charley," a musical about Joan of Arc, opposite Joel Grey. The musical was not a success, but it did make theatergoers look at Reinking as a principal performer and not just a member of the chorus.

Her other big break, she said, was in "Dancin'" in 1978, "because I realized you had to be in an original part and that show has to be a hit." The music-and-dance revue directed and choreographed by Fosse was, running more than three years and earned her a 1978 Tony nomination.

And she embarked on an eclectic film career — from playing Roy Scheider's lover in Fosse's 1979 semi-autobiographical film "All That Jazz," to the screen version of "Annie" to Blake Edwards' "Micki and Maude."

In 1998, she co-directed "Fosse," a salute to the man who had the largest influence, both professionally and personally, on her life. He once called her "one of the finest dancers in the jazz-modern idiom."
Editor's note: As a former dancer, Ann was an idol.
We all wanted to be either Gwen Verdon or her.
I am glad she eventually came out from behind Gwen's shadow into her own well deserved spotlight.
Jeanne Lieberman, publisher