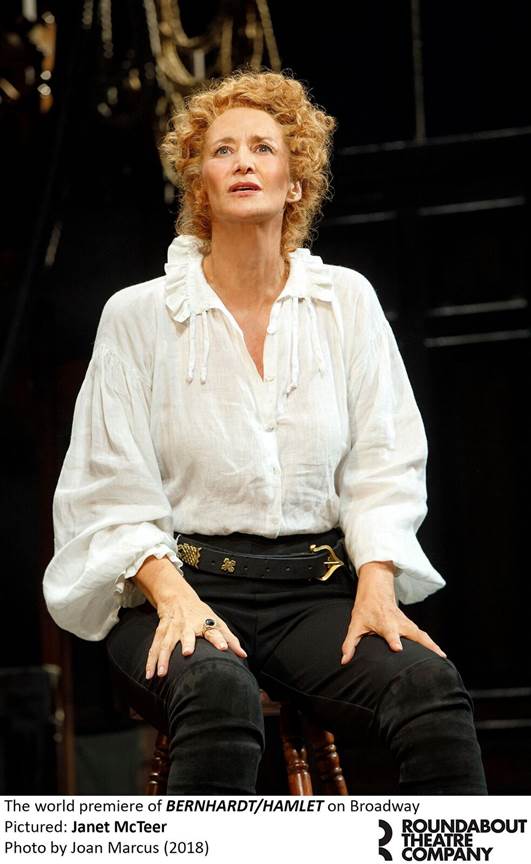 By Ron Cohen
"No matter how much you loved how beautifully I might play the ingenue, it was always beneath me. It is beneath all women." So declares the legendary French actress Sarah Bernhardt, as portrayed by the acclaimed English actress Janet McTeer in Bernhardt/Hamlet by the esteemed American playwright Theresa Rebeck. It's being given its Broadway world premiere by Roundabout Theatre Company. And while you might question the rationale of this total slam against ingenue roles, it registers like a storm-the-barricades declamation of feminism, one that at the performance attended drew a burst of appreciative audience applause.
The passage is well indicative of the play in which matters of theater and gender are debated with a ferocity and passion that would befit matters of life and death. But then again, this is theater, so it all seems right, as Rebeck – in bountiful stretches of dazzling writing, directed with appropriate dazzle by Moritz von Stuelpnagel -- takes us through the process in which Bernhardt readies herself to play Shakespeare's -- and perhaps all of theater's -- most iconic role, Hamlet the Prince of Denmark.
While women playing Shakespeare's big male roles are no longer a rarity, this is happening in 1897 in Paris, and the move is seen as tradition-breaking, perhaps even taboo-breaking, one that could scuttle Bernhardt's career, which despite its fame is at the time perilously low on finances. We hear a critic call the idea "grotesque."
While fending off the arguments against her doing the role, arguments that of course are often more sexist than artistic, Bernhardt is also finding the role difficult to inhabit.  She is confounded by Hamlet's lack of action and Shakespeare's wordiness and poetry. The first act builds to a decisive moment: she commissions the playwright, Edmond Rostand, with whom she is having an affair, to write an adaptation minus the poetry.
"You want me to rewrite Hamlet?" says a confounded Rostand, providing the close of the first act with a sense of suspense as well as a laugh.
Rebeck's narrative gets a little diffuse in the second act, however. As Bernhardt continues to rehearse, Rostand's battle to rewrite Hamlet also takes center stage. It's a task he cannot complete as he constantly is forced to compare Shakespeare's genius with his own talent. His affair with Bernhardt is another problem, as he is a man devoted to his wife and children. With all this going on, though, he is somehow able to write his masterpiece, Cyrano de Bergerac, but the fact that he has written the role of Roxanne for Bernhardt inflames her, because of its unimportance next to that of Cyrano.
A scene from Cyrano is included in Bernhardt/Hamlet. It's an amusing classic fragment, but it also feels like an unnecessary distraction from the main story, which at the final curtain still seems a bit unresolved.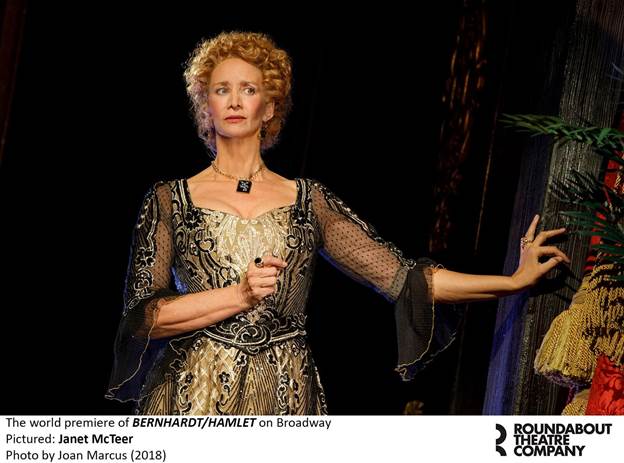 While McTeer's Bernhardt may come across considerably more English than French, she brings a winning brand of legend-type wattage to the role. She is vibrant, elegant, funny and deep. with just a slight shadow of Bernhardt self- doubt occasionally slipping through. We hear about her legions of lovers, but she radiates a seductiveness that comes more from intelligence rather than sensuality. At the same time, she looks smashing, both in her swashbuckling Hamlet garb and her glittering turn-of-the-last century gowns, the costumes designed by Toni-Leslie James.
There are terrific suggestions of the power of Bernhardt's performance…or perhaps more accurately, they're displays of McTeer's own thespian prowess. Whatever the case, the scene in which she explores Hamlet's meeting with the ghost of his murdered father, as she and her fellow actor get ever deeper into the moment, is a stunning depiction of the acting process, and her interpretation of the "what a piece of work is a man" monologue is both revelatory and mesmerizing. In total, her presence brings a sense of event to the entire project.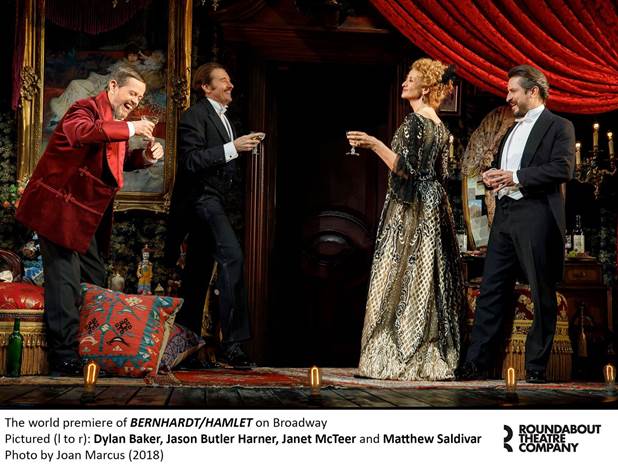 Throughout much of the proceedings, McTeer receives fine support from Dylan Baker, portraying the revered older actor Constant Coquelin. For Bernhardt's Hamlet, he is playing the aforementioned murdered king and Polonius, and when the bit from Cyrano is interpolated into the mix, Baker takes on the title role, just as Coquelin did.
Also impressive is Jason Butler Harner's rendering of Rostand. His long descriptions of his feelings for Bernhardt are highly affecting, and he keeps us sympathetic to the man, making us feel his pain, even as he indulges in his writerly tendency to self-dramatize. We might wonder about his English accent as well, but it's a good matchup with McTeer.
There is also solid work by Matthew Saldivar as Alphonse Mucha, the Czech artist whose posters are a significant part of the Bernhardt legend, and Nick Westrate as Bernhardt's grown son, who makes a trip home from university concerned about his mother's affair with Rostand and even more so about her depleted finances. Ito Aghayere makes a telling appearance as Rostand's loving and wily wife, and Tony Carlin makes the smugness of a Parisian theater critic surprisingly tolerable. Brittany Bradford, Triney Sandoval and Aaron Costa Ganis also have their moments as members of Bernhardt's acting troupe.
For devotees of backstage theater and theater history, Rebeck's script gives us one tantalizing scene after another – the aforementioned scenes of the rehearsal process, the analyses of Shakespeare's genius, the descriptions of the effect of Bernhardt's magic on her admirers, a dressing room dinner party where critics are dissected, including references to the English "Mr. Shaw." They are played out against the eye-filling sets of Beowulf Borit, lit by Bradley King and wonderfully creating the vastness of the bare stage of Bernhardt's theater, with its rigging reaching up majestically into the fly space, the colorful plushness of Bernhardt's dressing room and the Parisian atmosphere of various other locations.
It all makes for theater with definite class and relevance as well. Its meandering quality, with story threads left hanging, may give you discomfiting bits of food for thought. After all the rehearsal and discussion, Rebeck never gets around to showing us the play in actual production. However, in the final moments, Bernhardt rhapsodizes about the advent of "a new kind of photograph. It moves." And we see a clip of the actual film made of Bernhardt's Hamlet dueling with Laertes. It's an inspired end for a play that despite its shortcomings, vibrates smartly with affecting love for its subject matter, theater, and the grandeur of its purveyors.
Review posted: October 2018
Broadway play
Playing at Roundabout Theatre Company's American Airlines Theatre
227 West 42nd Street
212 719 1300
roundabouttheatre.org
Playing until November 11