by Julia Polinsky
The City Center Gala revival of A Chorus Line touched the heart, delighted the eye, filled the ear. Audiences went mad with applause, time after time. Then again, much of the audience for this gala revival was, shall we say, of a certain age, and their long memories were inclined toward worship of Michael Bennett's hugely successful show. No matter. Anyone of any age would be thrilled by this A Chorus Line. Holy cow, was this one wonderful evening in the theater.
The word "groundbreaking" gets tossed around a lot, when people talk about A Chorus Line. Back in 1975, when 42nd Street was seedy, before the theater district was made safe for tourists, before the Naked Cowboy was even born, A Chorus Line broke theater rules and made audiences love it. Ran forever. Became a classic. Broadway today is what it is in part because of this show.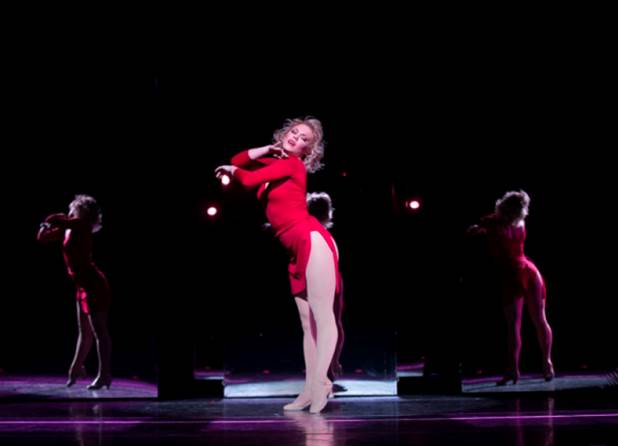 Robyn Hurder
That classic-ness cuts two ways. Choreography, costume, and set design are set in stone in 1975; the current director and choreographer, Bob Avian and Baayork
Lee, who were co-choreographer and cast member in the original production, keep the show authentic to period.
The potential for disaster certainly exists; if nothing changes, why bother? In a modern Broadway that has hits like Dear Evan Hansen, The Band's Visit, Fun Home, who needs an ossified rerun of a musical from over 40 years ago? Not to mention, after this season's stunning Oklahoma, it's clear that reworking classics can bring exhilarating, vibrant new life to old warhorses, so why not A Chorus Line?
Because you don't mess with the best, that's why. It ain't broke. Thank God they didn't "fix" it.
Marvin Hamlisch and Ed Kleban's total earworm songs, James Kirkwood and Nicholas Dante's book, and the utter razzle dazzle of Michael Bennett's iconic choreography simply glow with life. They're set off by Robin Wagner's spare scenic design, and the stark lighting, originally by Tharon Musser, adapted by Ken Billington.
The basic premise of A Chorus Line couldn't be simpler: during auditions for a Broadway show, the director demands that the dancers who are auditioning talk about their lives, and why they became dancers. An ensemble piece, with no star, the most minimal set and costumes (until the last number), the rest of the show tells their stories, in song and dance.
Anthony Wayne
Tales of teenagers who are figuring out life, sexuality, and who they are ("At The Ballet," Hello Twelve, Hello Thirteen, Hello Love,"), and adult dance professionals, opening themselves to being themselves on stage and auditioning for Broadway. They're competing in the Olympics of putting it all out there as a performer (Dance: Ten; Looks: Three) and, in a way, putting themselves, and their lives, on the line (The Music and the Mirror).
A behind-the-scenes peek at heart and heartbreak, A Chorus Line asks, what will you do for love? Can you be completely out there, onstage, all the way? Why? And what would you do if you couldn't dance – a question that invites tearjerker moments and the stunning, "What I Did For Love."
Pity there was a bit too much "modern Broadway" voice, with its forced brightness and throat-straining tone. Two of the high-point songs, "Nothing," sung by Tara Kostmayer as Diana, and Sara Esty's Maggie, in "At The Ballet," were sung with too much brass and not enough heart. On the other hand, dancers in 2018 are technically and physically stunning, and since A Chorus Line is a dance-heavy show, stupendous dancers kick it up several notches. Anthony Wayne's superb Richie, Tommy Bracco's fantastic Mike, the remarkable Tony Yazbek as Zak, Robyn Hurder's Cassie: just, holy cow.
As an homage to the past; as a showcase for Broadway strivers; as the triumph of determination and desire, A Chorus Line works brilliantly in the here and now. Here's hoping it transfers to Broadway, giving another generation the chance to love it.
A Chorus Line
New York City Center Gala Production
Conceived and Originally Directed and Choreographed by Michael Bennett
Book by James Kirkwood and Nicholas Dante
Music by Marvin Hamlisch; Lyrics by Edward Kleban
At New York City Center
November 14-18, 2018
New York City Center
131 W. 55th St.
212-581-1212
nycitycenter.org