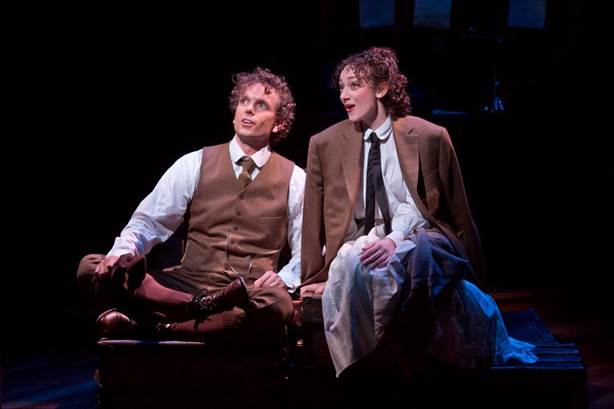 Paul Alexander Nolan and Megan McGinnis
                                               by Michall Jeffers

One thing's for sure; if you put on a play with only two actors, they better be really good. Daddy Long Legs is most fortunate in having Megan McGinnis as the orphan Jerusha, and Paul Alexander Nolan as her benefactor, Jervis. Nolan is handsome, earnest, altogether dreamy. And McGinnis is absolutely glorious.
McGinnis has a strong, clear soprano voice, with an impressive range. At times, she's reminiscent of Anna Maria Alberghetti in Carnival; at others, J. Smith-Cameron comes to mind. The story revolves around her, and in spite of the fact that she's onstage nearly all the time, we never get bored with her. This is star quality.
                              Photos by Jeremy Daniel.


It's the spring of 1908 when the play begins. Jerusha is a smart young woman, the oldest in an orphanage she longs to leave. One day, she's told she's being sent off to school by a wealthy man who calls himself "John Smith." She must write to him once a month; conditions state that he will never respond, and they will never meet. Jerusha runs to get a glimpse of him as he leaves, but can only observe that he's tall. In her mind, she pictures him as also being old, no doubt as a father figure. She decides to call him "Daddy Long Legs." Soon, her letters become a source of expression for her, and amusement for him.
Jerusha makes friends at school, and one frenemy, who turns out to be the niece of "Daddy." This gives Jervis a chance to talk with Jerusha, when he sneakily makes dates to visit the boarding school, while pretending to be a doting uncle.  Inevitably, the reclusive Jervis and the outgoing Jerusha are attracted to each other, and begin to fall in love.
Paul Gordon's music and lyrics are, to be certain, a cut above the noise that often passes for show tunes in modern musicals. What a pleasure to not have to wear earplugs during a musical! Sung with skill, fervor and perfect pitch by McGinnis and Nolan, if they don't always carry the plot along, they are pleasing to hear. The play is too long; the second act could benefit greatly by being edited. "Charity" is a number which could easily be cut; it's unnecessary, and impedes the action.
Director John Caird has cleverly used the tiny stage to great advantage. Jervis's library, by scenic and costume designer David Farley, is quite wonderful, chocked full of hard bound books and impressive looking mahogany. Jerusha gracefully changes clothing which is kept in an old trunk. It's a bit off-putting that she ends up with the man she addresses as "Daddy," but with her chocolate-drop eyes and charming ringlets, McGinnis projects wholesomeness, and sells the  set-up. Jervis is both jealous and duplicitous, but Nolan has a sweet quality which allows us to chalk up his foibles to social awkwardness.
Fans of The Fantasticks and Once are well aware that bigger doesn't always mean better. This production of Daddy Long Legs is a theater experience to savor, and if the heavens are in alignment, a good chance to see two extraordinary performers who may well be destined for stardom.
 Daddy Long Legs, Davenport Theatre, 354 West 45 St., 212-352-3101 www.daddylonglegsmusical.com
Author: music & lyrics, Paul Gordon; book, John Caird, based on novel by Jean Webster.
Director: John Caird
Scenic/costume design, David Farley
Cast:  Megan McGinnis (Jerusha); Paul Alexander Nolan (Jervis)