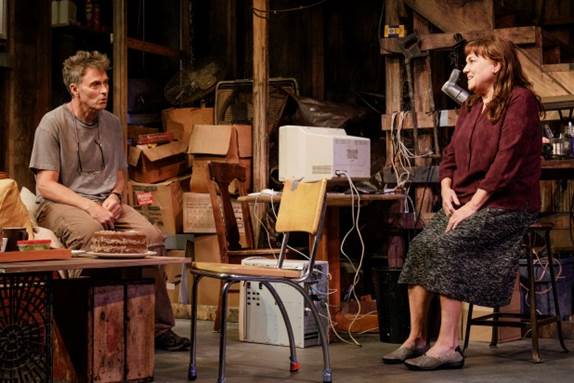 Tim Daly and Tyne Daly. Photo: James Leynse
By Fern Siegel
It is an accepted axiom that brutal people often destroy the good. It can result in mental or physical damage, or simply the threat of harm, should you cross them.
The legacy of familial violence is the subject of Theresa Rebeck's latest work, Downstairs, presented by Primary Stages at the Cherry Lane Theatre. Rebeck, who was represented on Broadway this fall with Bernhardt/Hamlet, tackles a more intimate reality: the fraught pathology of a brother and sister.
And to underscore that closeness, real-life brother and sister Tim and Tyne Daly have been cast. In fact, Rebeck wrote Downstairs expressly for them, as they have never shared a stage.
Downstairs is set in a grungy basement, courtesy of designer Narelle Sissons, where Teddy (Tim Daly) has taken up residence. He's got the harried, worn look of the beaten. His eyes skirt nervously around the room; his gestures are stilted. Defensive, but sensitive, his one salvation is his sister Irene (Tyne Daly), who is trying to provide him a modicum of physical and psychological refuge.
"When I was a kid, I thought you were an angel," he tells her. And she does her best to care for him, given the sad confines of her own life.
Teddy is a bit evasive as to his recent history, which worries Irene. She's forever apologizing for their alcoholic mother who, abandoned by her husband, took out her rage on Teddy. The adult man seems a damaged version of that defenseless young boy; his scars have never healed.
Conversely, Irene tries to find compassion for their angry, depressed mother. Both are locked in the cycle of abuse and despair that has proven inescapable. Yet their concern for each other, which grows as the story unfolds, raises a more profound question: What are the obligations of family?
The two are locked in a strange quasi-power struggle for recognition. Teddy claims to be on a break from his job, but assures his sister he has big future plans. She suspects something isn't right, even as her own life is wanting. No kids, no friends, no pets — only the ominous cloud of husband Gerry (John Procaccino), who treats her with disdain.
Of course, it takes Teddy to force her to acknowledge the dark, nasty undercurrents in her home. His hold on reality may be tenuous, but he's perceptive. Teddy sees the tragedy of his sister's life with piercing clarity.
Downstairs is a taut drama about broken people desperate for connection. It is fittingly set in a basement, which offers no escape. The play sensitively explores how oppressive loneliness and heartache can be. It also reveals the darkness that is often excused or ignored in the power struggles within a marriage and between siblings.
Adrienne Campbell-Holt's tight direction gets the best from her cast, who often play against type. Tyne and Tim Daly are perfect counterparts, and their anguish, whether muted or unleashed, is all too real. As the tension ratchets up in this part horror-part thriller, audiences are riveted by the menacing fear of what might happen.
Once secrets and lies are unleashed, there are only two paths: destruction or redemption.
Downstairs, Cherry Lane Theater, 38 Commerce St. New York, NY. (Through December 22.) Running time: 105 minutes, no intermission. Tickets: www.cherrylanetheatre.org/tickets/