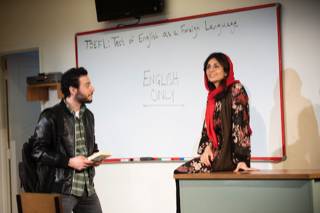 (from L to R): Hadi Tabbal, Marjan Neshat  Photos: Ahron R. Foster
English
                       by Deirdre Donovan
What better subject for the Atlantic Theater Company than the attempt by four adult students to prepare for the TOEFL—the Test of English as a Foreign Language? And even if Sanaz Toossi's new play English has no glitzy set or eye-popping special effects, it remains an unforgettably vivid portrait of the cultural divide between those who speak English and those who don't.
Co-produced by the Roundabout Theatre Company, and directed by Knud Adams, it unflinchingly shows the linguistic and psychological struggles of adult Iranians as they try to master English by speaking, listening, and writing it.
Set in 2008, in Karaj, Iran, each student in the play's world has a different reason for learning English: Elham, age 28 (Tala Ashe), was accepted to a medical school in Australia but can't matriculate into the program without passing the TOEFL; eighteen-year-old Goli (Ava Lalezarzadeh) enjoys the immediate respect she receives from others when she speaks English; Roya (Pooya Mohseni), age 54, yearns to learn English to speak the same language as her grand-daughter living in Canada; twenty-nine year-old Omid (Hadi Tabbal) hopes to pass his greencard interview, rumored to be a far more rigorous test for men.
Rounding out the dramatis personae is the Iranian-born English teacher Marjan (Marjan Neshat), age 44, who lived in Manchester, England, for 9 years before returning to her homeland. A dedicated teacher who loves to see her fellow Iranians gain skills in English, she encounters her toughest class as the lights go up, and over the next six weeks, she will discover how much the soul of a people is manifest in its language.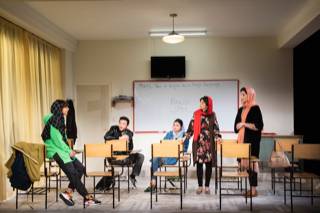 The cast
Marjan conducts her classes, if not with the sternness of an Army sergeant, with the deep conviction that learning English can improve the quality of her students' lives and perhaps offer them opportunities that can't be found in their own country.
And what is the key to advancement in Marjan's classroom? The willingness of a student to erase temporarily their Iranian self and to replace it with a new one who breathes, speaks, and thinks in English. Indeed, in the opening scene, Marjan writes two words on the Whiteboard: English Only. And it becomes the "mantra" of the classroom. What's more, Marjan literally keeps tallies on any infraction of her "English-only" rule--and woe to the student who breaks it by code-shifting to their mother tongue during her lessons.
Don't expect to see any yawns in this classroom! We watch Marjan lead the students in various language activities: show-and tell presentations, a toss-the-ball challenge that is a linguistic adaptation of the "hot-potato" game, an oral comprehension passage about a family wedding, and—no surprise here—a practice TOEFL test.
Meanwhile, Marjan oversees and assesses each student's progress. But she also shares with them that learning English is more than just acquiring new vocabulary and grammatical structures. Or as she tells the competitive Elham: "English is not to be conquered. Embrace it. You can be all the things you are in Farsi in English, too. I always liked myself better in English."
From then on, the play runs its course, some events foreseen, others not. A student is dismissed before the six-week term concludes. Tallies get marked on the whiteboard for those who slip into their native tongue. And, Roya, weary of Marjan putting English on a pedestal, rebels in class one day by playing a CD of an old-school Iranian song, saying pointedly to Marjan: "You talk about Farsi like it's a stench after a long day's work. Tell me, Marjan, what is it about where we're from that you find so repulsive."
In truth, there's a lot of hot-button issues simmering beneath the surface of this play. But to the author's credit, she doesn't load the dice (No, there's no mention of Trump's 2017 travel ban that prevented mostly Muslim nationals from entering America) but let's the play simply speak for itself.
Ava Lalezarzadeh
One of the most revelatory moments in English is when Elham wistfully remarks to Goli: "I have this amazing dream sometimes that the Persian Empire kept growing. And Cyrus the Great would still be our king. Instead of the Americans, the British, everyone telling us what to speak and how to say it, all of us would speak Farsi."
Farsi is the native language of Iranians, and with one exception, not a syllable of it will be heard in the piece. Naturally, the play's dialogue is spoken in English. But Toossi, with a dramatic sleight-of-hand, has figured out an ingenious way to aurally cue the audience to when Farsi or English is being spoken in the play. To wit: Farsi is rendered in velvet-smooth syllables without an accent; and English is uttered in disjointed words and phrases with an accent.
To detect whether Farsi or English is being spoken at any given moment in the drama is part of the fascination of watching English. It makes each audience member a bit of a linguistic detective, and also lets them witness the war that goes on within the students' souls as they try to learn English.
In English, we have the good fortune to see the simplest of props—a whiteboard, desks, chairs—make for a satisfying set on a rotating platform (set design by Marsha Ginsberg). The natural-looking lighting (Reza Behjat) is ideal as it reflects both characters' moods and the gradual passage of time. The costumes (Enver Chakartash) are an array of traditional Iranian outfits that are still worn in the millennium. And Sinan Refik Zafar's exotic sound design can temporarily transport the audience to Persian climes.
A most admirable fact about this production is the employment of a cast comprised almost wholly of actors with Iranian backgrounds. It profoundly underscores the play's subject and brings genuine depth to all the proceedings on stage.
Seamlessly directed, and convincingly acted by the whole company (Tala Ashe, Ava Lalezarzadeh, Pooya Mohseni, Marjan Neshat, Hadi Tabbal), this drama investigates a sensitive topic with humor and wit.
Extended through March 20th.
At the Atlantic Theater Company, at the Linda Gross Theater, 336 W. 20th Street, Chelsea neighborhood. For more information, visit www.atlantictheater.org
Running time: 1 hour; 40 minutes with no intermission