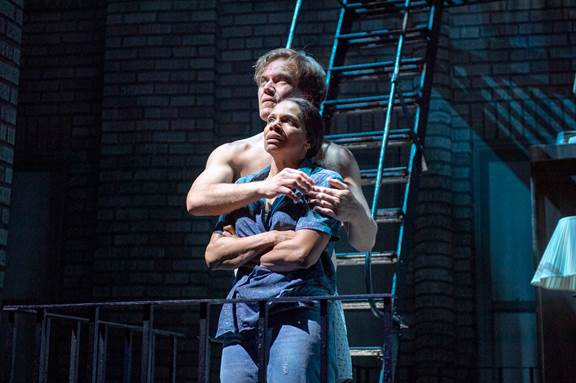 photos Deen van Meer
Frankie & Johnny In The Clair De Lune
                                By Eugene Paul
Full, glittering turnouts are greeting every performance of this  extraordinary revival of dear old Terrence McNally's  beloved schmatte of a play. For cause.   Previous incarnations have always treated it as a schmatte, and why not, it's coarse, it's vulgar, it's the ordinariest coupling of two hash slingers, short order cook Johnny (remarkable Michael Shannon) and waitress Frankie (revelatory Audra McDonald) who are co-workers in their local diner. But brilliant director Arin Arbus, making her Broadway debut with two of today's  megawatt stars inhabiting McNally's two hander, weaves the performances and thus the play into imperial brocade.  Audra and Michael.  Never have they been better. Never has the play been better.
Not by flaunting the star power of her two stars, gawd no.  Although there may have been one or two members of her  gaudy audience whose curiosity and/or predilections  might have led them there after having  heard some rumors  about the opening moments  and decided to see for themselves just what in flagrante makes a star. That's not what makes a star. Usually.  In spite of merchandising. Although, as the old saw goes, it doesn't hurt.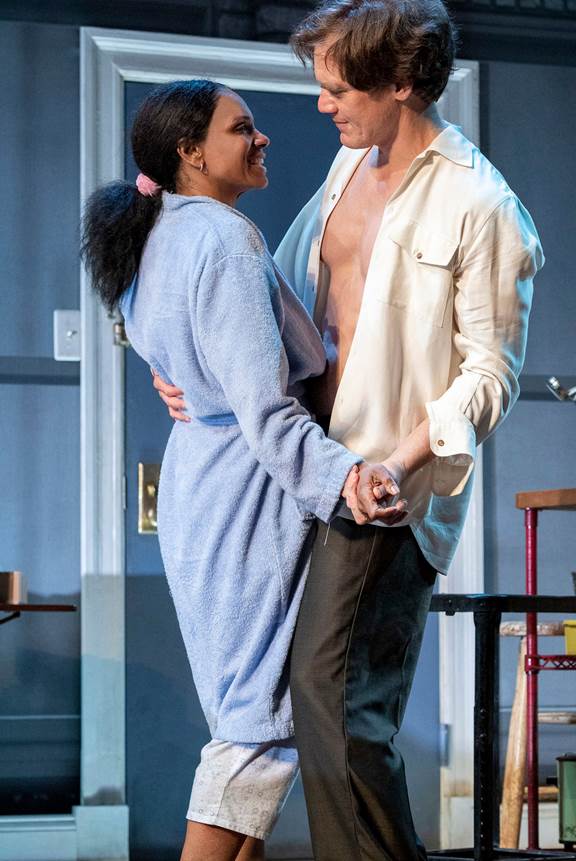 Every revival – as well as the original production – has focused on whichever stars play Frankie and Johnny, and given relatively short shrift to McNally's play, as if it was written to be an acting showcase, but playwright McNally is not that kind of short order cook. He's a gourmet chef. He crams flavors of pulsating depths of human awareness, universalities of emotions, ambitions, hungers, fears, wants, frustrations, sensitivities, delights, into  two  questionably appealing characters who become people before our eyes, not just symbols, who in this   steam squeezed crock pot of emotions win our hearts. It ain't easy.
Take Frankie.  Who has obviously been taken a time or three in her several years. She's built her walls and patterns of protection and nobody's gonna upset her  small world.  She's got her job,, she makes enough to  get by, she's got  her snuggery of this  one room apartment and no occasional fling, including tonight's, is gonna upset her apple cart, no way.  She was leery of getting it on with a fellow worker in the same joint, she should have listened to herself.  She doesn't really know this guy, this Johnny. What is with him? He's acting like a weirdo. Okay, we had a nice fuck, a pretty nice fuck. Now it's time for him to get out of her apartment. Only, Johnny doesn't even want to put on shorts. He's found his little bit of heaven and he isn't about to let go.
And that is the sweet, bitter-sweet crux of the situation between them. The highs and lows of Johnny's entire life have led him to this moment of emotional realization that things will never get any better than this for him. She everything he's been looking for.  She isn't perfect but neither is he. He's middle aged.  Time to feel a connection to another human being.  To Frankie.  He feels – connected.  He loves her.  He wants to marry her.  He wants them to have a home , to have kids, like everybody else. And be happy.
He is driving her wild. They don't know each other.  They've never even had it on before. How could he love her?  He doesn't even know anything about her. And she is not about to tell him anyway. It's none of his business.  She's none of his business. It's time for him to go.  She's tired. Go!
And with exquisite tenderness and understanding, director Arbus woos superb Audra to reveal bit by painful bit of her miserablenesses to the importunings of dogged, achingly touching hapless hunk Johnny whose life has been miserabler. Who woos his soul mate relentlessly in spite of all her weaving and bobbing and fighting and hiding and pushing away.  She is his goal in life and she doesn't know it yet but he's her goal, too.
Playwright McNally gives Johnny the most beautiful music in the world just to make things romanticer and brings on  the night's rising moon for romantic insurance out on the fire escape and finally, finally, Frankie's resistance to everything in life she ever really wanted is swamped by Johnny's heartbreaking persistence. Which is also funny. Now, how can that be? Only with the whole, theatrical experience.  And that includes us.
Of course, we've had a little help here and there. Such as Riccardo Hernandez's modern fairy tale setting, Natasha Katz's modern fairy tale lighting and the minimalist costumes of Emily Rebholz How sweetly it all adds up.
Frankie and Johnny in the Clair de Lune. At the Broadhurst Theatre, 235 West 44th Street.  Tickets: $49-$249. 212-239-6200. 2hrs 15 min. Thru Aug 25.