Photos by Matthew Murphy
                             By David Schultz
A decade old documentary, "Gotta Dance" about a real-life senior hip-hop cheerleading basketball team has been reborn as a musical. The team was formed in 2006 in East Rutherford after the New Jersey Nets hosted an open call for dancers in their golden years. The rule was being over 60 to join the team. The end result, making the cut….12 women and one man. They had no idea that the music they were about to be trained to dance to was hip-hop. In this musical transformation the Nets become the New Jersey Cougars. The team is initially crowned with the nutty title of Fifty Shades of Gray. But after a joint decision they are renamed Nu Hip Crew.
The production is chock-a-block filled with well-known dancers and singers of a certain age with Broadway pedigrees that impress. Director Jerry Mitchell (Kinky Boots, The Full Monty) marshals his cast in metronomic flashes of wit in his wildly energetic choreography as this motley crew attempts to learn hitherto unknown music and dance steps to boot. The rather convoluted scenario is this: The marketing team for the newly formed group thinks of something different…. seniors cheering on the team, but not with the music they most assuredly know and love from their own era, nope…. twist it up with the music of rap groups like Sugar Hill Gang, Grandmaster Flash and The Furious Five.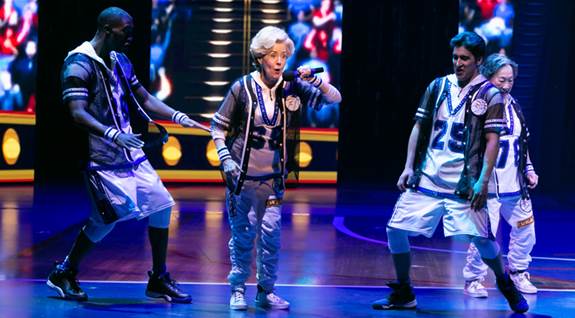 Dorothy/Dottie (Georgia Engel) who is a kindly meek kindergarden teacher in the day has the right stuff and seems to flow effortlessly into the rap scene.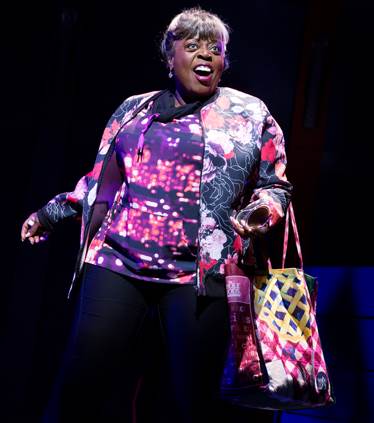 Lillias White (Bea) is a grandma who attempts to rein in her young granddaughter Kendra (Nkeki Obi-Melekwe), also a cheerleader, albeit a 20 something version, with sage advice about her still married boyfriend. Commit or dump him she pleads.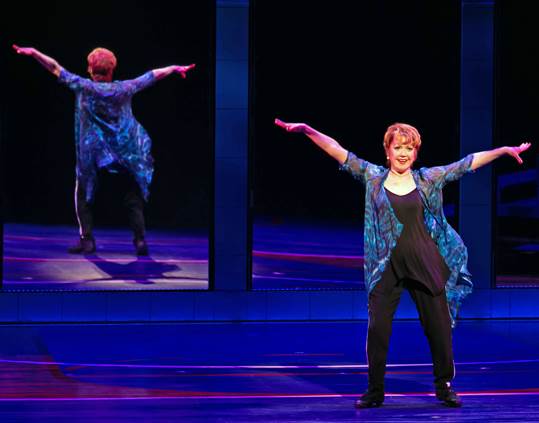 Additional members of this crew include Joanne (Donna McKechnie) a long ago Broadway hoofer who is smarting from her Doctor hubby running off with a younger chippy leaving her alone to lick her wounds (and performs a tongue-in-cheek replica 0f her award winning number from A Chorus Line).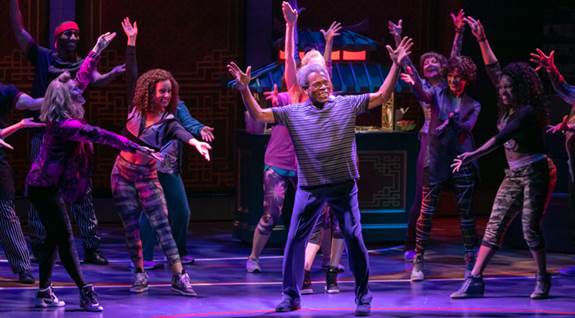 Ron (Andre De Shields) self-dubbed "The King of Swing", a gentle soul, widowed who has his own private agenda to join this senior group and gain fame with his snazzy dance moves.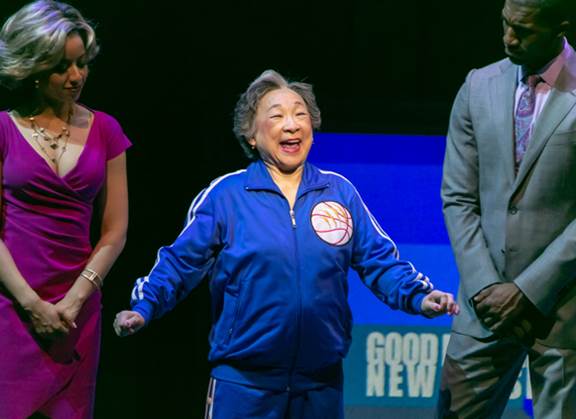 Adding to the mix; Mae (Lori Tan Chinn), the awkward caboose of the team, always off step and not in tune, yet her undercurrent of sadness about her ailing husband with Alzheimer's keeps her moving ever forward, Fran (Lenora Nemetz) a frustrated saleswoman with her ever-ready Mary Kay products that she hopes to foist on her aging teammates, Estelle (Madeleine Doherty) blind as a bat, but still a trouper with her newfound gan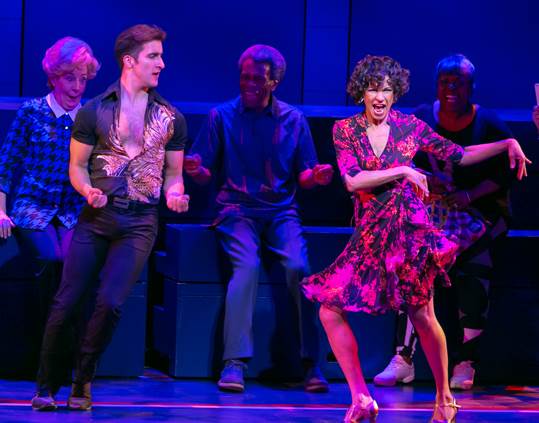 and rounding out the mélange, Camilla (Nancy Ticotin) a passionate salsa dancer with a hunk of a boyfriend who is on the early side of 30ish.
The slow moving first act introduces us to all of these characters. The stereotypes rendered are what one would expect from the depictions of these over-the-hill hoofers. Yet the sheer force of the charismatic interplay between performers makes you groan and grin simultaneously. The second act ratchets up the suspense…can these cheerleaders get in shape to really perform in front of the huge roaring crowds? After weeks of super intensive training, the PR team is mighty doubtful, and wants to make them into a joke with the team just rolling around on geriactric scooters, zooming around the joint, instead of dancing. Can they snap into shape? Can they work out all their petty differences…  can they? The answer of course is predetermined, as any savvy theatergoer knows before the curtain even goes up.
The simple yet expansive gymnasium setting by David Rockwell is greatly enhanced by visual projections by lighting designer Kenneth Posner. Costume designer Gregg Barnes swathes the cast in appropriate mundane clothing at the outset, then amuses with his Mama Mia like sports outfits for the finale. This geriatric "Come on gang…. lets put on a show" musical, is actually generic in structure.  All the tropes are brought out, much is predictable, but the fun is there onstage…. add on a passel of clichés, natch, and a pinch of sentimental sage humor, and this Half Time is worth your time.     
Playing at Paper Mill Playhouse    22 Brookside Drive, Millburn, NJ
973-376-4343      www.PaperMill.org
Runs through July 1st 2018.