Harmony ensemble: Blake Roman, Steven Telsey, Zal Owen, Danny Kornfeld, Eric Peters and Sean Bell. (Julieta Cervantes)
Harmony
                      By Fern Siegel
Harmony, the new musical by Barry Manilow (music) and Bruce Sussman (book and lyrics) strikes a beautiful, yet mournful chord.
The true story of the famed Comedians Harmonists — and the women who loved them — is heart wrenching. Set against the backdrop of the Nazis' rise to power, Harmony chronicles the journey of six talented young men, beginning in 1925. By the mid-1930s, the troupe — three Jews, three non-Jews — are making beautiful music. They produce harmony in disharmonious times.
They rub shoulders with Josephine Baker and Marlene Dietrich. They are hugely entertaining. They are popular worldwide. They are also doomed.
Now playing at the Museum of Jewish Heritage in downtown Manhattan, the musical, directed by Warren Carlyle, is staged with sensitivity and perfect pacing. It is an extraordinary night in the theater. And the sextet is sensational; much like their real-life counterparts, their chemistry clicks.
Plus, the venue is ideal to narrate the story of an ensemble "hotter than horseradish" that made a splash in Germany and around the world. Their ultimate moment — a heralded performance at Carnegie Hall, an offer from NBC Radio — underscores the irony of fate.
Chip Zien, known as the Rabbi, brilliantly narrates and performs various roles, illustrating his dexterity. (Danny Kornfeld portrays him as a young man.) A Broadway vet, he emotionally recalls every moment, every step of the Comedian Harmonists improbable journey to stardom — and their sharp, brutal demise as history annihilates their promise.
In some 20 songs over 15 scenes, Manilow, long famed for his pop melodies, captures the period and the Harmonists' style with singular flair. So has the wonderful ensemble cast. What's remarkable is the group's historic composition. The six came from various backgrounds and classes, yet what they produced together eradicated any differences. Their whimsical music, like their distinct performances, worked.
The show opens at their premiere night — Carnegie Hall — an appropriate vantage point. It's there, in all their glory, the men decide the lunatic ravings of the Third Reich will pass. Yes, they have reservations. But they don't, for various reasons, seize the moment. The Rabbi is married to Mary (Serena Boggess), a non-Jew, while Ruth, a Jewish political activist (Jessie Davison) is married to Chopin (Blake Roman), a Gentile.
Chip Zien, Harmony's lead. (Julieta Cervantes)
Missing Germany after a glitzy yearlong tour, the six reject the network's remarkable offer — only to discover the country they once knew no longer exists.
The Nazis have banned Jews them from certain occupations, destroying any books, films or recordings any Jew has made. When hecklers scream at their 1934 Berlin Philharmonic concert about "Jew music," the seemingly unthinkable happens. A Nazi official (Andrew O'Shanick) orders them to leave. "This is a shameful display," he barks.
Then, when he and his wife visit the Harmonists backstage, he thanks the men, on a pseudo-chilling note: "Who could be fearful of the Germany that you so brilliantly represent. Your performances in other nations are proving to be a great asset to our cause. You are our… ambassadors of good will!"
Another irony: The Comedian Harmonists are so popular — selling millions of records, starring in 12 films — they are initially exempted from the horrible restrictions on Jews.
Sussman's lyrics run the gamut from humorous to sardonic to moving in the ballads. His book reveals a once-heralded troupe that deserves to be heard. Indeed, Manilow and Sussman have collaborated for 50 years. They have been working and, in various regional theaters, showcasing Harmony, since 1997. The current rendition boasts a top-notch crew, including lighting designers Jules Fisher and Peggy Eisenhauer.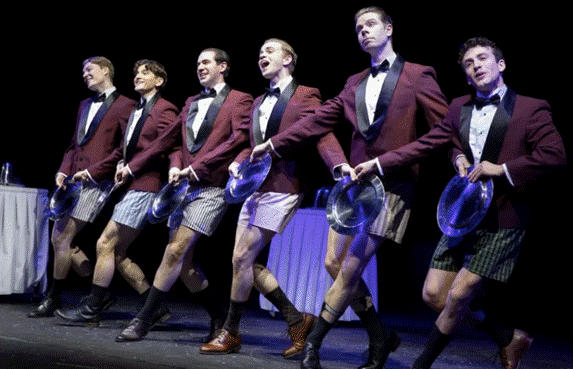 Harmony's Comedian Harmonists ensemble. (Julieta Cervantes)
Harmony is a production of The National Yiddish Theater Folksbiene, which has been on a roll for years, especially with its stellar Yiddish version of Fiddler on the Roof.
It's a must-see as a serious musical that does what all art should do: entertain, enlighten and, on occasion, enrage. Which is why, though the museum's size supplies an intimate experience, Harmony deserves an even bigger venue: Broadway.
Harmony, The Museum of Jewish Heritage, 36 Battery Place
Running time: 2 hours, 30 minutes, with intermission
Tickets: https://nytf.org/harmony/