By Eugene Paul
In 1910, when Sholem Asch was 50 years old, he scandalized the world of the Jewish Theatre with God of Vengeance, his play about the Jewish owner of a brothel, his wife, an ex-prostitute, seeking to gain respectability through the marriage of their carefully sheltered, innocent daughter to a rabbi's son of equal innocence.  In celebration, he has commissioned his own copy of the Torah, the most sacred of texts, to be used in the wedding ceremony. When he discovers his daughter has fallen in love with one of his prostitutes, he desecrates the sacred scrolls, and forces his daughter to work as a whore in his brothel.
Asch, who wrote in Yiddish, was happy to allow his play to be translated in all the principal languages of Europe, shocking and enthralling audiences in all those tongues.  Even English.  But it was only in New York, in 1923, that he, his producer and the entire company were arrested and the play forced to close. Not for blasphemy.  For obscenity.  In the play, the brothel owner's daughter and her lover prostitute presented the first  lesbian love scene ever staged. What was a resounding success in Europe was banned in the U.S.A. But not for about six weeks.  Hypocrisy is ever flexible. Which was a longer run than Mae West got with her happy scandalous play trifle, "Sex". And about as good as George Bernard Shaw's "Mrs. Warren's Profession", but then, neither of them enjoyed being the first to show lesbian lovers on the stage.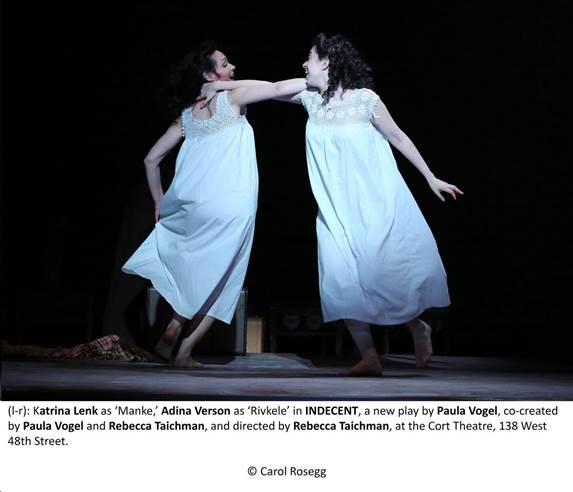 It is extraordinary that in these strained times, with values challenged leadership attempting to direct the fortunes of all Americans, that  prize winning playwright Paula Vogel and her gifted director Rebecca Taichman have  taken these shocking, brutal elements and created  the haunting, spellbinding Indecent, built around Asch's masterpiece,  evoking a work of such tender beauty and resonance it will stay with you in your conversations, your sleeping hours, your psyche for a long time to come. From the moment the obscure, gray company of Yiddish theatre players that went back to Europe and to death rises out of the dust –of their graves? –  of history? –  we are transported.  They are so full of a love for life, their hardscrabble life as traveling players.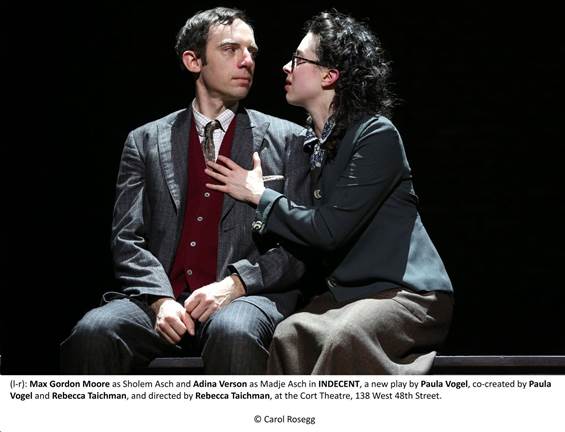 They are going to play God of Vengeance.  A young,  Sholem Asch –artistic license – (intense Max Gordon Moore) has written an exciting first play, and a shy, idealistic dreamer (wonderful Richard Topol) is going to act as their producer when the business savvy Yiddish Theater managers back away from the play.
It would be futile to try to put in mere words all the wonders and spells that director Taichman achieves with her enchanted, enchanting company in apparently spontaneous invention, dancing and song interwoven with Asch's life, interwoven with the characters of their play, Riccardo Hernandez's setting becoming everywhere you need to be, they need to be, their terrible, portentous suitcases, now tables, now chairs, now whatever they wish, Emily Rebholz's costumes, whisking you into the play within the play, making you a concentration camp victim, whirling you from one time frame to another in choreographer David Dorfman's magical change moments, the past and the present and the future all one,  every scene to the next with the swiftest and most comfortable of changes before your eyes, everyone being everyone else. And you. Christopher Akerlind's lighting  creating instant place, instant focus.
And a company that can do anything. Mimi Lieber, one moment a grande dame of the Yiddish stage, the next, the too wise Mama in the brothel, in an instant a concentration camp bound creature, the next, free at last at Ellis Island, wonderstruck. Tom Nelis, is there anybody who can sing and dance and rage and cajole and entwine and  love and berate and demand with such command, such presence?  Katrina Lenk , instantly, luminously compelling your undivided attention, every gesture alluring, all the pain, all the sad experiences, and the divine grace, when her simplest gesture takes over as everyone moves from one place, one time to another, when they are scattered, when they are one. Adina Verson, now Asch's adoring wife, now purest innocence, the brothel owner's daughter, lover of Katrina Lenk's melting, enchanting prostitute, their love scene so tender so beautiful , so not obscene. Steven Ratazzi, sturdy trouper in all his beings.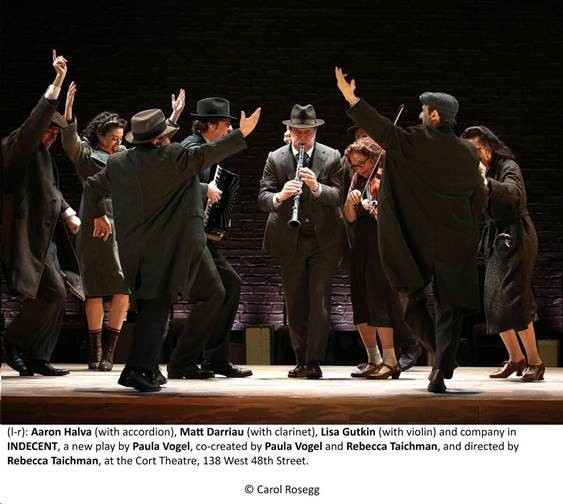 Woven among them all, the eager, earnest, ragtag musicians, Lisa Gutkin,
Matt Darriau, Aaron Halva, sparking the spontaneous dances, soothing the weary travelers, their music crying the tears they don't have the time to shed. They touch our humanity.  The show touches our humanity.  What's that worth?
Indecent.  At the Cort Theatre, 138 West 48th Street.  Tickets:$39-$129. 212-239-6200.  1hr, 45 min.  Open run.