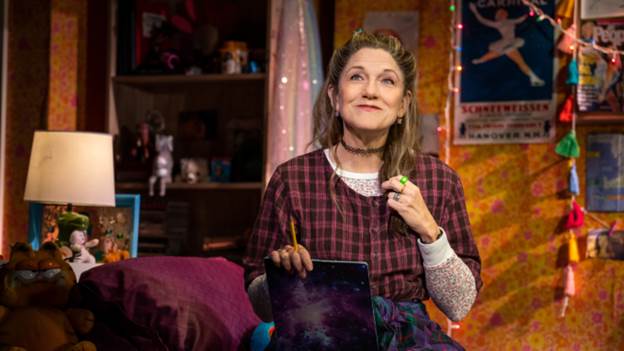 Victoria Clark plays the lead in the off-beat musical. (Joan Marcus)
Kimberly Akimbo
By Fern Siegel
Sometimes the youngest person in the room is the wisest — even if she is 16 and looks like a 72-year-old.
That's the premise behind the Broadway musical Kimberly Akimbo, starring Victoria Clark as the smart, dry-humored New Jersey teen Kimberly Levaco. She is cursed with a deeply dysfunctional family and a short lifespan.
Kimberly wants to make the most of the time she has left, since her rare disease is aging her — fast. Yet the book and lyrics by David Lindsay-Abaire ("Rabbit Hole"), along with music by Jeanine Tesori ("Fun Home"), doesn't offer a downbeat story.
Yes, her story is sad, but it never feels hopeless.
Instead, the teen can count herself blessed with good friends, especially Seth (standout Justin Cooley), an engaging tuba-playing anagram lover who has a crush on her. Her other friends, played by Olivia Elease Hardy, Fernell Hogan, Michael Iskander and Nina White, grapple with the usual teen issues, including wrestling with their sexuality. Iskander, especially, personifies youthful angst.
Clark, who won a Tony for "Light in the Piazza," has a tough acting challenge — playing a teen wise beyond her years, but not coming off as an adult. She is spot-on, a wonderfully nuanced Kimberly coping with the usual teen concerns — academics, fitting in — while confronting flawed parents: a pregnant, self-involved, oddly funny mother (Alli Mauzey) with spectacularly bad luck and an alcoholic father (Steven Boyer), whose mainstay is false promises. Kimberly longs to visit an amusement park. Instead, her parents take her on an emotional rollercoaster ride of neglect and secrets.  
The latter is compounded by the arrival of her Aunt Debra (Bonnie Milligan) who injects brash humor into every line. Debra, who has a commanding stage presence, has her own agenda. And like all con artists, she knows the best way to recruit anyone to a dodgy enterprise is to give them what they want: money.
Kimberly needs it to see places while there is still time — a road trip from Six Flags to Walt Disney World. Her friends desperately need funds to compete in a musical-dance competition that requires snazzy costumes. Debra sees her proposed enterprise, as all brazenly oblivious criminals do, as an expedient means to an end.
Kimberly Akimbo's ensemble cast. (Photo: Joan Marcus)
Kimberly Akimbo began off-Broadway at the Atlantic Theater Company, positing an off-kilter musical. And that's part of its charm. It's funny, somewhat bizarre, yet raises critical issues, such as recognizing we aren't always the child our parents wanted. Or how easy it is, as an adult, to regret the actions carelessly taken as a teenager.
As for that road not taken? Kimberly Akimbo is a reminder that we rarely get life exactly right. We try. We fail. And hopefully, we try again. Ironically, Kimberly's disease is a literal statement for many kids who take on adult responsibilities in a family of wayward parents.
The set design by David Zinn captures the pathos of a lower-class New Jersey home and the garishness of an ice-skating rink. The latter is almost a metaphor for its customers: They keep going in circles, but never get anywhere. That reality is part of the darker hue to the musical's comedic moments. Morality is ever-present here — and it takes a rare person to literally seize the day — whatever the cost.
Director Jessica Stone and choreographer Danny Mefford have fashioned an entertaining, interesting and unusual piece. As Kimberly sings about Seth: "I like your point of view. A little sly. A little strange. A little bit askew." Just like Kimberly Akimbo.
Kimberly Akimbo – Booth Theater, 222 West 45th St.
Running time: 2 hours and 20 minutes, with one intermission
Tickets: kimberlyakimbothemusical.com