Steve Ross in Love, Noel at Irish Rep
Photo by Carol Rosegg
Love, Noel:  The Songs and Letters of Noel Coward
                                by Deirdre Donovan
The ghost of Noel Coward floated into the Irish Repertory Theater this summer and created quite an artistic stir, courtesy of cabaret veterans Steve Ross and KT Sullivan.  The two artists teamed-up in this soufflé aptly titled Love, Noel: The Songs and Letters of Noel Coward.  Devised and written by Barry Day, and directed by the Irish Repertory's co-founder and artistic director Charlotte Moore, this two-hander is a portrait of Coward with his feet up and wit intact.
Drawing on snippets of the Master's epistles to family (that refers in particular to his dear mom Violet), friends, and contemporaries and over a dozen of his songs, this 80-minute performance evoked that time when Coward was alive and kicking up artistic and political dust everywhere.  Ross impersonated Coward himself; Sullivan inhabited his beloved leading lady Gertrude Lawrence (affectionately dubbed "Gertie"), Marlene Dietrich, Elaine Stritch, and more.  Both artists also morphed into commentators, alternately offering spicy morsels of biographical information on Coward's public and personal life.
What was particularly satisfying about the production was how Ross and Sullivan seamlessly transitioned between the epistles and songs, and vice versa.  The production began with Ross quietly strolling onto the stage and seating himself at the piano at center stage.  He then dove into "Someday I'll Find You," wistfully playing a few bars from the melody.  In Sullivan came from the back of the theater and joined him in the performing space.  Standing stage left to the piano, she cocked her ear to the music and curtly remarked:  "Extraordinary how potent cheap music is . . . Didn't Noel say something to that effect?"  Ross immediately quipped back:  "He said exactly that – and to exactly that piece of music.  He also said he'd always taken light music seriously."
Thus the dynamic of this seriously light production was introduced—and it would be stylistically sustained throughout.  Ross would either recite or actually read from a letter-in-hand, lines from Coward's voluminous epistles.  And Sullivan would react emotionally to its contents, inevitably segueing into a Coward song to reinforce the sentiment.  It became a true duet of words and song.  And it worked like a charm.
This visual and aural entertainment was created with only two artists, James Morgan's minimalist set, and Michael Gottlieb's soft lighting.  A Steinway was the main prop on stage, emblematically anchoring the show and melodically fueling it.
There were striking performances by Ross and Sullivan, each dressed in formal attire that suggested their characters mingled in high-society.  Pianist-performer Ross tickled the ivories with ease and delivered his dialogue and lyrics with an urbane air.  His portrayal of Coward was suitably sophisticated but also showed how the man could be a devoted son and sincere friend.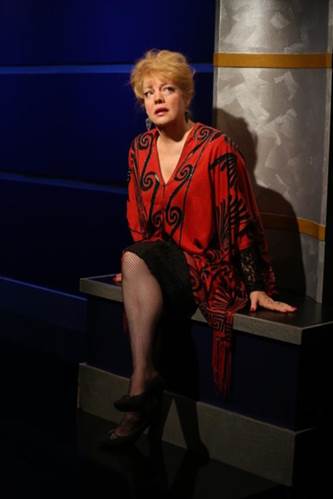 KT Sullivan in Love, Noel at Irish Rep
Photo by Carol Rosegg
Sullivan effortlessly crooned Coward's songs and channeled Lawrence, Stritch and Dietrich's colorful personas on stage, admirably miming each artists' distinctive mannerisms and voice.  There was Lawrence's sharp comic wit, Stritch's acerbic delivery, Dietrich's smoky voice.  Wisely, Sullivan impersonated these divas for just the right amount of time, offering the audience a taste of the legends without turning them into caricatures.  What's more, her sketches of these luminaries added a rich texture to the piece and illuminated how each of their careers was intertwined with Coward's and his art.  
What musical numbers stood out in the show?  Well, there were several that deserve special mention.  There were those melodies that took you straight to nostalgia-land ("Where are the Songs We Sung," "The Party's Over"); the songs that expressed love in its different forms and intensities ("Mad About the Boy" and "If Love Were All"); a few that made you laugh out loud ("Why Do the Wrong People Travel," "Bronxville Darby & Joan," and "Don't Put Your Daughter on the Stage, Mrs. Worthington").  Far and away, the song that shone the most was the penultimate "I'll Follow My Secret Heart," sung as a duet by Ross and Sullivan.  (At a post-show talkback on the Thursday evening I attended, Ross and Sullivan explained the song was purposefully morphed into the past tense to point up Coward's whole philosophy of life.)
Moore fittingly helmed the piece with a light hand, blocking each scene so that the two performers can easily enter into conversation with each other.  While Ross remained seated at the piano throughout, Sullivan fluidly traversed the stage, ensuring all of the audience members at some point could see and hear her up close and personal in the intimate W. Scott McLucas Studio Theater.
Everybody who dropped into Love, Noel during its all too brief run (yours truly caught it in its final week) got a real opportunity to see a side of Coward that is seldom presented on stage.  Yes, his Present Laughter that was gloriously revived on Broadway (with Kevin Kline) two seasons ago showed you Coward's theatrical genius.  But it's rare that New Yorkers can experience the Master's lyrical and literary talent at once.
Perhaps the only way to sum up this theatrical confection is to quote from the speech Coward's friend Lord Louis Mountbatten gave at a party celebrating his 70th birthday, which was recited by Ross early on in Love, Noel:  "There are probably greater painters than Noel, greater novelists than Noel, greater librettists, greater composers of music, greater singers, greater dancers, greater comedians, greater tragedians, greater stage producers, greater film directors, greater cabaret artists, greater TV stars, and so on.  If there are, they are fourteen different people.  Only one man combines all fourteen different talents – The Master, Noel Coward."
Through August 25th
At the Irish Repertory Theatre, 132 West 22nd Street, Manhattan
For more information on the 2019-2010 season, visit www.irishrep.org
Running time:  80 minutes with no intermission.