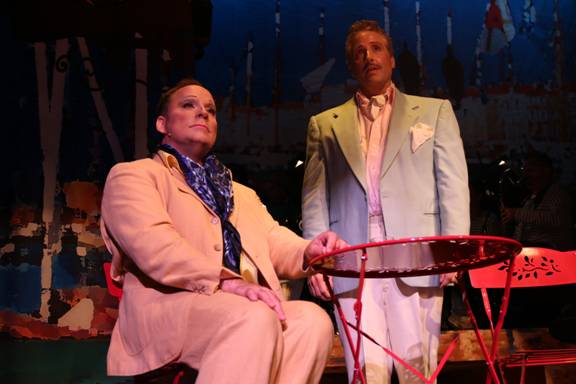 Tom Gamblin as Albin, Danial Charles McDonald as Georges
by Jeannie Lieberman
Photos by Parker Sargent
Jerry Herman/Harvey Fierstein's intelligent, educational, insightful, poignant, profound and above all entertaining homage to the real gay world is a perfect fit for Fire Island Pines Arts Project. It is especially timely in a year filled with same sex marriage legislation almost everywhere.
In the hands of the FIPAP president (and featured performer) Steve Allen Black, Director/ set designer Glen Wilgus, Music Director Sean Peter Firte (who accomplished the task of making a seven member pit band sound larger while not overpowering the singers), costume coordinator Rita Horvath, and choreographer Cynthia Murray Davis - and a superb cast of professionals and locals – it seemed a dream come true – for those involved and, a importantly, for the ecstatic audiences who enjoyed a show to which they could absolutely and 100% relate!
La Cage Aux Folles the first Broadway show about a gay couple, highlights how far society has moved since 1973, when the play on which this musical is based (also named La Cage aux Folles, by Jean Poirot), opened. The play was followed, in 1983, by the Harvey Fierstein/Jerry Herman musical, which garnered six Tony Awards, including Best Musical, and ran for four years. The musical was revived in 2004 and again in 2010. Both revivals won Tony Awards for Best Revival of a Musical, making it the only musical to have won Best Production Tony Awards for each of its Broadway productions.
La Cage tells the story of Georges, who manages a St. Tropez nightclub featuring drag entertainment, and Albin, his long-time partner and headliner under the name "ZaZa." Together, they live in an apartment above the club and raised a son, Jean-Michel, the product of a one-night stand between Georges and a show girl. The story turns on a surprise visit by Jean-Michel, during which he tells Georges that he is engaged and that his future in-laws are coming to meet his parents the following day. One problem: his future father-in-law is head of the arch-conservative "Tradition, Family and Morality Party," whose platform includes closing gay entertainment venues,. Jean-Michel asks Georges to invite his biological mother to meet his fiancée's parents because he wants his family to come off as "traditional." Of course, that leaves Albin as the so-called "odd-man out," and Jean-Michel asks Georges to make sure that Albin does not attend the meeting. The comedy comes when (unlike the movie version) Jean-Michel's mother does not show up, and Georges consents to have Albin appear, as Uncle Albert! The scene where Georges coaches Albin on how to appear "masculine," while not quite as funny as the classic Nathan Lane turn in the film version (The Birdcage), was nevertheless hilarious. Since this is a musical, all's well that ends well and the show, which begins with a performance by the Cagelles, ends with them as well with a new dimension added.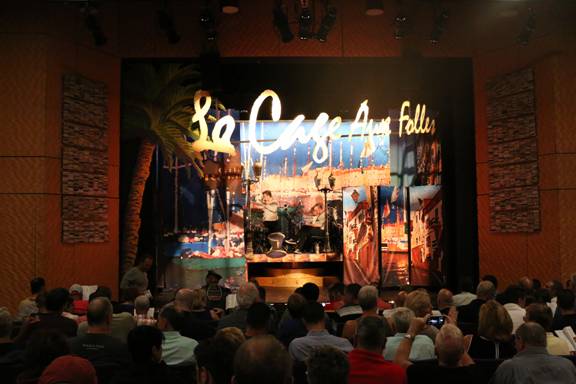 A set to be proud of!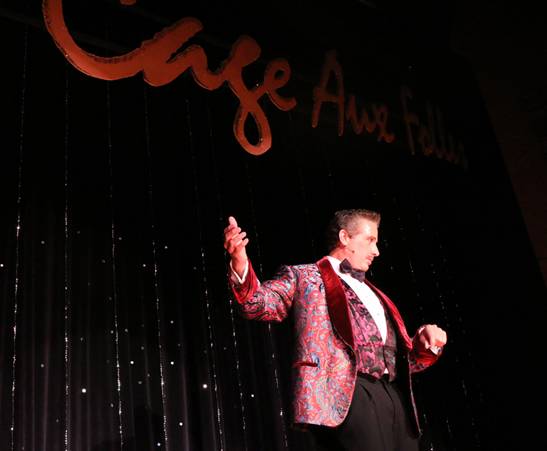 George as emcee (and club owner) of Le Cage Aux Folles show
"I see so many old friends here tonight . . . with so many new faces!"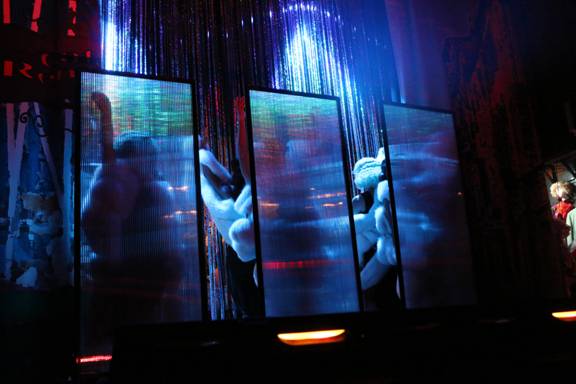 Spectacular intro to Cagelles as designed by Glen Wilgus, and choreographed by Cynthia Murray Davis
Jack Lichtentein in this year much anticipated and enjoyed cameo appearance as Pandora- he has outdone himself!!!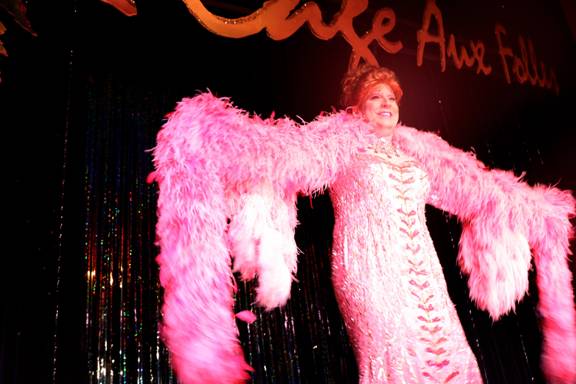 Albin in performance as "ZaZa"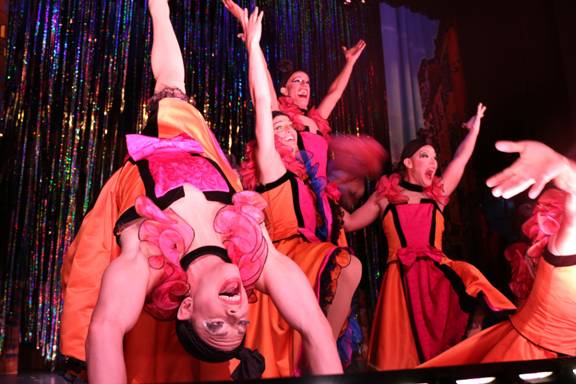 Les Cagelles –(who are not listed separately in the program). Their ability to sing, dance in high heels, and, most importantly, undergo many quick changes of costume, is quite commendable.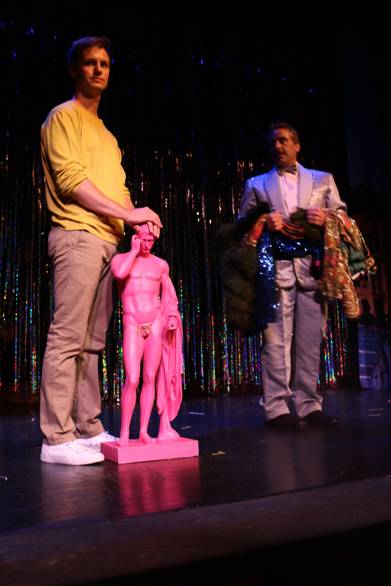 Jean-Michel and father Georges plan to hide gay themed interior decoration for upcoming dinner.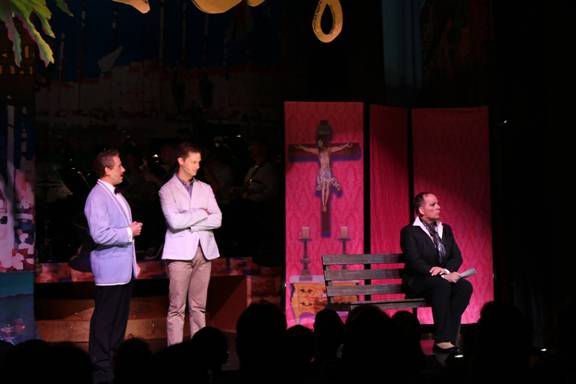 Georges and Jean –Michel (Jeff Ostermueller) tell Aubin he is excluded from dinner with his fiancée's family because he is too gay
Jean-Michel's rejection of Albin highlights society's views about homosexuality in the 1970's-80's ("In the minds of the masses, a lush is more presentable than a fruit"),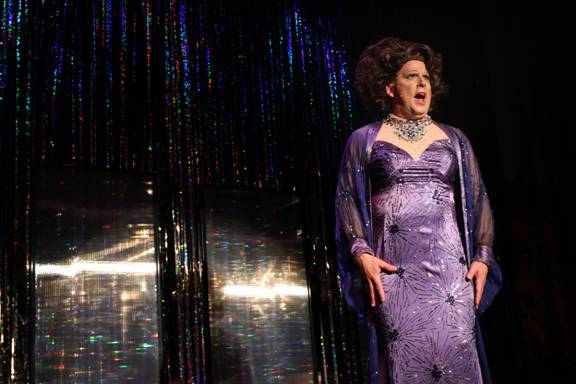 Albin (Tom Gamblin) delivers show's famous anthem "I Am What I Am" in defiance of the imposition put on him to hide his identity
Pivotal scene in which Albin, posing as Jean-Michel's mother, sings "The Best Of Times" and at song's end whips off his wig from force of habit,
blowing his cover to the shock of everyone, especially the future in-laws John Cassese and Lise Zinn.
Not shown but worthy of mention is Steven Allen Black as the happily submissive Francis, and Luis Villabon, who manages to steal every scene he is in as the "maid…not butler" in his role of a lifetime.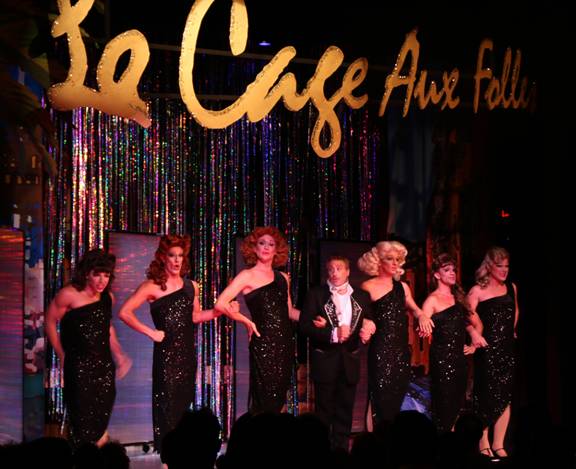 Cagelles & Georges - finale with a twist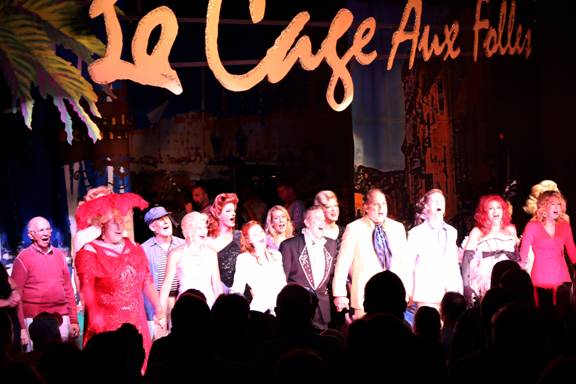 Curtain call to well deserved standing ovation.