L­R: Leah Curney, James Patrick Nelson, Claire Curtis­Ward, Dominic Comperatore . Photo by Hunter Canning
                                  By Eugene Paul
Yasmina Reza, whose plays Art and God of Carnage were huge hits in Paris and London and won themselves each a Tony in New York, returns for a second try with Life X 3 using the same silken translation by Christopher Hampton that did not go down well fifteen years ago in a star studded cast on Broadway. Now Off Broadway, handsomely designed by Brian Dudkiewicz, elegantly directed by Jerry Heymann, splendidly acted by James Patrick  Nelson, Claire Curtis-Ward, Dominic Comperatore and Leah Curney, it's still in trouble, thanks to the icy, spare, lacerating wit of  playwright Reza. The translation did not have a darn thing to do with it the first time around or now. It's Reza's intimate brutality with the characters that done it in. Of course, if you're on the same page with Reza, it's a hoot.
The play's design is simple and either clear or far from clear.  Three short acts, all run together, each a variation of the same time period, same characters, same situation. Sonia (Clair Curtis-Ward) and Henri (James Patrick Nelson) have put to bed their young son for the night.  They think.  Off stage, young son pain in the butt needs entertainment, treats, attention, stories, apple, you name it. Frazzled Henri tries. Snarky Sonia just gets snarkier. They row. Not witty. Not pleasant. Just typical Reza slashing observation.  There's someone at the door.
It's miserable Ines (Leah Curney) – she's got a run in her stocking – and her husband, Hubert (Dominic Comperatore) thoroughly pissed because they are half an hour late for their dinner date with Sonia and Henri.  Only, it's the wrong night.  They're a day early.  And Sonia wants to tell them to disappear but Henri says he's my boss and this is a very important dinner, you have to let them in. But we don't have any food, and besides, we're not dressed.
  Let them innnnn!
Yes, it goes down hill from there.  Faster, because they're got plenty of wine to go with the tray of all the packaged snacks they had in the house. Which becomes a nasty dinner as Hubert snacks and snacks commenting on how delicious it all is, putting the wine away as fast as everybody else. And when he asks the inevitable question which is, if Henri has finished that scientific paper he's been working on for three years, expecting the usual not yet, Henri surprises him:  it's done. Hubert's finished the chocolaty snacks has switched to the cheesy snacks, says too bad another paper's come out on the same subject.  Henri is sunk. Everyone parts on a high note of unpleasantness.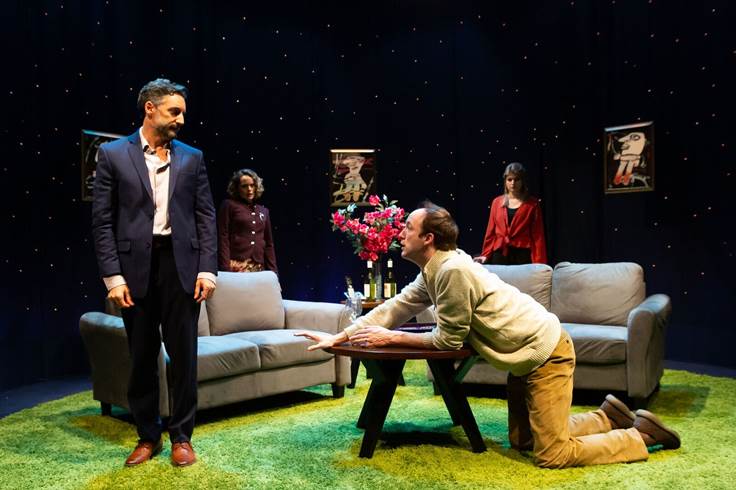 L­R: Dominic Comperatore, Leah Curney, James Patrick Nelson, Claire Curtis Ward
Next act similar elements, slightly less vicious for no apparent reason. Still not my cup of tea but maybe you'd be perkier. I must admit director Heymann handles Henri's groveling rather more adroitly than one would expect.  He also makes the slightest of adjustments in Hubert One, somewhat effete, Hubert Two somewhat hard nosed, Hubert Three, lecherous boss making moves on cool wife of underling, all unrelated yet all related in that they are all Hubert. Comperatore handles it all superbly.
It's James Patrick Nelson who goes through the largest character swings and handles them with ease and charm. Claire Curtis-Ward's Sonia becomes progressively more appealing going from you could kill her to actually liking her and Leah Curney likewise. Best of all – spoiler alert – that off-stage kid does not need strangling by the end of the play.  Maybe it was all those snacks.
Genevieve Beller did the okay costumes, Janet Bentley did the appropriate music which is damning with faint praise, but overall, Reza was as well treated as she deserves to be at this point. I have a feeling that if she takes another hard look at this play she could turn it into a New York hit, but it may be ancient history for her.  After all, she's way ahead of the game.
Life X 3 at Urban Stages, 259 West 30th Street.  Tickets:$25-$35. 90 Min. NewLightTheaterProject.com. Thru Dec 8.