Jim True-Frost, Cora Vander Broek, Ian Barford & Sally Murphy
Linda Vista
By Eugene Paul
Playwright Tracy Letts and the Steppenwolf Company at their scathing best.
Linda Vista, indeed. What's so "Linda" about it? Okay, there's more there than meets the eye. Sure, designer Todd Rosenthal runs a city silhouette overlaid with palm trees above his utterly mundane apartment that Wheeler (Ian Barford) is moving into aided by his old bud Paul (Jim True-Frost), the two them shlepping, shlepping while the house lights are still up and while the late comers are still making pests of themselves squeezing past already ensconced audience members. Director Dexter Bullard is pretty cool, his wily Steppenwolf production already under weigh. We'll get to figure out just what's so "Linda". But he's not going to flat out tell us.
His actors, suitably addressed by designer Laura Bauer, are in process of acclimating us, their audience, into seeing them more and more as characters and less and less as actors which is a refreshing approach in view of the fact that lots of audiences like to see their actors visibly acting. And in this case, Wheeler is acting more smartass than usual to get beyond Paul's pro forma commiseration with Wheeler's divorce. And hence, this apartment in lieu of the house he had to give Kelly and their teen ager mystery of a son.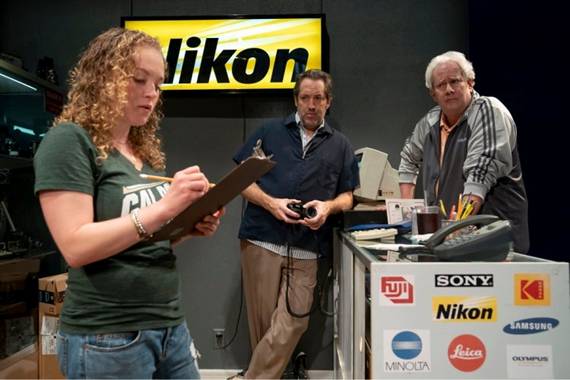 Caroline Neff, Ian Barford & Troy West
And, god, the money. He barely makes enough to feed himself in that half ass job he had to scrounge. Works in a camera shop, repairing cameras. His boss, Michael (Troy West) is the awesome epitome of the Dirty Old Man, so of course, dirty Michael has hired Anita (Caroline Neff) as his totally unnecessary clerk, her job qualification: big boobs.
We are either laughing or gobsmacked by Wheeler's vituperous blue zingers as he unleashes a barrage of epithets every time he opens his mouth in his endless flow of assessments of his life as a middle aged divorced man with no prospects. Which gives Paul the tiny opportunity to suggest that perhaps he might allow Paul and Margaret to fix him up with a date? No, not a teeny bopper, Wheeler's fifty, a friend of Margaret's closer to Wheeler's age. A real woman.
Who turns out to be Jules (Cora Vander Broek) when we meet Paul and his wife, Margaret (Sally Murphy) with Wheeler in this sort of karaoke club, Wheeler disparaging everything especially himself, to Jules, who happens to be a Life Coach with a degree in Happiness. Which invites Wheeler's wickedest wit no end. Except that as they get drunker, they get more charming for each other. With Jules and Wheeler ending up in his meh aparment fornicating happily to exhaustion.
A block away and a couple of nights away at another Broadway theater there's more naked copulation, also brought into the Great White Way from Off. Or Off-Off. Or further. Is it part and parcel of the story being told, thus being completely natural and an improved artistic depiction? If you move yourself in that direction you have a wobbly position when Wheeler scratches his bare ass for a laugh. And gets it. Making him Barford, the actor, for the moment. This is not the time to consider the entire issue of whether or not Broadway is cashing in on what the internet has been cashing in on for quite a while, so playwright Tracy Letts, thoroughly aware of all the ramifications if you'll pardon the expression carries on nobly.

Cora Vander Broek & Ian Barford
Well, not quite nobly. We're dealing with utter shit Wheeler, and have been ready to bolt until Wheeler, in describing a moment that struck him to the heart, turns into a human being, and we're back, fully with him, and his interpreter. Which might be a mistake. Because Wheeler, out of the goodness of his –well, not heart, gives house room to poor Minnie (Chantal Thuy), who is pregnant, broke, and twenty. And cute in a tough way. And totally wrong for Wheeler at this mid-life crisis cliché. After all, Wheeler loves Jules, Jules loves Wheeler. But Wheeler dumps Jules. He's got Minnie. And a potential baby, even though he hates his own kid.
Playwright Letts is on a roll. He's a proven master, being a terrific actor, of writing scenes actors cannot help but revel in and in Wheeler he is either exorcising demons or scaring himself to death because it's such damn, venomous, dangerous fun. And so, Minnie dumps Wheeler. Where do we go from there? Ah, where do we go from there.
In countless ways the Steppenwolf Company of actors under director Bullard's inspired acumen runs gamuts and they are superb, with or without clothes. And Tracy Letts gives them a feast of words for ravishing us. But you'll hate yourself in the morning.
Linda Vista. At Helen Hayes Second Stage Theater, 240 West 44th Street. Tickets: $79-$149. 212-239-6200. 2hrs, 30 min. Thru Nov 10.