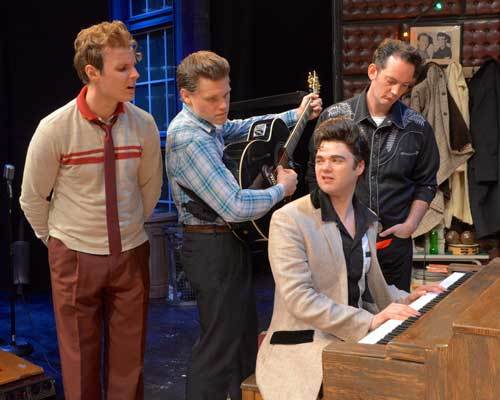 Dominique Scott as Jerry Lee Lewis, John Michael Presney as Carl Perkins, Ari Mckay Wilford as Elvis Presley, and Sky Seals as Johnny Cash                                                                        Photos by John Vecchiolla
                         By Ed Lieberman
Long before the dream team known as the Traveling Wilburys (George Harrison, Bob Dylan, Roy Orbison, Tom Petty and Jeff Lynn), there was the Million Dollar Quartet. On December 4, 1956, Elvis Presley, Johnny Cash, Carl Perkins and Jerry Lee Lewis found themselves together at the Memphis recording studio of Sam Phillips' Sun Records. As they came and went during the day, they informally sang many of their hits and other gospel and southern rockabilly tunes they were familiar with. Phillips' engineer recorded the impromptu jam session, a famous photograph was taken to memorialize the event, and the "Million Dollar Quartet" was born.
Million Dollar Quartet is constructed around that famously accidental recording session.  WBT's production is helmed by Director Hunter Foster, who played Mr. Phillips in the original Broadway production, which ran for 489 performances between April 2010 and June 2011 and was nominated for three Tony Awards, including Best Musical.  What makes Million Dollar Quartet stand out from your run-of-the-mill jukebox musical is that the actors portraying these rock legends don't just play their roles – they play their own instruments, as well. The cast of this production: John Michael Presney (Carl Perkins), Sky Seals (Johnny Cash), Ari McKay Wilford (Elvis Presley) and Dominique Scott (Jerry Lee Lewis) are all great musicians and singers, which enables the audience to overlook the fact that they do not closely resemble the well-known stars they are portraying.
There is a minimal story line, by authors Colin Escott and Floyd Mutrux, which, to be honest, is mere filler to separate and introduce the songs. It also serves to inform the uninitiated about the singers' place in rock at that time (i.e. Elvis, still only 21 years old, had already left Sun Records to record at RCA; Johnny Cash, 24, was about to leave Sun for Columbia; Carl Perkins, also 24, was upset that Elvis had recently garnered a lot of publicity performing Perkin's "Blue Suede Shoes" on the Ed Sullivan Show; and Lewis, just 21, was an unknown brought in to beef up the background instrumentation for Carl Perkins' new single), as well as their relationships with Phillips, their mentor. There are discrepancies between versions of the session as told by the various participants, which, perhaps, gave the authors, Colin Escott and Floyd Mutrux, dramatic license to alter both the story and the music that went down that day: they inexplicably decided to make Presley's girlfriend a singer – and give her not one, but two numbers to sing, when the real-life girlfriend who accompanied him to the session was a dancer, whose voice is not heard on the tapes -- and they include songs that had not yet been recorded or released (i.e. "Great Balls of Fire"), perhaps to give each of the performers an opportunity to perform their characters' biggest hits. Indeed, only three of the 24 songs in the show actually were part of the recorded session.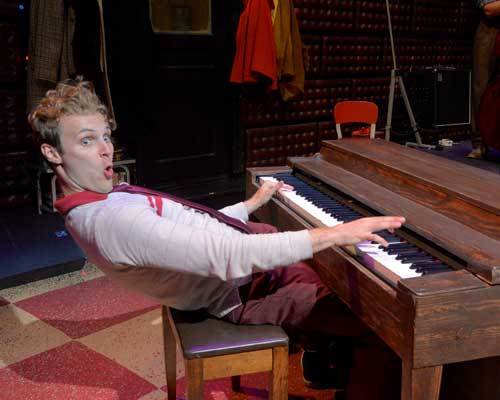 Dominique Scott as Jerry Lee Lewis.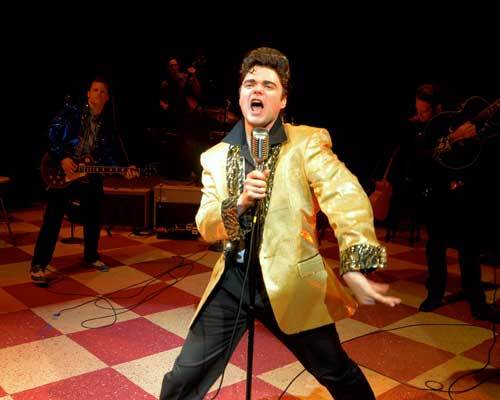 Ari Mckay Wilford as Elvis Presley

John Michael Presney as Carl Perkins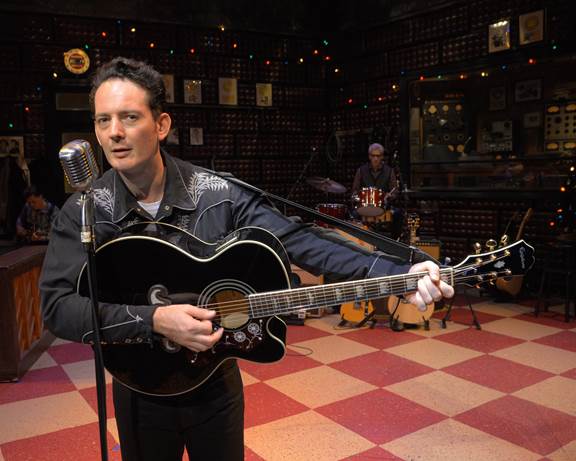 Sky Seals as Johnny Cash
That said, the show does not rest on historical accuracy. The draw here is the performers, who stand on their own merits and bring their legendary alter egos to life. Mr. Presney, as Carl Perkins, plays a mean guitar; Mr. Wilford, has the young Elvis's wild gyrations down pat; as impossible as it may sound, Mr. Scott plays the irrepressible Jerry Lee Lewis a bit over the top, as a preening, foppish "wild child" who had to continually be restrained by the others during the session. Sky Seals came perhaps the closest to his character, recreating the bass notes that Cash was so famous for.  In addition to the four stars, Jason Loughlin, as Sam Phillips, was terrific as the narrator, and Bligh Voth shines in the fictitious role of Dyanne, performing her two vocals flawlessly. Mention must also be made of Sam Weber, as Carl Perkins brother, Jay, who almost steals the show, prancing around the stage playing his bass like it was a guitar, as a prop for the other actors, upside down and in all manner of other ways that it is not designed to be played.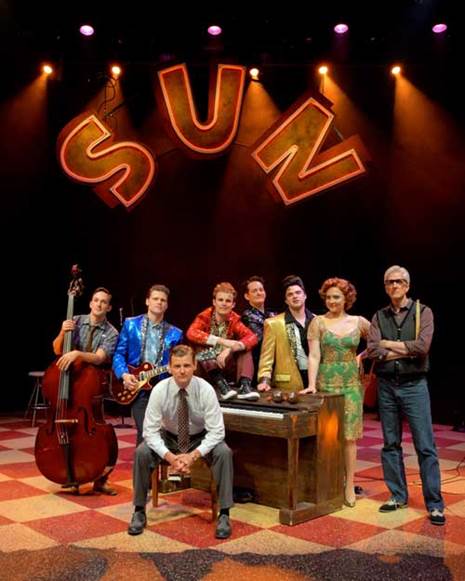 This is a scaled-down production by WBT standards: all action takes place on a single set, designed by Derek McLane: the recording studio of Sun Records. Costumes, by Molly Walz and Heidi Giarlo, are fairly pedestrian for most of the show (this was a recording session, after all), but glam up for the finale, which resembles a Mama Mia-style encore concert.  Lighting, by WBT stalwart Andrew Gmoser, permits the players to have out-of-studio interactions while being on the same stage as the studio set, and the sound design, by Jonathan Hatton and Mark Zuckerman keep the amped-up guitars from drowning out what little dialogue there is. Finally, the direction of Mr. Foster and choreography of his wife, Jennifer Cody, build on the obvious chemistry among the actors, many of whom have just come from another production of MDQ  at the Ogunquit Playhouse, from which the set and costumes were borrowed. This accounts for the great chemistry and precision between the actors, who are so obviously enjoying themselves onstage.
In short, this is a great show for all ages: those who remember the era before the British Invasion, and those who just want to attend a really good rock concert, with a great meal included.
Million Dollar Quartet runs through September 11th at the Westchester Broadway Theatre, 1 Broadway Plaza, Elmsford, NY.
Box Office: (914) 592-2222 or www.BroadwayTheatre.com