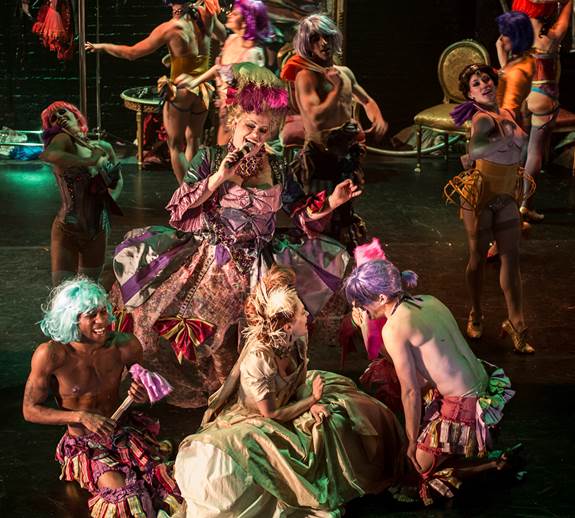 Shelly Watson and cast members                                          Photographer: Robert Zash
                                         by Joel Benjamin
There weren't any little budding ballerinas attending Nutcracker Rouge at the Minetta Lane Theatre in the Village.  However, those there were surely stimulated in more fleshly pursuits.  This bare, beautiful cast do their best in this retooling of the Nutcracker story filled with erotic dance, sexy acrobatics and music (unfortunately, mostly canned classical with some very good live singing).   In Rouge Marie Claire (exquisitely beautiful Laura Careless) learns about love and the art of being deflowered, not about desserts, flowers and toys.  Her guides are Drosselmeyer (Jeff Takacs) and Mrs. Drosselmeyer (Shelly Watson), an exuberant and boisterous couple who not only corral and introduce the actors—who dress in full sight of the audience—but keep the audience totally involved in the action moving the show along at a good clip.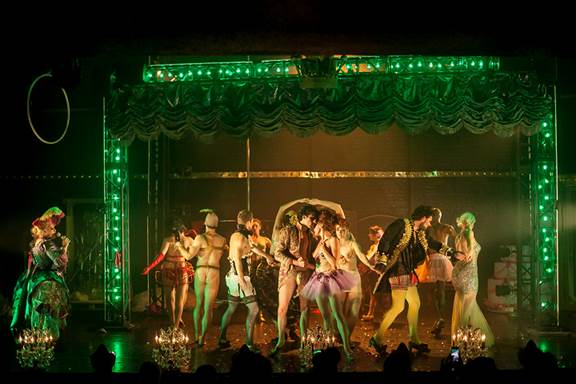 Cast members of Nutcracker Rouge
Photographer: Phillip Van Nostrand
Nutcracker Rouge, presented by Company XIV, conceived, choreographed and directed by Austin McCormick, begins as you walk into the lobby where even the refreshment staff are very friendly—and good-looking.  Carrying your intoxicating beverages into the theatre you're greeted by a thick stage fog that enhances the appealing feeling of time travelling.  The Victorian era scalloped red curtain and old-fashioned chandeliers used as footlights (designed by Zane Pihlstrom who also created the elaborate—if skimpy—era-jumping costumes with atmospheric lighting by Jeanette Yew) enhance this first impression. 
The Drosselmeyers take Marie Claire on an escorted tour that includes a joyfully spinning lady in a large hoop (an exuberant Courtney Giannone), dancers and acrobats hanging from the ceiling, fetishistic whippings, burlesque bumping and grinding and lots of singing by the Drosselmeyers and a sultry Katrina Cunningham.  Shelly Watson, a modern Sophie Tucker, is both warm and lascivious, with a rich pop soprano.  Mr. Takacs, whose burly build hides his puppy dog sweetness, gently pushes Marie Claire (who has finally shed her Marie Antoinette gown and her inhibitions) into her climactic erotic pas de deux with a very bare and very handsome Alexander Hille.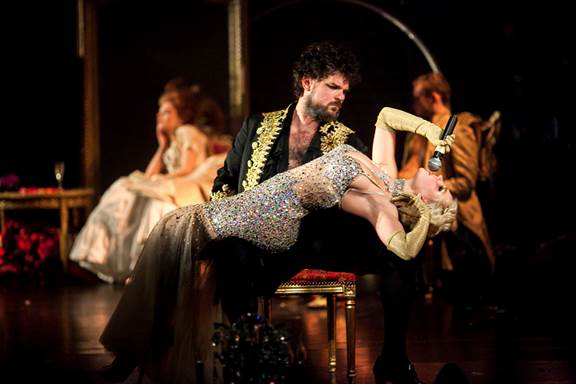 Katrina Cunningham (singing) and Jeff Takacs as Monsieur Drosselmeyer Photographer: Phillip Van Nostrand
Nutcracker Rouge is playful and beautifully performed.  It is a perfect alternative to the routine family entertainments.  And, let's face it, it's always nice to gaze at beautiful, talented people.
428 Lafayette Street, between Astor Place and East 4th Street in New York City. Previews begin November 20 for a November 29 opening.
Performances are Tuesdays – Sundays at 8pm. The Dec 20 performance is at 10pm and there are no performances on Nov 27 and Dec 28. Tickets from $75 to $175. Visit http://CompanyXIV.com or call 212-677-1444. The show contains partial nudity - 21 & over admitted.
For info visit http://CompanyXIV.com, Like them on Facebook at https://www.Facebook.com/CompanyXIV, follow them on Twitter at @Company_XIV, and on Instagram at CompanyXIV. See what everyone's talking about at #CompanyXIV.
The Bar @ XIV is open for cocktails before, during and after the show.
The cast includes Laura Careless, Katrina Cunningham, Courtney Giannone, Todd Hanebrink, Lea Helle, Davon Rainey, Steven Trumon Gray, Allison Ulrich, Brett Umlauf, Shelly Watson and Jonathan Royse Windham.