Francois Battiste, J. Alphonse Nicholson, Keith Randolph Smith , Kristolyn Lloyd
                            by Arney Rosenblat
Dominique Morisseau once again captures the soulful music of alienation, frustration and yearning of individuals sidelined by life into the role of second class citizens, though these refrains lack the raw gripping power of her other Detroit Trilogy plays the brilliant Skeleton Crew and Detroit '67.
The story line, which is slim on action, is a familiar one, wealthy white interests establish a gentrification plan that includes razing a predominantly black community under the guise of addressing urban "blight" In this case the target is the Black Bottom district of Detroit in 1949 and the establishment at stake is the Paradise Club owned by a troubled trumpeter named Blue who is torn between remaining in Black Bottom with his loyal lover Pumpkin or leaving his tortured past behind by selling his family legacy, taking the money and run.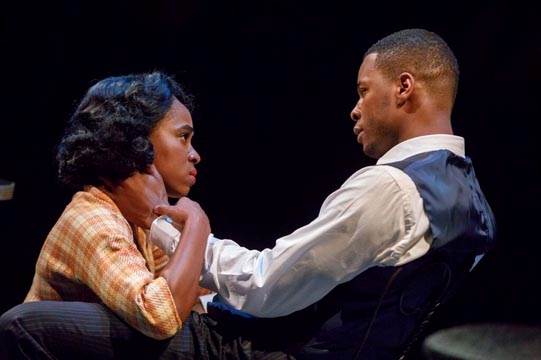 Kristolyn Lloyd and J. Alphonse Nicholson
Populating the Paradise Club are a rich set of characters leading off with Blue, a simmering and moody J. Alphonse Nicholson who makes every note on his horn count. Then there is his lover and general club factotum Pumpkin portrayed by Kristolyn Lloyd with sensitive grace as she tries to cope with the mean world surrounding her by committing to memory the beautiful words in the book of poems she carries around with her. Filling out the club's residents are the remnants of the house band: Cornelius, known as Corn, played by Keith Randolph Smith with warm gusto. who is the pianist and a widower longing to find love again; and P-Sam played by Francois Battiste with fiery style who is a sweet-talking hustler and the band's percussionist.
Blue is the rooster at the Paradise. "Everybody knows this is Blue's Black Bottom Quartet," he says. "My club. My band. Ain't nobody getting' solo time but me." The dynamics change, however, with the arrival of a mysterious and very sensual widow named Silver, who appears with a fixating walk, a wad of cash in her bra, lingerie that mesmerizes Pumpkin and a gun. P-Sam and Blue see Silver as a black widow spider. Simone Missick captures Silver's noir smoldering facets perfectly.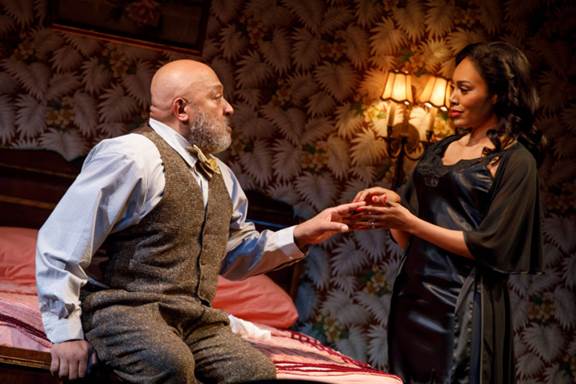 Keith Randolph Smith and Simone Missick              photos by Joan Marcus
Despite Blue's obvious genius with a horn, he manages to damage everything and everyone he touches. "Blue ain't a bad man," Corn observes, "He just wanna be mighty but the world keep him small. Cost of bein' Colored and gifted. Brilliant and second class. Make you insane." Ms. Merissa decides to ask, however, how much can you forgive genius when its impact is so destructive.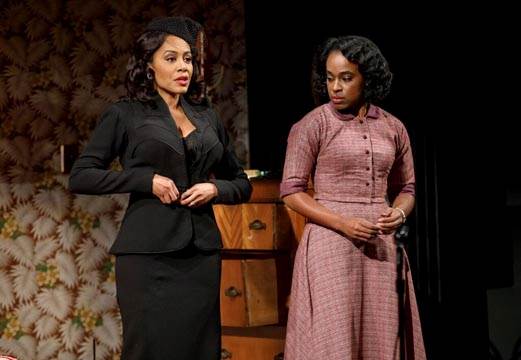 Simone Missick and Kristolyn Lloyd
Though Blue and his struggle with his family ghosts, traumatic past, unfulfilled talent, and what he should do with the Paradise Club are the surface story, it is Pumpkin''s journey, with Silver's tutelage, from a "go-along gal" to a self-reliant, take charge being willing to risk the repercussions of violence when she sees this as the only viable recourse for Blue, who has sold the Paradise to the city, and the community about which she cares deeply, that is the real underlying story in this play. "Every part of this place is who I am." says Pumpkin, "It's killin' you but keepin' the rest of us alive."
Ms. Morisseau with the help of Director Ruben Santiago-Hudson, who keeps a firm hand on the characters and what action there is in the story line, have created a foreboding fable-like atmosphere to the play which opens with a prologue where we find Blue on stage making his trumpet sing followed by the disembodied sound of a gunshot. Needless to say that shot makes its way round again before the play concludes, The creative team offers tight infra-structure support through Neil Patel's scenic design, Rui Rita's noir lighting and Darron L. West's focused sound design, Kenny Rampton- original music; Bill Sims Jr. – Music Director
Paradise Blue has beautiful and powerful moments but it feels like it is still a work in progress as its strong ideas and characters need further development and dimension.
Paradise Blue
Off Broadway drama
Pershing Square Signature Center
480 West 42nd Street
212-244-7529
Runtime: 2 hours and 20 minutes
Closing: June 17, 2018