Paradise Lost
                                                    By Eugene Paul
For the  actively –no pun intended – proselytizing Christian centered Fellowship for the Performing Arts, playwright Tom Dulack has rendered a staged version  of the great John Milton's massive ten volume epic poem, "Paradise Lost"  which saw the light  of day and brought it to the English speaking world in 1667. Milton's poem is considered one of the greatest written works of all time. It has been lavishly, lovingly staged by director Michael Parva in scenic designer Harry Feiner's  extraordinary settings – Hell and the Garden of Eden, thanks to  superb projections by John Narun heavily indebted to Michelangelo and Gustave Dore, to name a few,  crunched and updated to a mere  110 minutes without intermission. Sheer chutzpah.
We are at the Beginning of Time.  The smoke and fires of Hell and horrid rumblings  (courtesy of sound designer John Gromada) slowly disperse to present two  exotic figures, Lucifer and Beelzebub, sorely battered, having been thrown out of Heaven into the steaming maw of Hell.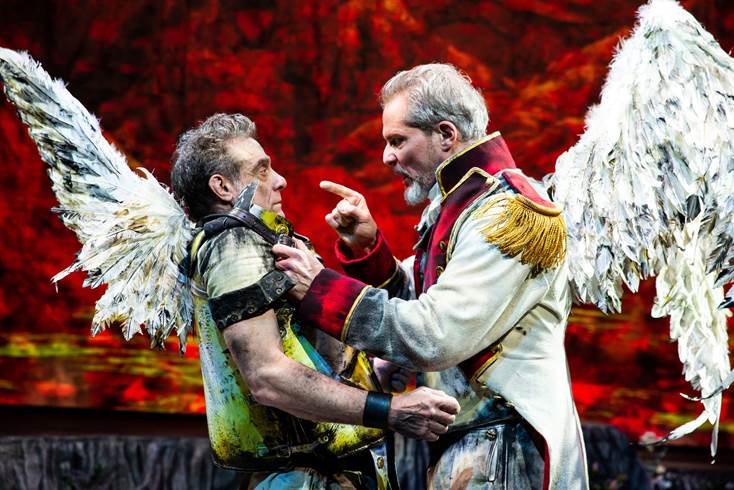 Lou Liberatore and David Andrew Macdonald                  photos by Jeremy Daniel
 The angel Lucifer (splendid David Andrew MacDonald), his beautiful wings intact, stands angrily erect, his handsome epauletted military uniform circa 1890 soiled and scorched.  Beelzebub (stalwart Lou Liberatore) has not fared as well: one wing is gone to its stump, the other frazzled, his Roman centurion AD 43 attire  a sturdy mess. (We can see costume designer Sydney Maresca is having a lark, tongue in cheek, witty comment, what have you.)
Lucifer rages at the unjustness of Heaven but never conveys to us why he was tossed out. His aim: revenge for his indignities.  He will summon all the millions in Hell into a brazen army to fight for his rightful place at or on the throne of Heaven, we aren't sure which. Beelzebub soldiers on. It's obvious we needn't have read Milton's original.  Things are pretty plain. And besides, everybody knows the upcoming Bible story of Adam and Eve. Surer ground, so to speak. We're anticipating the Garden of Eden, and designer Maresca's witty take on  birthday suits for Adam and Eve.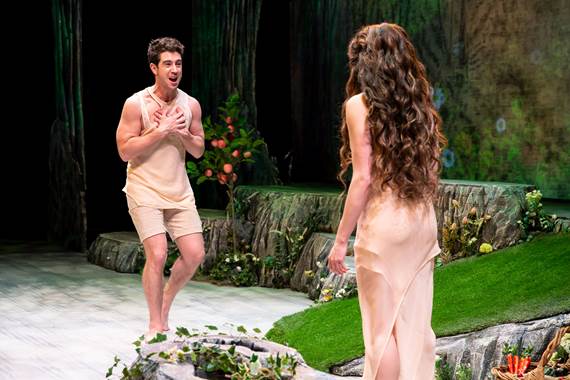 Robbie Simpson and Marina Shay
Well, durn. But Eve (charming Marina Shay) is such an adorable dumbdora we don't really mind her pinkish  shift, we know it's for our benefit so we're prepared for Adam's pinkish coverings but the shorts—well I dunno. Adam (Robbie Simpson) is kind of an iffy twink, but what else would he be when you think about it, and he thinks Eve is so darn cute.  And so does she. We kind of gasp a little when she pulls an apple off a cute little tree and starts eating it but, no worries, it is not THE  tree.  The Tree of Knowledge, as we all know. Don't we?
David Andrew Macdonald and Mel Johnson Jr
Just in case you somehow haven't heard if you are of a different persuasion Adam spells it all out loud and clear and what he doesn't spell, along comes Gabriel (Mel Johnson Jr) a very smiling Archangel and  helps really to lay it all out. As far as he knows, and that's quite a lot.
David Andrew Macdonald and Marina Shay
 But he hasn 't reckoned on the  serpent in the Garden – I'd been waiting for this – and serpent indeed he is, Lucifer all recostumed in a very hip snakeskin jacket, working his nefarious wiles on innocent Eve, who has a soft spot:  she wants to know things.  How is it that she has the names for everything, how is it she can talk to the birds and that—that  squirrel? And oh, lots of other questions.
Playwright Dulack's inventiveness has inspired him to provide Sin (Alison Fraser) with an electric scooter enabling her to enter and exit with necessary dispatch for all her scenes with he husband, Lucifer, who is also her father. Those relationships come right from Milton, if not the scooter, and those indicators convey Sin for what she is, yet never quite sufficiently to sully Lucifer's own appraisal of his own worth  Sin is an eyeful, costume designer Maresca at full throttle. Where some might wear her heart on her sleeve she flaunts her entrails on her overskirt.
As the players enact the old story, very little of it in Milton's own words, what comes out is that it is women who are to blame for Sin, something being at the forefront of today's news, only now, women are fighting back at all the Lucifers and the Lucifers are losing their angelic wings.  Poor Eve never knows why she should not know –God said no and God's no is No –which lays the blame on Eve and her sex for all of humankind not to be enjoying Paradise. I don't think this was the intended message of the Fellowship for Performing Arts but who argues with Milton? A mostly scant but  attentive audience remained  as if in pews to hear Artistic Director Max McLean explain after the show.
Paradise Lost at Theatre Row, 410 West 42nd Street.  Tickets:$75-$95. 212-239-6200. 110 min. Thru Feb 23.