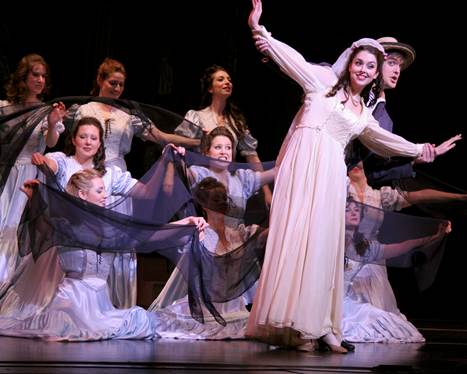 Sarah Caldwell Smith in the role of Rose Maybud and Daniel Greenwood in the role of Richard Dauntless -- sing "Happily coupled are we" backed by the Bridesmaids Chorus – RuddigoreAct 2
                          by Deirdre Donovan
The New York Gilbert & Sullivan Players (NYGASP) resurrects Ruddigore, for a rousing 40th year celebration at NYU Skirball Center.  This is NYGASP's maiden production at the Skirball but will hardly be their last. In fact, the company has adopted the venue as home for its 2014-15-anniversary season.
There's no doubt that this new outing of Ruddigore floated smoothly through the Skirball's spacious theater, which has excellent acoustics and sightlines.  Although 19th century English audiences found the opera just so-so at its Savoy premiere on January 21, 1887, as whipped-up by NYGASP's artistic director Albert Bergeret and the lively company, this so-called mediocre work gained a new saucy flavor.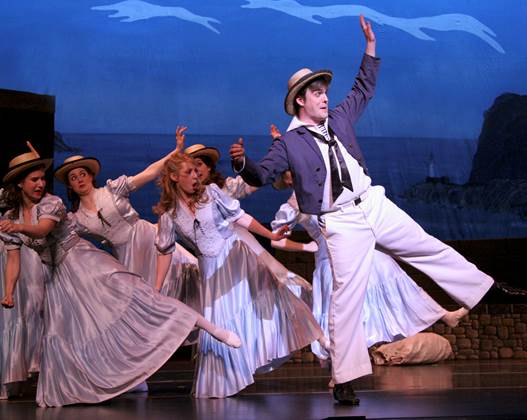 Daniel Greenwood (right) in the role of Richard Dauntless, does some fancy foot work with the Bridesmaids Chorus – Ruddigore Act 1
Set in the19th Century in both the Fishing Village of Reddering in Cornwall and the Picture Gallery in Ruddigore Castle, this burlesque still has plenty of fun in its operatic bones!   Its wild premise revolves around a witch's curse that hovers over the Baronet of Ruddigore, much like a Sword of Damocles.  He must commit a crime a day or be cursed, which would mean that it would be passed down to the next generation.  Little surprise that Ruddigore's subtitle is the Witch's Curse."  The Baronet is no easy target, however.  Assuming the guise of farmer Robin Oakapple (David Macaluso), the Baronet slyly allows his younger brother to deal with the quandary.  All is well for a while, but his ancestors begin to haunt the Baronet.  And the rest is for you to ponder and puzzle out.
Bergeret grabbed the audience by the ears with the light and breezy opener, "Fair is Rose," sung by the Bridesmaids, Zorah, and Villagers.  This ensemble piece flowed into the darker ensemble number "Sir Rupert Murgatroyd" and then in sharp contrast, to a solo "If Somebody There Chanced To Be," sung coyly by Sarah Caldwell Smith as town beauty Rose Maybud.  The rest of Act I gained comic texture, and gallons of melodrama, with such numbers as "My Boy You May Take It From Me," sung by Rose's suitors Robin and Richard Dauntless (Daniel Greenwood).   Romance ratcheted up during "In Sailing O'er Life's Ocean Wide," a delightful parody of a love triangle with Robin and Richard wooing Rose.
Whereas there are some dead spots in Act 1, the famous duo tucked some theatrical surprises into Act 2.  In fact, the real showstoppers were the scenes with Mad Margaret (Caitlin Burke) and Sir Despard Murgatroyd (Richard Alan Holmes), singing the duet  "I Once Was a Very Abandoned Person."   The other standout was the duet "I Once Was a Meek," which was sung by Robin and Adam (Ryan Allen) in the Picture Gallery in Ruddigore Castle with the portraits of the ancestors as backdrop.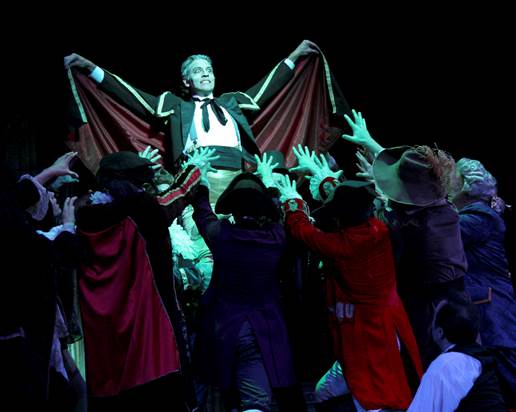 David Wannen center portrays the ghost of Sir Roderic Murgatroyd - Ruddigore Act 2
                                   Photos: David Sigafoose
The production values were solid and organically melded with the macabre storyline. Albere's set design captured the marine mood and atmosphere of the Fishing Village of Reddering, and together with Benjamin Weill's striking lighting, the opera took off.  In fact, some scenes were reminiscent of an early action film, flicker-effects and all.  Gail J. Wolford's smart costumes were as right for the salt -tars as for Mad Margaret, who had Ophelia-like flowers and herbs strewn throughout her long, disheveled hair.
A 19th Century critic thumb-nosed Ruddigore as "resurrection pie."  While this opera will never be ranked in the top tier of Gilbert and Sullivan's canon, as helmed by Bergeret at the Skirball and performed by this talented company, it certainly deserved two thumbs-up.
Limited run:  November 1 & 2.
At the NYU Skirball Center for the Performing Arts, 566 La Guardia Place, Manhattan.
For more information on The New York Gilbert & Sullivan Players (NYGASP) 2014-2015 season, Phone NYU Skirball Center Box Office at 212-998-4941 or by visiting www.nygasp.org.
Running time: 2 hours; 45 minutes.