George Dvorsky (as Emile deBecque) and Haley Swindal (as Nellie Forbush)
                                                                         Photos by John Vecchiolla
            by Eugene Paul
How in the world to do this?  I've seen the original Broadway production, sung and played the songs ever since, saw it on film, on TV, went to every major revival including the latest, been kissed by the greatest Bloody Mary how could I visit the WBT production without instant after instant memory rising? Oh, stop stalling and do it.  It is not going to be easy. South Pacific is a huge favorite of mine; further, I've become a fan of the Westchester Broadway Theatre.  But if ever there was a disenchanted evening, this was it.
To quote my theatre companion, who, praise be!, had never seen the show before, "If the very first word of the very first song is wrong, it's a very bad sign". She was talking about "Dites-Moi", the charming song sung by the children, one of my favorites.  In fact, just about every song in South Pacific is a favorite, all compelling reasons to see the show again and again. But woe is me, what have they done?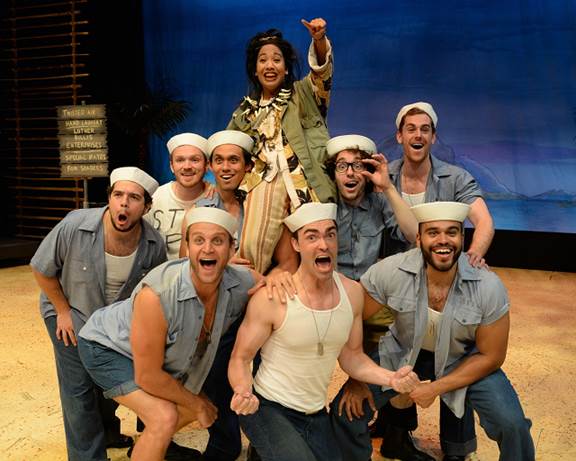 Joanne Javien (as Bloody Mary) center, with sailor ensemble perform "Bloody Mary"
Well, first, the good news.  Joanne Javien, as Bloody Mary, is bloody marvelous, the best thing in the show, and you know how I feel about Bloody Mary. Her "Bali Ha'i" is a dream.  Furthermore, everything works, the sound, the lighting, the staging.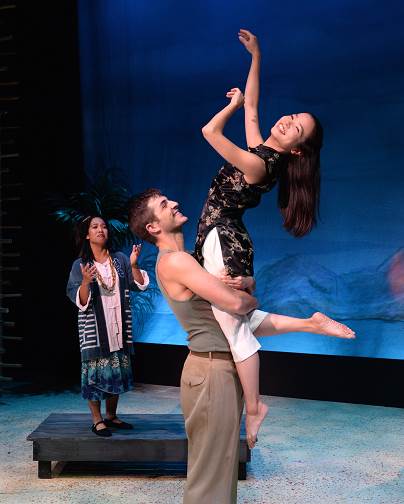 Zach Trimmer (as Lt. Joseph Cable) and Alison T. Chi (as Liat) with Joanne Javien (as Bloody Mary) in the back.
Next good news: Alison T. Chi, as Liat, Bloody Mary's fragile blossom of a daughter, given to the star- crossed Lt. Joe Cable (Zach Trimmer) is the loveliest, most enchanting Liat I have ever seen, truly magical. Their delicate love story, broken on the wrack of racism and prejudice, still resonates.



l to r: Stephanie Cowan, Maria Logan, Haley Swindal (Nellie Forbush), Ashley Lanyon, Laura Yen Solito, Sarah Ellis Perform "I'm Gonna wash that Man Right Outa My Hair".
But Bloody Mary, Liat and Joe Cable aren't the central characters of the show and therein lies the rub. Nurse Ensign Nellie Forbush (Haley Swindal) is, and planter Emile de Becque (George Dvorsky) is, the effervescent homespun American nurse serving her country and the reclusive French expatriate escaping from a dangerous, disapproving, bigoted society, who fall in love but are torn apart by deeply inculcated American prejudice.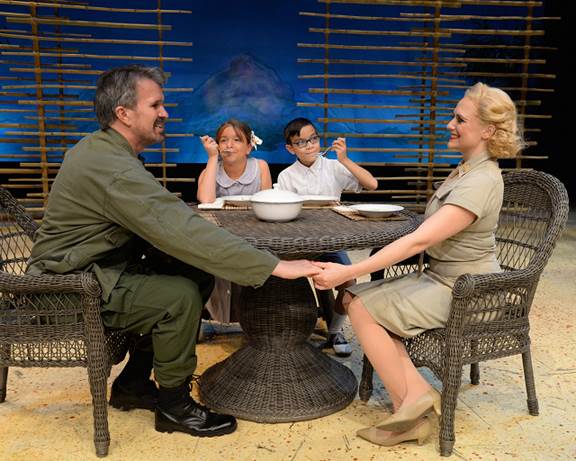 George Dvorsky (as Emile deBecque) and Haley Swindal (as Nellie Forbush) with the children : Kyle Arzaga(as Jerome) and Isabella D'Erasmo (as Ngana)
De Becque has two half Asian children and Nellie is a heartland American bigot born and bred who cannot get over her prejudices, A nice girl otherwise. These alluring characters and their wonderful songs are the very core of the show.
However, as portrayed by wooden George Dvorsky and squeaky Haley Swindal, they are the bad news.  There's more, but this is the big null. And director Charles Repole doesn't know what to do with them. He has not persuaded his company to take possession, make the show their own; they are just presenting a famous show with famous songs. Dvorsky, stolid at best, seems to be directed to stand over there, sing, walk over there, raise arm, sing, face audience, not the woman he's in love with, sing.  It's robotic, staged robotically, not at all like a play, Dvorsky obedient, remote.  Swindal, burdened with the wrong hair, wrong clothes, wrong makeup and a Minnie Mouse speaking voice the sound engineering seems to reject, is shockingly uncharismatic.  And the chemistry between them? One could expound reams on how unsexy they are together or separate. Apparently director Repole gave up.  And they have such wonderful songs to sing! " A Cockeyed Optimist", "Some Enchanted Evening", "A Wonderful Guy".
We can't wait for the rollicking Sea Bees and the comedy relief of Luther Billis (Bill E. Dietrich)  The men all singing "Bloody Mary" sound good.  ""There is Nothing Like a Dame" is really okay.  But – where's Billis' off center charm?  Or even on center?  Anything?  Dietrich is massively unfunny. And again, an apparently paralyzed director cannot or does not help.  The nurses are perky, pretty when not in uniform, absurd when wearing uniform costumes and wigs that swamp them.
"Younger than Springtime", that loveliest of love songs, is so awkwardly staged and belted one quails.  Zach Trimmer as Cable is far more successful in his bitter song about being taught to hate people: "You've Got to be Taught" and George Dvorsky succeeds in making "This Nearly Was Mine" his own.
Which brings us to the war story scenes and plot we've been avoiding.  They are deeply incomprehensible and directed that way. But then, any human being, even an officer, could hardly be expected to be otherwise in the steamy hot south Pacific wearing a tie, let alone a full dress uniform.
Still, there's a show underneath all that, you know it, you even feel  it, it's not just memories.  The enchanted songs, they'll live through it all.  And a lovely audience gave the hardworking company a vigorous curtain call.
*
South Pacific. At the Westchester Broadway Theatre. Dinner and show: $80. Luncheon and show: $54. Discounts, children, students, seniors. 914-592-222,or BroadwayTheatre.com. Luxury boxes: 914-592-8730, many extras incl, private powder room, reserved parking.
*
A beloved American classic whose songs are as fresh as ever.