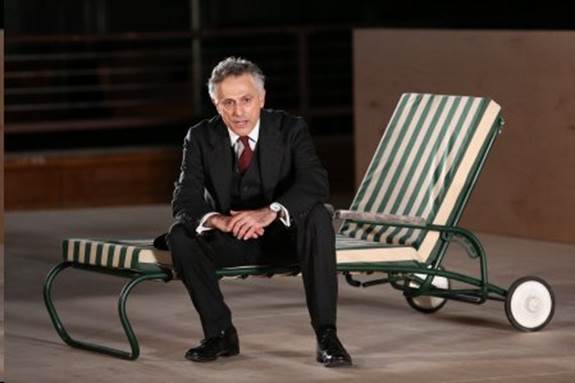 David Greenspan. Photo © Carol Rosegg
                    by Deirdre Donovan
David Greenspan's marathon performance of Eugene O'Neill's nine-act play Strange Interlude is a stunner.  Greenspan not only performs all the roles in the dramatis personae, but he delivers every syllable in the text verbatim.  Under the aegis of the Transport Group, and directed by Jack Cummings III, serious theatergoers should drop everything and go to the Irondale Center in Brooklyn to catch this once-in-a-lifetime event.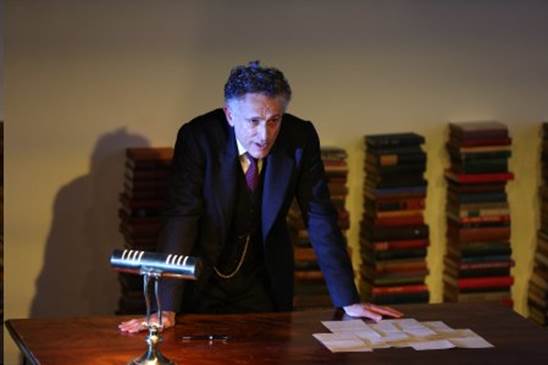 For those who need a refresher on Strange Interlude, O'Neill wrote the experimental work in 1923 and it premiered at the John Golden Theatre in 1928.  It won the Pulitzer Prize the same year and became the red-hot ticket on Broadway.  Various critics have dubbed it a mesmerizing soap opera, the theater world's counterpart to True Confession stories, a triple-deck sandwich, and more.  Indeed, it crossed over into popular culture, with Groucho Marx parodying it in the Marx Brothers film Animal Crackers and Mad Magazine spoofing it in a piece called "A Strange Interlude with Hazey."  A film version arrived on the big screen in 1932, starring Norma Shearer as Nina Leeds and Clark Gable as Dr. Ned Darrell.  Little wonder that its current revival has created a buzz.
The plot sprawls in all directions.  It revolves around Nina Leeds, the daughter of a classics professor in New England, who lost her fiancé Gordon in the First World War.  Nina not only grieves for Gordon but enshrines him in her imagination as the ideal man.  Nina deeply regrets that Gordon and she postponed their marriage until after he returned from flying service.  She suspects that her father influenced Gordon to delay their wedding day—and then learns her suspicions are true. 
The three men who walk into Nina's life after Gordon's death become surrogates for Gordon.  There's the timid novelist Charles Marsden (dear old Charlie), the affable Sam Evans, and the attractive physician Ned Darrell.  Nina shrugs at the "immaculately shy" Charles, marries the reliable Sam, and falls in love with Ned.  Spoiler alert!  Nina becomes pregnant with Sam's baby but aborts the baby when she learns that a history of insanity runs in her husband's family. To cover up her secret abortion, she has her lover Ned impregnate her.  When the baby is born (spookily, Nina names him Gordon), her husband Sam naively believes it's his.  Yes, Nina's relationship with the three men will continually shift, change, and transform her over the next 25 years.  But it's only when her son Gordon matures into a man, and becomes engaged to Madeleine that Nina discovers that she can't manipulate everyone's life.
While the plot is juicy, the thing that makes the melodrama hum are the soliloquys and asides.  O'Neill incorporates interior monologues with traditional dialogue into his nine-acter.  No question he was influenced by James Joyce's stream-of-consciousness technique.  In fact, one could say that Nina Leeds is a close cousin of Joyce's Molly Bloom.  They might be different in their particulars but both are cut from the same literary cloth.
There's lots of comedy in Strange Interlude.  Eavesdropping on his principals' thoughts one gets surprising information on the past and how it colors the present.  While this play doesn't deliver a laugh a minute, the comedy is always surfacing in unpredictable—and delightful--ways.
Greenspan, of course, is the central attraction of the production.  He's a one-man band who smoothly insinuates himself into each and every character.  Dressed in a conservative dark suit, replete with vest and watch chain, Greenspan dramatizes the entire galaxy of people in the play's world.  Although it takes a few moments to get into the swim of the story in Act 1, Greenspan is amazingly adept at shifting from one character to another by using body language, facial expressions, and his well-modulated voice.  Greenspan fluidly changes gender, disposition, and tone to bring each persona alive.  Although Greenspan is well-known in the downtown theater world for his versatility as an actor, he adds a new feather to his cap in this venture.
The staging of the play at the Irondale Center is a brilliant stroke.  With its multiple performing spaces, the audience shuttles between two rooms for the first 7 acts and migrates to the mezzanine for the final two.  Obviously, the set designer Dane Laffrey adheres to the-simpler-the-better philosophy.  And with a minimum of props, he's able to evoke a convincing New England feel to the diverse scenes.
Rare pleasures can be enjoyed in this production. It clocks in at 5 hours, and if you add the half-hour dinner break and two intermissions, it stretches into 6 hours.  But Greenspan is so compelling to watch from the first to last scene, that you might be amazed at how the hours fly.
 Strange Interlude is for those who like their theater to be intellectually stimulating and emotionally charged.  Nina says near play's end:  "Our lives are merely strange dark interludes in the electrical display of God the Father."  No matter how you interpret the line, it's a magnificent piece of poetry—and something to chew on as you head toward the theater's exit.
Through November 18th.
At the Irondale Center, 85 South Oxford Street, Brooklyn.
For tickets, visit www.ovationtix.com.
Running time:  6 hours, including a half-hour dinner break and two intermissions.