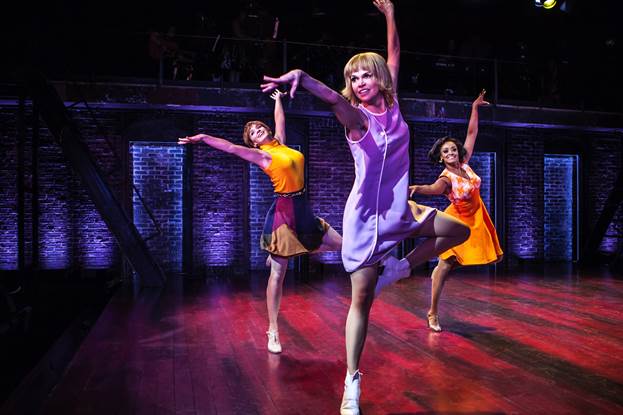 Emily Padgett, Sutton Foster, Asmeret Ghebremichael                                     PHOTO CREDIT: Monique Carboni
                                              by Marc Miller
One can revel in the sturdy construction of this fine example of late-golden-era musical making, which continued Gwen Verdon's unbroken string of hits. Masterminded by her then-husband, Bob Fosse, it adapted—and, many argued at the time, took some of the edge off of—Federico Fellini's 1957 "The Nights of Cabiria," a vehicle for his own then-wife, Giulietta Masina. Employing top talent—book, Neil Simon; music, Cy Coleman; lyrics, an amazingly still-with-it Dorothy Fields—the show told a rather downbeat tale, exposing its heroine, an aging dance hall hostess, to endless indignities in her quest for true love, but doing so with a steady stream of expert comic dialogue and tuneful, happy songs like "If My Friends Could See Me Now" and "I'm a Brass Band."
As the title character of the classic 1966 musical, Sutton Foster walks through much of Sweet Charity with a dazed smile. It's the uncertain grin of one battered by circumstance, coping with an identity she doesn't really want but grimly determined to remain as rosy and optimistic as her name, Charity Hope Valentine. It's character-appropriate, and it suggests Foster and director Leigh Silverman have given Charity, and Charity a lot of thought, eager to offer a more nuanced, less upbeat reading of our heroine than some of her esteemed predecessors. And it grows a bit monotonous. Foster does go on to offer more colors and subtleties in this vest-pocket Charity but you have to wait for them, and we do spend some of that time wishing she'd wipe that grin off her face.
The exuberance is rather muted in this New Group revival. It's like Silverman, and Foster and the rest of the not-that-large cast (some actors have six or seven roles!), recognized that it is a period piece, and wanted to disavow its very 1966 view of the sexes. "We don't dance, we defend ourselves to music," cracks one of Charity's colleagues, and it's like this company wanted to make sure the audience knew that it didn't approve of such attitudes.
So Foster keeps accentuating Charity's vulnerability and humiliation. Charity usually sings her opener, "You Should See Yourself," to one lousy boyfriend (who pushes her into Central Park Lake and steals her purse), but here she sings to three, to stress how Charity keeps making bad choices in men and suffering for it. Foster, in a terrible Doris Day wig and a pretty awful pink dress (costumes by Clint Ramos, including an especially witty white Tom Wolfe/Andy Warhol ensemble for "The Rich Man's Frug"), seems to want us to weep for Charity. So does Silverman, to the point of significantly rewriting the ending. The original rang down with a projected title assuring us, after her failed engagement to Oscar (Shuler Hensley here), "And she lived hopefully ever after." None of that here. The order is switched so that Charity ends on a bitter "Where Am I Going?", followed by repeated, despairing vocal murmurings of "You should see yourself…" "You should see yourself…" as if she'd become deranged. It's more like "Unsweetened Charity."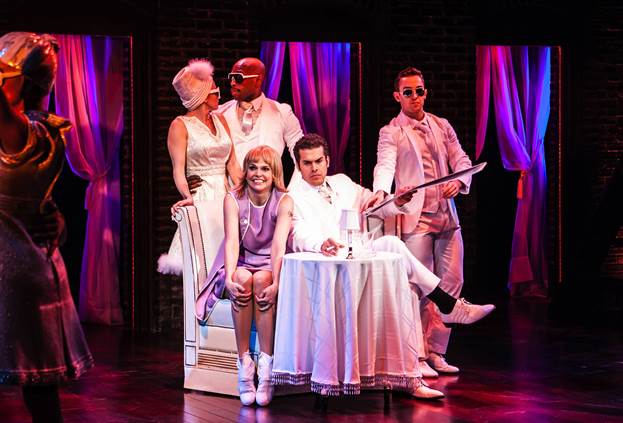 Emily Padgett, Donald Jones, Jr., Sutton Foster, Joel Perez, Cody Williams
As long as it sticks to the original material, this Charity has a lot to offer. Joshua Bergasse's choreography, no slave to the Fosse angularity and finger snaps, has some frisky ideas of its own, notably in "The Rich Man's Frug" and "There's Gotta Be Something Better than This." (He does botch what should be a terrific production number, the trendy-religion satire "The Rhythm of Life.") "Big Spender" is suitably filthy, all come-hither movements and spread legs. Derek McLane's set design, while minimal, is well stocked with evocative '60s artifacts, and Leon Rothenberg's sound design is a marvel of naturalism—you really can't tell if the actors are miked or not. Musical director Georgia Stitt conducts a six-piece all-girl ensemble. Unfortunately it lacks brass, so when an exuberant, finally engaged Charity sings "I'm a Brass Band," there's no brass to back her. But, in a whimsical touch, there are kazoos.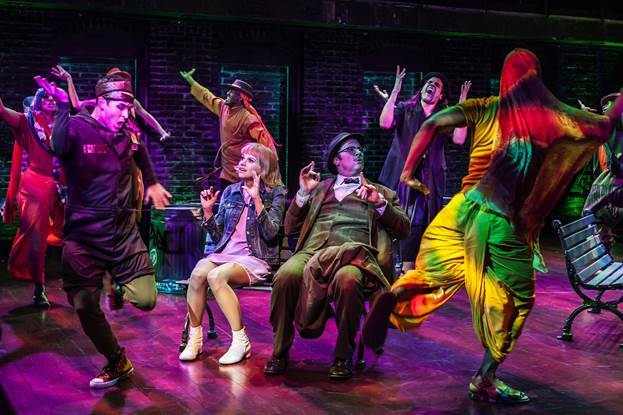 Sutton Foster, Shuler Hensley and cast
The cast? It feels, first of all, underpopulated, though that does allow members to show off their versatility. If there's a breakout performer, it's Joel Perez, a hilarious and sturdy-voiced Vittorio Vidal (the Mastroianni-like movie star Charity almost spends the night with), then Herman, her hard-driving but not entirely unsympathetic boss. Nickie (Asmeret Ghebremichael) and Helene (Emily Padgett), Charity's co-worker girlfriends who urge her to "Baby, Dream Your Dream," are likable and capable without exhibiting any special edge. And Hensley, while excellent—he nails the elevator scene as perhaps it has never been nailed before—is a pudgy, sweaty Oscar; you feel for this decent, nervous man wrestling with his moral values and trying to commit to a less-than-pure love object, but you can't help but feel maybe Charity could do better.
Which leaves Foster, a consummate musical theater pro who, in other roles, has been called on to display resolve (Little Women), confidence and brassiness (Anything Goes), daffiness (The Drowsy Chaperone), and conventional-heroine pluck (Thoroughly Modern Millie). Here she's asked to embody, above all else, vulnerability, and that's not a natural fit on her. She sings well, kicks her leg high a lot because she can, and lands a lot of the many laughs in Simon's model libretto, but she's just stronger than your average Charity. Coleman's jazz chords and rhythms are as nifty as ever, and Fields's work remains a wonder: Really, how did this woman, who began her career in the '20s writing romantic pleasantries like "Gee, I'd like to see you looking swell, Baby," graduate to "I don't pop my cork for every guy I see"? This isn't an ideally cast or sized Sweet Charity, but in these dark days, we'll relish the Sweet Charity we can get.
Off-Broadway Musical
Through Jan. 8 at the Romulus Linney Courtyard Theatre, 480 W. 42nd St. For tickets, visit "
Running time: 2 hours 20 minutes with one intermission.