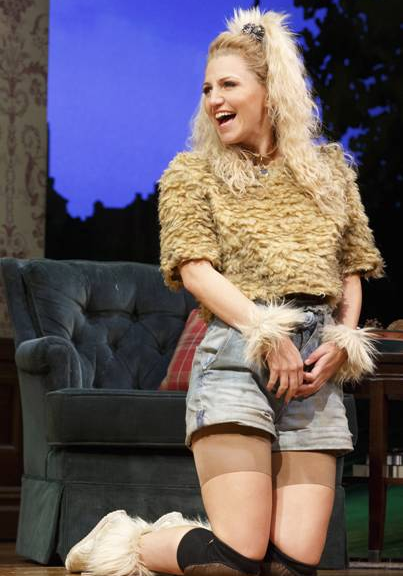 By David Schultz
Man's best friend has taken up residence at the Cort Theater in Manhattan. In the tantalizing guise of actress Annaleigh Ashford, this human as canine puppy is redolent in her splendor capering around the stage seeking the love of a new family. The family in question Greg (Matthew Broderick) and wife Kate (Julie White) is an upscale Manhattan couple. The children have left the cocoon of their parents home, leaving this long-married couple the opportunity to leave the suburbs behind and glide into city life to enjoy their twilight years together…. and alone; but not for long.
As the play begins Greg, walking in Central Park one day, finds and falls madly in love with a stray pooch identified as Sylvia. He brings her home and makes every effort to ensconce her into the family homestead. Kate is not happy to say the least, but to appease her husband she attempts to humor him with agreeing to have Sylvia stay a few days, hoping Greg will come to his senses and get over his initial thrush of puppy love.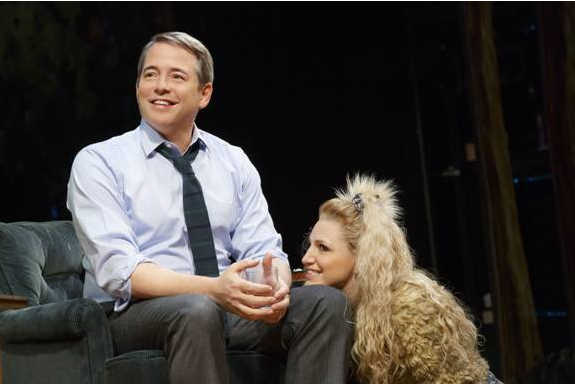 Matthew Broderick and Annaleigh Ashford Photos by Joan Marcus

That in a nutshell is the basic plotline of this overly whimsical lighthearted farce. Set designer David Rockwell splashes the stage with brightly colored sets. His sprawling Central Park setting has an almost fairy-tale aura about it in leprechaun verdant greenery. Gliding in from above the snazzy living quarters are posited in counterpoint to the dreamy park that always seems to beckon to Greg. In no time at all he becomes pet-obsessed and finds a surrogate child/wife inside this impulsive, impish mutt. Teaching her tricks, softly stroking her hair, walking her in her daily constitutionals, it is a forgone conclusion that Sylvia is firmly ensconced in the household, giving Kate a gnawing feeling of aggression and jealousy toward her animal rival. In Sylvia, Greg finds it quite easy to confide, and be openhearted and compassionate; all the emotions that have slowly faded from their marriage are transferred into this pup. Having what amounts to existential crisis, it morphs into obsession.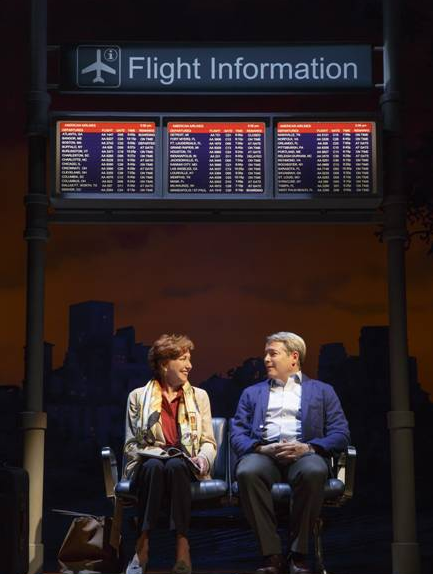 Julie White and Matthew Broderick
Playwright Gurney transfers doggy language into human speech. Sylvia responds to her master's gentle mutterings with her own snarky retorts in English, and instead of the usual "Woof Woof", erratically shouts out a "Hey-hey-hey-hey!" when she gets all hot and bothered. If guests come a calling, or a cat is just out of reach, or when she spies a handsome hunky dog in the park, she goes ballistic. When she goes into heat, well you can only imagine the results.
Ms. Ashford finds all manner of human gesticulations that are transformed into doggy behavior, from jumping on couches, stretching out in languorous poses, humping various legs, rubbing her itchy rump onto the carpet and the requisite sniffing of embarrassing body parts; all are gracefully embodied in her artful amusing portrait. Ann Roth's equally whimsical costumes for Sylvia are tres chic, making her at times resemble Madonna in her very early MTV days. Her long flowing blonde tresses meld perfectly into the visual element. Special attention must be paid to three distinct characters that fill out the rest of the cast. Robert Sella essays all; these three denizens are an enormous comical foil to Greg and Kate. At times, this cunning, outrageous actor holds the stage and threatens to turn it on its head. Starting with Tom, a friendly fellow dog lover in the park that befriends Greg. Phyllis, an old friend of Kate's that visits the apartment, with insanely amusing results, and Leslie, a therapist, a person of indeterminate sexuality that attempts to help the couple figure out how to save their troubled marriage.
Much of the first act is fast paced and overly cute and antic. It's only in the Second Act that the darker underpinnings of Gurney's play reach the surface. Director Daniel Sullivan craftily makes the evening fly by quickly, and gently nudges the audience into seeing the lost communication, and sadness that this couple has been experiencing, and finds a hitherto unseen pathos that grounds the characters, giving them at play's end an emotional epiphany. What was at first impression just a bouncy boulevard comedy segues into an examination of a wounded marriage that foundered, and how a little bundle of fur jump-starts them back into seeing what was always there in the first place. "Hey-hey-hey-hey!" Indeed!
Playing at the Cort Theater
138 West 48th Street
212-239-6200
sylviabroadway.com
Running through January 24th 2016