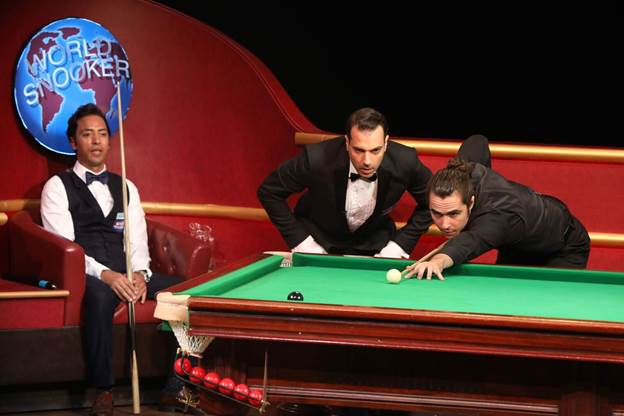 Ahmed Aly Elsayed, Ethan Hova, Ben Schnetzer   photos by Joan Marcus
                                      By Ron Cohen
You may not be enticed into becoming a snooker fan by The Nap, but you'll probably enjoy the hubbub that surrounds the game in this British comedy, being given its Broadway premiere by Manhattan Theatre Company.
The play is by Richard Bean, whose credits include One Man, Two Guvnors, an adaptation of the 18th Century commedia dell'arte farce Servant of Two Masters; it made a star out of James Corden a few years back.
Now, you may ask, what is snooker? Well, it's the English version of pool (the table game played by hitting balls with a stick, not the thing you swim in). Bean uses his comedic instincts to tell the story of Dylan Spokes, a straight-up young fellow from Sheffield, England, who's proficiency at the sport has gotten him into the snooker world championship games, which happen to take place in Sheffield.
There's all sorts of skullduggery afoot as shady characters try by hook or by crook to convince Dylan to deliberately lose one of his frames so they can win heaps of money by betting against him, and the con effort takes twisty turns.  The schemers are led by a formidable transgender woman by the name of Waxy Bush, who runs a chain of beauty and waxing salons. The name is a good example of the more louche aspects of Bean's humor.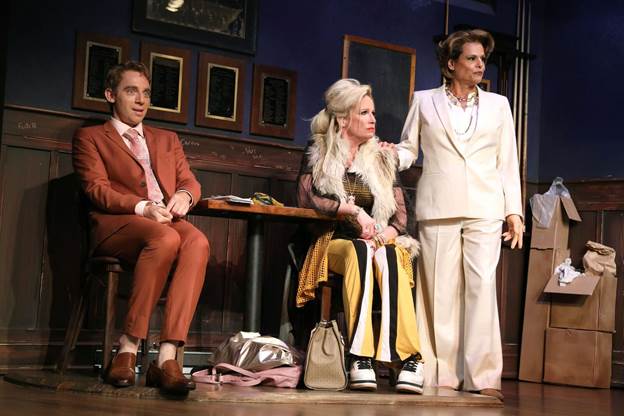 Max Gordon Moore, Johanna Day, Alexandra Billings
In her male days, Waxy was the boyfriend of Dylan's mother, Stella, who continues to work for Waxy. With her current lumpish boyfriend, Danny, at her side, Stella is prominently on hand, as is Dylan's father, Bobby, an ex-drug dealer who unloads a cornucopia of jokey commentary. Adding to the clatter is Dylan's lugubrious, glad-hand manager Tony.
Bean also builds a romance for Dylan, when Eleanor enters the scene as a policewoman working to make sure that the snooker playing and betting are on the up and up. She's accompanied by Mohammed Butt, introduced as "Integrity Officer, International Centre for Sport Security."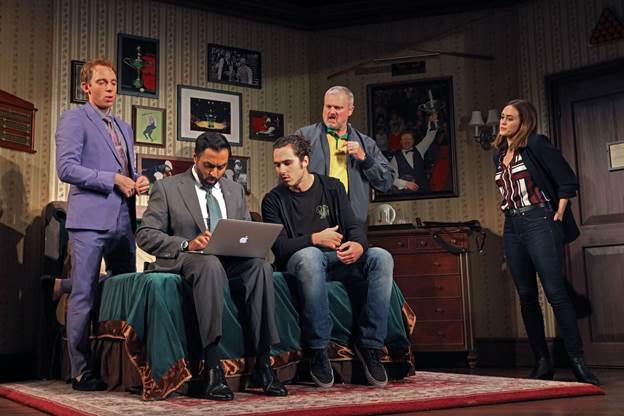 Max Gordon Moore, Bhavesh Patel, Ben Schnetzer, John Ellison Conlee, Heather Lind
The show has the air of a farce, but much of the humor is verbal, made funny in part -- if sometimes incomprehensible -- by the rhythms of the regional British accents used throughout. Bean's script revels in such ploys as Waxy's tendency to malaprops and Bobby's extended struggles to recall the titles of old movies, which he feels can illustrate an oblique point he is trying to make. A big laugh comes when one character is corrected on his insistent pronouncing of duct tape as duck tape.
There's also some time spent in explaining the rules of snooker, which for some could act as a soporific. The show's title, by the way, is not a reference to grabbing a bit of sleep. Rather it refers to the texture of the felt-like material covering the snooker table and serves as a metaphor for Dylan's ethical approach to the game. "Playing with the nap," he tells Eleanor, "the ball will run straight with the natural line. Playing against the nap, the ball can deviate and drift off line. I play straight. I honour the god of snooker, and he, or let's be fair, she looks after me." Further affirming his soulfulness, Dylan is a vegetarian.
Under the knowing direction of Broadway stalwart Daniel Sullivan, the cast handles this paean to a sport and the chicanery that can accompany it with a gleeful panache. Ben Schnetzer makes an engaging Broadway debut as Dylan.  In addition to showing off his skill at snooker, he stands up in admirable fashion against the barrage of comic bits sent his way by John Ellison Conlee as Bobby, Johanna Day as Stella, Thomas Jay Ryan as Danny and Max Gordon Moore's Tony.
Heather Lind's Eleanor nicely seasons her hard-edged cop demeanor with a soupcon or two of sexiness, and Bhavesh Patel is appropriately stern as the integrity officer. Adding a frisson of extra interest to the casting, Waxy is played by the transgender actress Alexandra Billlings, and she endows the character with a playfully sinister air. 
David Rockwell's cleverly detailed sets easily fall into place evoking a variety of Sheffield locales, from the gritty atmosphere of a basement snooker room in a British Legion clubhouse to the sleek arena in which the championship games are played. The latter is topped by a huge video screen providing a closeup of the action on the snooker table, and the play ends by depicting the championship finale. Schnetzer's Dylan plays against Ahmed Aly Elsayed, who is a real-life snooker champion.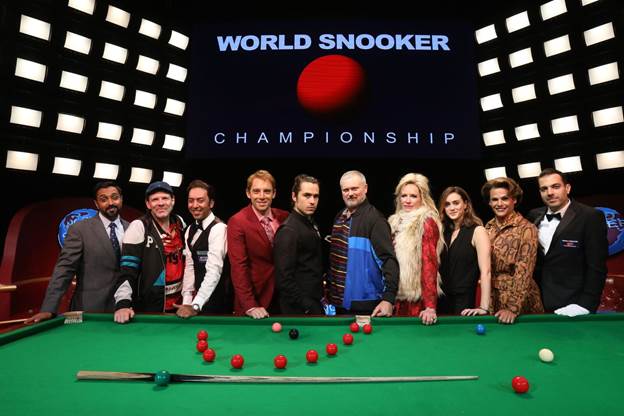 Publicity for the show says the match is a real one, "anyone can win, so the play actually has two possible endings." It's not giving away too much to say that at the performance attended, the characters, after all the travail, celebrated an expected happy ending. It could make you wonder if that talk of alternate endings is just another con job.
Review posted October 2018
Broadway play
Playing at Manhattan Theatre Club's Samuel J. Friedman Theatre
261 West 47th Street
212 239 6200
Telecharge.com Written  by 
Olivier  Award  nominee
Richard  Bean
Directed  by  Tony  Award  Winner  Daniel  Sullivan
Now  Playing  at  Manhattan  Theatre  Club's  Samuel  J.  Friedman  Theatre
Playing until November 11