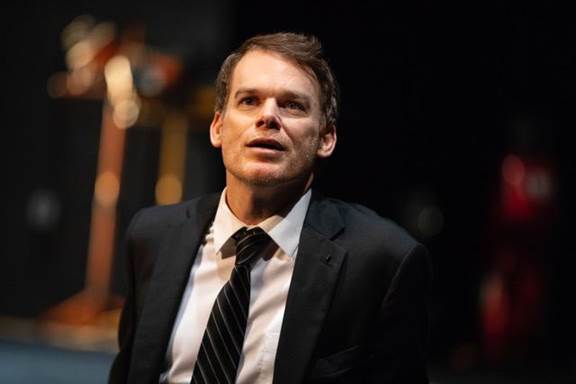 by Deirdre Donovan
"How wonderful to see you all!" remarks Michael C. Hall as he stands on stage in total darkness after trying to light a cigarette in the opening scene of Will Eno's Thom Pain (based on nothing). Hall, who plays the nominal character, gets a big laugh from the audience. And many more will follow in this compact theater piece, which clocks in at 65 minutes.
The play is purportedly about a man finding "the meaning of life." Sound like a cop-out or affectation on the playwright's part? Not at all. We soon enough learn that Eno (The Realistic Joneses) is quite serious about his premise and proceeds, if not as the crow flies, straight on toward the audience's soul.
Now about Thom Pain. He is the entire dramatis personae here. In my press script, it sums up Pain as a male in his 30's or 40s, a stray-dog type—but also an intellectual and charismatic. Yes, Hall is ideal for the part and wears it like a second skin. Hall projects both the necessary authority and that je-ne-sais-quoi quality that makes the audience follow his every move, whether he is on stage or off.
Don't be put off by Amy Rubin's set. True, it is mostly empty except for the odd prop that becomes incorporated into the monologue to meet the dramatic moment. In any case, consider it your tabular rasa, an invitation for your mind to breathe, wonder, and perhaps reach a new imaginative level.
Jen Schriever's lighting, not only washes the performing space, but plays pranks on the protagonist. For example, instead of consistently shining the spotlight on Hall when he is on stage, it beams down on him willy-nilly, leaving him to temporarily stand in the shadows. But like everything else that percolates in the play, the quirky lighting may start out as a gag but ends up illuminating some aspect of the play or heightening the comic tone.
Okay, Thom Pain may frustrate some theatergoers who like their plots traditional and tidy. But for those who welcome plays that take you down a road less traveled, this solo drama lets you dive down the rabbit hole and find a brave new world guided by the character Pain.
The issues raised in the play are the basic ones that everyone confronts sooner or later. Yet when Hall articulates them from center stage, a veil seems to be lifted: "I guess some things are not really ours to decide. The shape of the face, say, or whether we're forgiven or how tall we are. Where to die and when." At such moments, Hall holds the audience in the palm of his hand.
Fear is an operative word here. Hall introduces the subject early on and explores it at greater length later when he discusses the modern mind: "Does it scare you being face to face with the modern mind? It should. There is no reason for you to not be afraid. None. Or, I don't know. Should I save your life? Should I love you slowly and be true?" As spoken by Hall, this swath of prose doesn't pretend to offer any answers to life's big questions or define its meaning. But it does reveal that a beating heart pulses in the protagonist. And it proves that Eno's work is more than navel-gazing.
What makes the play hum is its weird mix of honesty, philosophical riffs, surrealism, and its exploration of the human condition. Directed by Oliver Butler, and performed superbly by Hall, it's custom-made for theatergoers who like their theater at the cutting edge.
Through December 9th.
At the Pershing Square Signature Center, 480 West 42nd Street, Manhattan
For more information, visit www.signaturetheatre.org
Running Time: 80 minutes with no intermission.