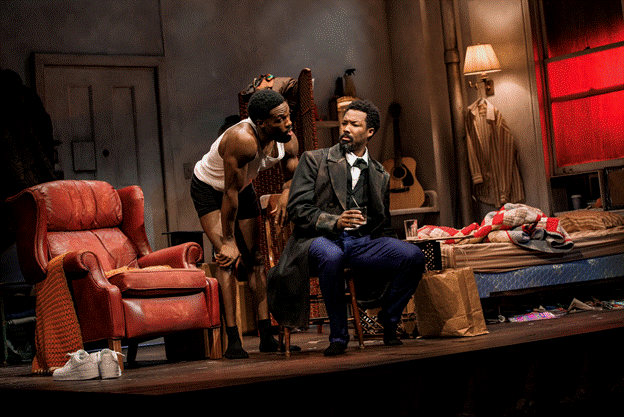 Yahya Abdul-Mateen II  and Corey Hawkins in Topdog/Underdog. Photo: Marc J. Franklin
Topdog/Underdog
Review by Julia Polinsky
Topdog/Underdog tells the story of two brothers -- Black men -- endlessly vacillating between contempt and admiration for each other; affection and anger; conflict and cooperation; who's winning, who's losing. Named for an American president and his assassin, brothers Lincoln (Corey Hawkins) and Booth (Yaya Abdul-Mateen II), are caught in the short end of American history.
The play opens with Booth practicing his inept 3-card monte skills and pathetic patter. Lincoln, in whiteface, beard, stovepipe hat and frock coat, enters behind him, watching him practice until Booth senses he's there. That starts the roller coaster of lying, trash talking interactions between the two; over the course of the next two hours, that talk ranges over family inheritance, parental abandonment, failure or success with women, and the street tough's cynical view of everyone as a mark. Talk, talk, talk. Yet not an honest word is spoken by Lincoln; no truth comes from Booth. How could it?
Each has his way of getting by. Lincoln has so-called "honest work," preposterously posing as Abraham Lincoln in an arcade, a target for people to pretend to shoot — a creepy, sick improbability that gets weirder as the play goes on. We don't find out until later that he himself was a very successful 3-card monte hustler who left the game after a colleague died.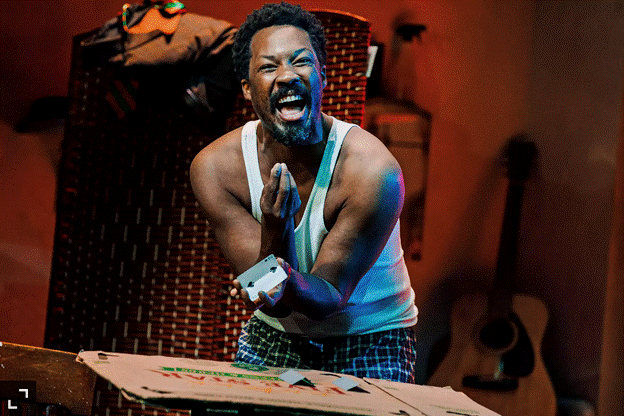 Corey Hawkins in Topdog/Underdog. Photo: Marc J. Franklin
Booth aspires to be a 3-card monte street hustler as a step up from shoplifting, which seems to be his only skill — and what a skill it is, on full display in the masterful scene when Booth enters the room in a huge puffy coat, then removes his coat, to reveal two full men's suits and oodles of other clothing concealed under it; he has stolen "generously," to hear him say it. "Generously" is a great word, here; he stole for his brother, not just himself: an act of kindness? Perhaps. Perhaps not.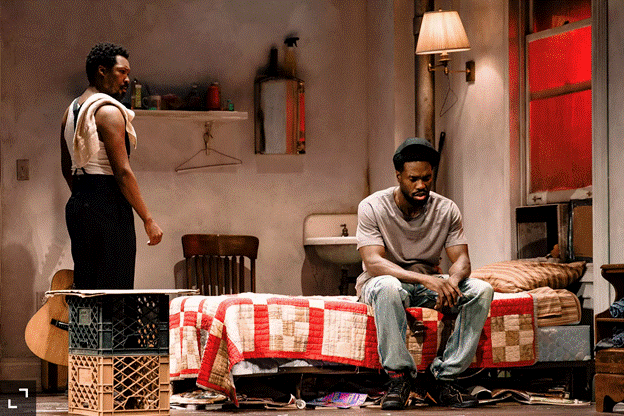 Corey Hawkins and Yahya Abdul-Mateen II in Topdog/Underdog Photo: Marc J. Franklin
These two characters lie, cheat, steal, hurt themselves and each other, just to survive. They fantasize about a golden childhood, but know their parents cheated on each other and abandoned them. They talk of their women, but deep down know they're unlovable. The "inheritance" each got from a parent has been his only stake in life. Lincoln's is long spent; Booth has saved his, ready to bet it all on the future, with huge consequences.
Kenny Leon's direction feels completely natural, as if every moment were inevitable as it grows out of the one before. Dede Ayite's knockout costume design epitomizes costume as character – the boosted suits are all that and then some. Arnulfo Maldonado's superb scenic design shows us a grimy, shabby room in what seems to be a SRO residence; surrounding and framing this grimness is miles and miles of lush drapery, a visual nod to the Victorian-style curtaining of the Ford's Theater, where the original Booth assassinated the original Lincoln.
Surely doctoral dissertations have been written about the layers of meaning that can be peeled off this play. It's been called the best play of the last 25 years, but that hyperbole doesn't hold up. Topdog/Underdog is emotionally wrenching and bleak as hell, but also feels repetitive and padded. Basically, nothing much happens — until it does, in a late-play rush.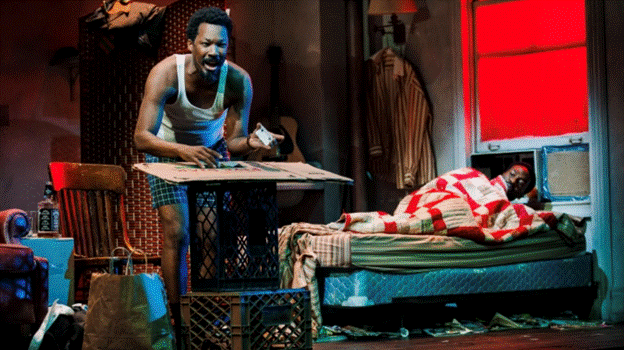 Corey Hawkins and Yahya Abdul-Mateen II in Topdog/Underdog. Photo: Marc J. Franklin
It would have been tighter and cleaner as a one-act, but Topdog/Underdog is important drama, and important drama sometimes gets inflated to fit into big theaters, not always wisely. How many scenes of Booth trying to polish his 3-card skills do we need? How often does Lincoln need to talk about what it's like to be a Black man playing the Great Emancipator in whiteface, being "shot" day after day, and calling it honest work? Less, in this case, would have been more. But please, not less from the two stars; their extraordinary, scintillating performances take the breath away.
Lean in. Watch close. If you pay close attention to Suzan-Lori Parks's Topdog/Underdog, you'll probably catch the con — which is Parks's magnificent take on life Here and Now: we sell ourselves our own delusion until it destroys us. We switch the cards, poorly or well, yet we're also the marks who bet against life. Life is the house, and the house always wins.
Topdog/Underdog
John Golden Theatre
252 W. 45th St.
New York, NY 10036
Tickets $69-240 at Telecharge:
Running time 2:20, one intermission
November 8-20: Tuesdays, Wednesdays, Thursdays, at 7pm
Fridays and Saturdays at 8pm
Wednesdays and Saturdays at 2pm
Sundays at 3pm
November 22-27: Tuesdays, Wednesdays, Thursdays, Fridays at 7pm
Saturday at 8pm
Wednesday, Friday, and Saturday, Sunday at 2pm