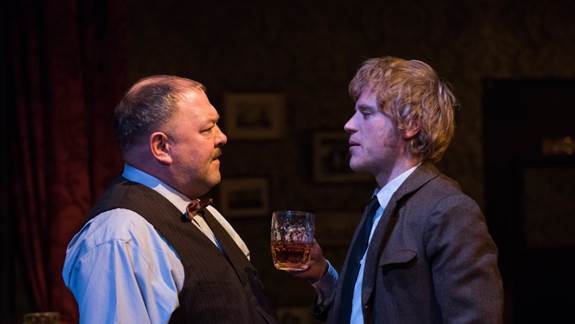 Mark Addy and Johnny Flynn photos by Ahron R. Foster
                    By David Schultz
Attempting to score a ticket to Hangmen, currently settled in at The Atlantic Theater in Chelsea will prove futile. The entire run is Sold Out. This no doubt has to do with Mr. McDonagh's reputation as a playwright as well as his Oscar-nominated "Three Billboards Outside Ebbing, Missouri" which is a front-runner to sweep the awards in March.
He has always had a distinct and discerning audience that has grown exponentially over the years. Born and brought up in London, both parents of Irish descent, he holds dual British-Irish citizenship. His most notable plays include The Beauty Queen of Leenane, The Cripple of Inishmaan, The Lonesome West, & The Pillowman. At the relative young age of 47, Mr. McDonagh has worked his specific type of theatrical mayhem to great effect. The three films in the past decade that he has both written and directed only add to his reputation. Now add his latest work to the list. First performed at the Royal Court in London, this morbid play transitions Stateside with a largely American cast, with a few original cast members in tow.
The thick as Guinness dialect is dense; the play is set in the desolate north of England, and at times the audience might need subtitles to hear every word, but much comes through loud and clear, with the scent of true authenticity in the characters' patois.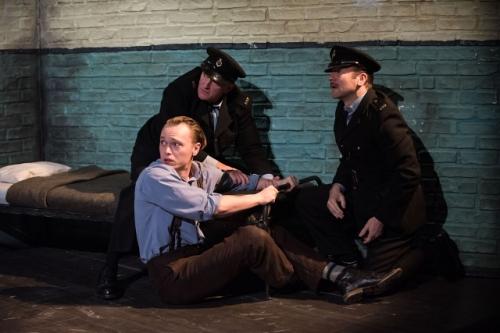 David Lansbury, Gilles Geary (seated), and Billy Carter
Set in 1963 a grim scene sets the stage for what lies ahead. A grey prison cell is on view as an execution is about to commence. A frantic desperate man is about to be hung for a crime that he adamantly denies doing. The man in question, James Hennessey (Gilles Geary) is no doubt frazzled with fear. Harry Wade (Mark Addy), and big bearish hangman is known in the biz as the second-best hangman in all of England. In this timeframe of the early 60's the style of hanging was considered a normal, kindly way to off the prisoners of the day. The hangman's squirrely assistant Syd Armfield (Reece Shearsmith) berates the latest man to get the noose.
The man does get to see his maker in a deft scene that ends his life, while still proclaiming his innocence to the end. The brief scene ends as the entire set, craftily designed by Anna Fleischle morphs in an origami series of movements, as the sides and back of the set slowly coalesce and reform itself into an pub with authentic touches throughout. This space is the setting for the remainder of the play.
We have been flash-forwarded two years ahead to 1965. On this very auspicious and sad day for Harry the act of hanging has been abolished. Lucky for him and his beleaguered wife Alice (Sally Rogers) his backup line of work of proprietor of his pub will sustain him in a less cold-blooded way.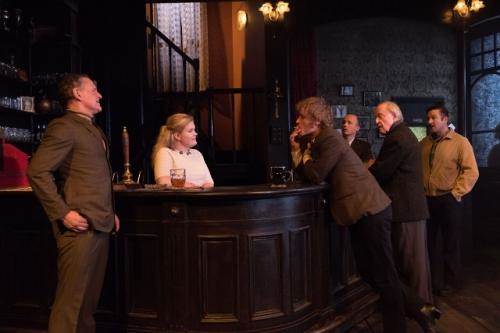 David Lansbury, Gaby French, Johnny Flynn, Richard Hollis, John Horton, and Billy Carter
Harry and Alice's 15 year-old daughter Shirley (Gaby French) is dispirited and moody with an overwhelming shyness that only adds to her insular demeanor. Harry's bar is filled frequently with a textbook collection of motley regulars that linger and cling to the bold, chilling tales of Harry's previous occupation. The thought of rehashing his stories to his regular clientele is wearing thin, as he wants to move on with his life. But he misses his previous job even more than he will let on to even himself. All is slow, stale and nothing is happening for poor Harry. But, damn… he sure thinks back on the 'good ole days'.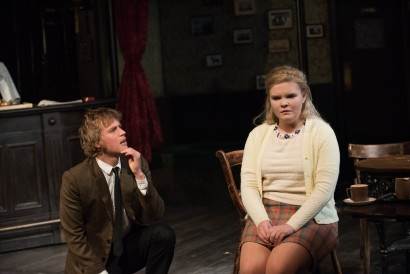 Johnny Flynn and Gaby French
As luck would have it an eager reporter (Owen Campbell) pops into the establishment one afternoon. He coyly mentions the No. 1 noose-man Albert Pierrepoint (a real famously devious hangman in the 60's) played here by Maxwell Caulfield. The two men were competitive in a way that only true hangmen could be, and kept copious, intricate notes that detailed the accounting of all the men and occasional woman to be hung. Who actually had a better more stylish way to kill? Who tallied up the most corpses? This reporter wants an inside story, and after much consternation and pushing him away with his protestations, Harry finally dives in and gives his story to the writer, albeit one-sided and filled with years worth of resentment.
To make ends meet Harry and Sally occasionally take in a boarder in an upstairs room to make ends meet. On this day, an auspicious day, two years to the day that James Hennessey was hung for his supposed killing of a young girl, this afternoon will change for everyone at the pub. A young dapper man from London sweeps into the pub. His jaunty demeanor, and singsong voice barely hide his sneering contempt that he slyly conceals from the mates at the pub. Everyone senses he is different, but just chalk it up to him being from 'the city'.  This chap named Mooney (Johnny Flynn) insinuates himself with his brash behavior to the bar mates. He also in a creepily set scene sets his sights on daughter Shirley with a verbal seduction that incrementally opens up this shy girl to something she is not familiar with, a man finding her attractive and desirable. This of course signals to the audience that something dreadful is just waiting in the wings. But playwright McDonagh is way ahead of you. The dominoes are lined up, its obvious what is going to happen, just sit back and wait.
Mooney does indeed set up a date with Shirley the next morning; he offers to take her to visit her schoolgirl friend who was just admitted to an asylum, as well as a day at the beach. How can she say no? Off she goes. As the day wears on, she is late to return home to the pub. The anxiety only accelerates as the lighting darkens at the pub. High above on the second level of the stage a diorama-like box opens up to reveal Mooney eating at a diner eating a meal. Syd, Harry's old assistant hangman pops into the diner and it's obvious that something dastardly or worse has occurred, or is going to happen soon. Syd has some long held resentment that needs to be worked out. Scores need to be settled.
The remainder of the production takes place back at the pub. Director Matthew Dunster totally knows where this is heading, and he impeccably ratchets up the tension. I for one have to stop with detailing the plot, as I in good conscience cannot reveal any more. To divulge anything else would be giving away the pleasure of discovery. No Spoilers Here. Suffice it to say, that the curiosity of what happens…oh yes young innocent Shirley does go missing, will be revealed. The morbid wit of this playwright is on full display. All the pieces of the puzzle coalesce, then separate, then realign themselves…. but not in the fashion one would presume. Questions, doubts and gallows humor run deep in the 11th hour of the play. The ominous dénouement is heavily tinged with a sly wink as the ending is filled with further questions on guilt and innocence that totally upends and subverts all that has just transpired before us. We have been toyed with and spooked and thrown off kilter by and by…and what a wild ride it is.
Playing at The Atlantic Theater Company
Linda Gross Theater
336 West 20th Street
866-811-4111
atlantictheater.org
Runs through March 25th
Indications and persistent rumors abound for a spring Broadway transfer.