Emma Geer and Jeremy Beck in HINDLE WAKES by Stanley Houghton, Directed by Gus Kaikkonen. Photos by Todd Cerveri
                                 By Marc Miller
Hindle Wakes, from 1912, is quite well known on the other side of the pond—there are several British film versions, silent and talkie, and it's been adapted for TV at least four times. Over here, it hasn't been so lucky: A Broadway production not long after the London original ran a month, and one in Chicago the following year did somewhat better. But Stanley Houghton's comedy-drama—two acts, two sets, five scenes, cast of nine—is ideally proportioned for the Mint Theater Company, which is dedicated to resurrecting plays you've probably never heard of. And what a lovely job they've done with this one.
Stanley Who? Houghton (1881-1913), raised in Manchester, wrote over a dozen plays and one unfinished novel in his brief existence, of which Hindle Wakes is by far the best remembered. His overriding concern, in play after play, was sexual inequality. We'd call him a feminist today. The women outnumber the men in Hindle Wakes, and ultimately outmaneuver them. They're a varied lot, though, with conflicting opinions on a woman's proper place.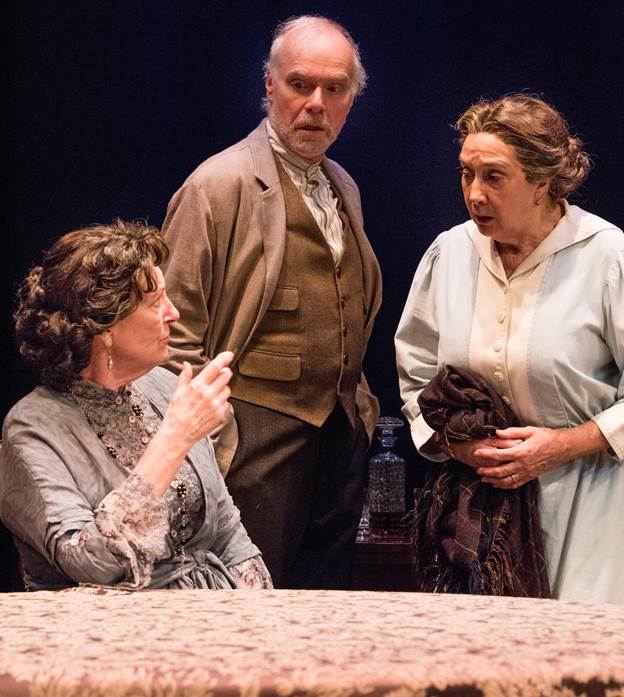 Jill Tanner, Ken Marks and Sandra Shipley
Most conventional in her views on gender roles is probably Mrs. Hawthorn (Sandra Shipley), married to cotton mill worker Chris (Ken Marks) and the mother of Fanny (Rebecca Noelle Brinkley), also a cotton mill worker. We're in Lancashire, and there's not much else in the way of industry. The work is steady but unrewarding, and the Hawthorns are probably doomed to an eternity in the lower middle class. Hindle's the town, and Wakes is Wakes Week, a summer holiday. While a thunderstorm rages (Jane Shaw's sound design is evocative, though she might have backed up the thunder with some rain noise), the parents await Fanny's return from Blackpool, a seaside resort roughly analogous to Coney Island. There is to be a confrontation. For Chris and the Mrs. have discovered that Fanny spent the weekend with—horrors!—a man.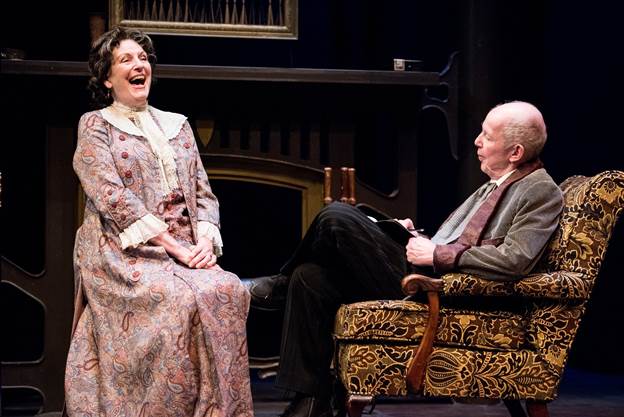 Jill Tanner and Jonathan Hogan
It's difficult to convey to modern sensibilities what a big deal this would have been a century ago. The lad, Alan Jeffcote (Brian Reddy), is the son of the mill owner, Nathaniel (Jonathan Hogan), who tries to be fair to everyone and in this situation just can't, and Mrs. Jeffcote (Jill Tanner; interesting how Houghton doesn't bless the mothers with first names), who's obsessed with doing the socially Right Thing. And Alan already is engaged to the wealthy, well-bred Beatrice Farrar (Emma Geer), whose knighted father (Brian Reddy) is a jovial reprobate who's enjoyed infidelities of his own. But he's a privileged community fixture, and a man, so he can get away with it. Not so for Fanny, who's immediately branded a hussy and assumed to have lured Alan into carnal sin, because, you know, these mill girls.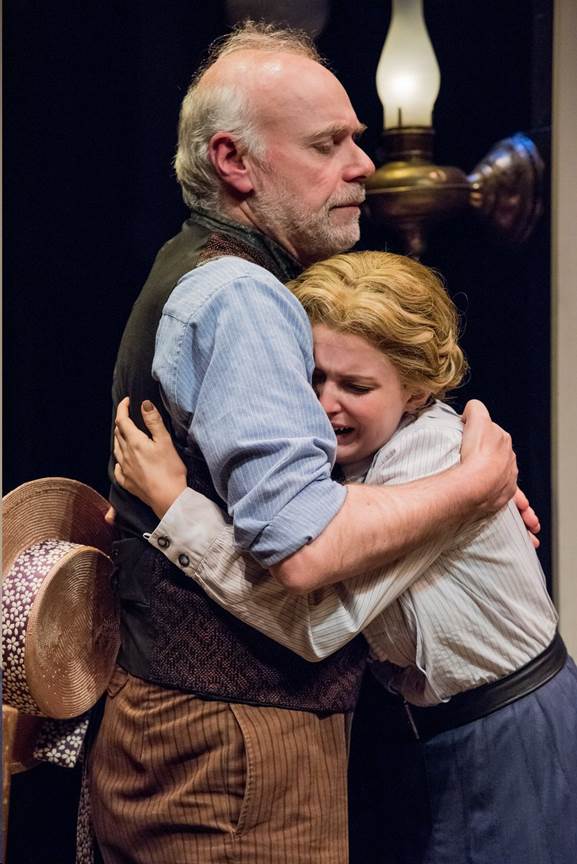 Ken Marks and Rebecca Noelle Brinkley i
Will she and Alan be forced into a marriage he clearly doesn't want, and we're not sure she does? "Plenty of girls have made good matches that way," her father reasons. He's off to talk with Nathaniel, his employer and a childhood buddy who offered him an interest in the mill that he turned down decades ago; hence class has inexorably separated them ever since. The Hawthorns and Jeffcotes and Farrars negotiate the particulars, and here's where Houghton hones in on how each character's attitudes about sex and responsibility have been shaped by his or her social standing, and what the consequences are. No spoilers, but let's just say that the resolution isn't determined by the character you'd figure on, and seeing this unexpected protagonist engineer the outcome is hugely satisfying.
It's talky, as 1912 plays generally are, with needless discussion of train schedules and local gossip and characters' past histories, and a couple of protracted variations on "You're lying," "No I'm not," "Yes you are," "No I'm not," "Yes you are." An inordinate amount of time is also spent lighting (real) gas lamps (Charles Morgan did the workmanlike sets). And the local patois, riddled with pseudo-Biblical phraseology—"Hasn't thou got a tongue in thy head?"—takes getting used to. But the talk, while leisurely, is compelling, especially in its surprising currency. Thees and thous notwithstanding, the sexual double standard persists, and watching Alan, Fanny, and Beatrice try to wriggle out of the social expectations they're weighted down with doesn't feel 106 years old at all.
Gus Kaikkonen directs the fine ensemble naturalistically, with the confrontations kept small and real. Hogan's agonizing Nathaniel and Shipley's judgmental Mrs. Hawthorn are standouts, but there's not a weak link, and the comedy, when it's there, springs from the characters' uncomfortable existences within established norms. With Hindle Wakes, the Mint has a winner.
Off-Broadway play
Playing at the Clurman Theater, 410 W. 42nd St., through Feb. 17
Telecharge.com; 212-239-6200