03/24/2014
Ragtime
By: Edward Lieberman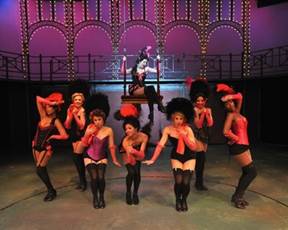 Cali LaSpina as Evelyn Nesbit (on swing)
and ensemble perform "Atlantic City"
in a scene from Ragtime
(Photo credit: John Vecchiolla)

In an era when Broadway is increasingly relying upon so-called juke-box musicals (i.e. Jersey Boys, Mamma Mia!), regional theaters are called upon to preserve (and revive) the traditional American musical. In this vein, Westchester Broadway Theatre in conjunction with Armonk's Standing Ovation Studios is mounting a spirited production of Ragtime, a musical based upon the sprawling 1975 novel by New Rochelle's E.L. Doctorow. The show debuted on Broadway in 1998, ran for two years, and won three Tony Awards, for original score, book and orchestration, losing the outstanding musical to The Lion King.

The plot of Ragtime is intricate (perhaps overly so), requiring almost three hours in the telling. It highlights the intersecting stories of three distinct groups in American society at the beginning of the 20th century, each epitomized by a family: the white, privileged, New Rochelle family headed by Father, Mother, their son, and Mother's Younger Brother; Harlem's Negro population, represented by ragtime musician Coalhouse Walker, Jr. and his love, Sarah; and poor European immigrants, represented by a Latvian Jewish father, Tateh, and his daughter. Shortly after Father leaves New York to join Admiral Peary's expedition to the North Pole (literally waving to Tateh and his daughter, arriving on another boat in the New World to seek their fortune), Mother finds a Negro baby in her garden, left there by its mother Sarah.

To everyone's shock, Mother refuses to give the baby to authorities, choosing instead to take responsibility for it (Moses, anyone?), and to take Sarah in, as well. Meanwhile Coalhouse is gaining in popularity and fortune, and when he amasses enough money to buy himself a Model T Ford, he drives up to New Rochelle to win Sarah back. Unfortunately, on his way, he runs into a band of local firefighters, who subject Coalhouse to the racism that was then prevalent in society, eventually forcing Coalhouse to leave his car, which they destroy and deposit in the Sound.


FaTye as Coalhouse Walker, Jr.
in a scene from Ragtime
(Photo credit: John Vecchiolla)

The main story line tells of Coalhouse's demands for justice, which results in Sarah's death and his radicalization. A second story line describes Tateh's progress from selling silhouettes on the street to his enterprising combination of several silhouettes to form animation and finally to his success as the head of an early motion picture production company. A third, shorter story line has to do with the progressive labor movement, headed by Emma Goldman, and the conversion of Mother, her Younger Brother, and eventually even Father to seeing the inequities of society.

The tone for the show is set in the very first number, "Ragtime," involving the cast of 40 in an intricate dance in which members of each class interact, but then warily retreat to their respective groups (reminiscent of the high school dance number in West Side Story). The musical uses real life figures such as Harry Houdini, Admiral Peary, Matthew Henson, Booker T. Washington, Emma Goldman, Henry Ford, Evelyn Nesbit and her husband Harry K. Thaw, all mega-figures of their era, to move the story along, with varying degrees of success. At times, this gives the show a feeling of a history lesson. Some of these characters could easily have been cut, and the show reduced in length, but that is not the fault of this Company, bound by the book of the musical (which, after all, won the Tony).

Although the cast is both large and uniformly good, this reviewer found that the women largely overshadowed their male counterparts. Standouts were Brittney Johnson (Sarah), Nadine Zahr (Emma Goldman), Cali LaSpina (Evelyn Nesbit) and Raena White who almost steals the show in the gospel number "'Till We Reach that Day." Each one of these actresses sang with purity, strength and pitch. Antoine L. Smith, as Booker T. Washington, commanded the stage in his brief role , and Todd Ritch, as Younger Brother, was suitably youthful and exuberant, as the family member who was first besotted with Evelyn Nesbitt, then converted by Emma Goldman and, in the end, joined Coalhouse and his band of what we would today call urban terrorists. The other male leads, certainly competent, included Craig Waletzko (Father), Joey Sanzaro (Tateh) and FaTye as Coalhouse, although the latter two seemed overmatched by their female counterparts (which I suspect, was partly the fault of the sound system). It also should be noted that although the score contains some 32 musical numbers, many of them very good, only a few will have you humming as you leave the theater.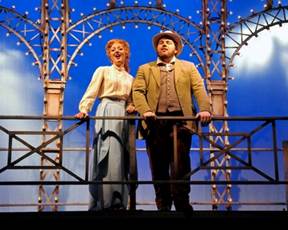 Victoria Lauzun as Mother and Joey Sanzaro
as Tateh in a scene from Ragtime
(Photo credit: John Vecchiolla)

Kudos must be given to the imaginative costume design by Gail Baldoni which assigned different colors to the different families; the direction of John Fanelli and choreography by Greg Graham, who managed to keep 40 people moving on WBT's relatively small stage without falling all over each other; the equally inventive set designs of Steve Loftus, which provided aerial acrobatics and a full scale Model T; the orchestra under the direction of Dan Kazemi; and lighting by John Flanagan, so important to highlight action on a densely occupied stage.

Ragtime is a timely, if overly ambitious, show, purporting to highlight the inequalities in American culture in the early 1900's (many of which we still face today). Moreover, its story of the philosophical divide between the real life Booker T. Washington and the fictional Coalhouse describes the split in the civil rights movement that eventually took place in the 1960's between those advocating non-violence and those more activist in temperament.

A word to parents: while the show has important lessons to teach children of middle-school age and older, it contains several mild words of profanity and simulated violence, including off-stage gunshots. It also runs almost three hours. Accordingly, it may not be appropriate for elementary-school aged children.

Ragtime (through May 4, 2014)
Standing Ovations Studios
Westchester Broadway Theatre, 1 Broadway Plaza, Elmsford, New York 10523
For tickets, call 914-592-2222 or http://www.BroadwayTheatre.com
Running time: three hours with one intermission

When: Thursdays through Sundays, now through May 4, 2014.
Thursday matinees: lunch is at 11:30 am; curtain: 1:00 pm
Thursday - Saturday evenings: dinner at 6:30 pm; curtain 8:00 pm
Sunday matinees: lunch at 11:45 pm; curtain: 1:30 pm
Sunday evening: dinner at 5:15 pm; curtain: 7:30pm