& Juliet
By Deirdre Donovan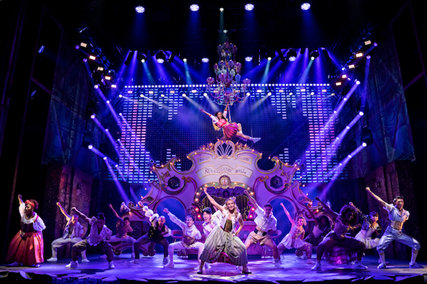 f
The cast of & Juliet at the Stephen Sondheim Theatre. 
Photo:  Matthew Murphy
What if Juliet didn't kill herself? That is the animating premise behind the new jukebox musical, & Juliet, which settled into the Stephen Sondheim Theatre in mid-November. 
When Shakespeare (Stark Sands), influenced by his wife, Anne Hathaway (Betsy Wolfe), changes the ending to his new tragedy, Romeo and Juliet, Juliet (Lorna Courtney) takes a trip from Verona to Paris with Anne (Wolfe), May (Justin David Sullivan), and Nurse (Melanie La Barrie).  But, instead of finding a new life in the City of Love, Juliet becomes entangled in an improbable love triangle when the supposedly dead Romeo (Ben Jackson Walker) amazingly returns to life.
Directed by Luke Sheppard, and with a book by David West Read (Schitt's Creek), & Juliet arrived on the Great White Way with lots of buzz.  After all, not only did it chalk-up a three-year run in London's West End and garner nine Olivier Awards, but it proved its theatrical mettle again in its North American debut at the Princess of Wales Theatre in Toronto on June 22, 2022.  Now, in its latest reincarnation in Times Square, the show is already proving to be Broadway gold.
This reinvention of Romeo & Juliet is greatly enhanced by iconic songs from the catalogue of Swedish producer and writer, Max Martin.  The show interweaves his pop hits that he originally wrote, or co-wrote, for Britney Spears ("Baby, One More Time" and "Oops!. . . I Did It Again"), 'NSync ("It's Gonna be Me"), the Backstreet Boys ("Larger than Life"), Katy Perry ("I'm not a Girl," "Roar"), and other luminaries. 
Affectionately dubbed the Shakespeare of Pop, Martin is famous for shunning the spotlight.  But his musical genius is undeniable to anybody who's familiar with his oeuvre, which includes 25 Billboard Hot number-one songs.  
In any musical, the story and songs are ever competing for dominance.  In the instance of & Juliet, it's Martin's songs that dominate—and drive the narrative.  But, that said, his cherry-picked anthems feel organic to the story, and not forced.
Take the resparking of Nurse and Lance's (Paulo Szot) love affair with a medley of Katy Perry's "Teenage Dream" and Ariana Grande's "Break Free"; and then Juliet's (Courtney) show-stopping number in Act 2 with Katy Perry's "Roar."  No matter what crisis is transpiring in the story, there's inevitably a Martin melody to amplify that emotion and please our ears.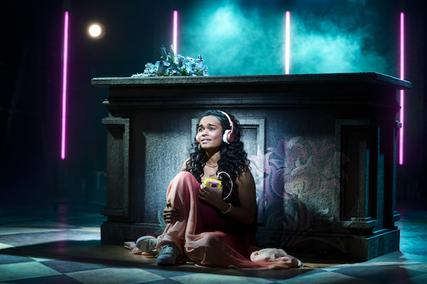 Lorna Courtney, as Juliet, coming to terms with Romeo's death in & Juliet.
Photo:  Matthew Murphy
On Soutra Gilmore's protean set, with Howard Hudson's kaleidoscopic lighting, the audience is invited to witness a play-in-progress that allows us to see how Shakespeare and his wife Anne Hathaway, go to the proverbial mat in determining how he will rewrite his tragedy, Romeo & Juliet.  Anne, a strong feminist, speaks up to Will early on, challenging him to flex his creative muscles as a playwright: "Are you a strong enough man to write a stronger woman?"  Although Will at first resists, Anne persists--and he inevitably does pen some life-affirming episodes for Juliet.  What's more, he agrees to Anne's suggestion that they be written into the narrative. 
Will shows his patriarchal stripes, however, as he retools Romeo and Juliet.  He creates, in fact, a vignette that will undo Juliet's budding romance with a young musician called François (Philippe Arroyo).  Instead of having their romance point to marriage, he introduces François to the non-binary character May (Sullivan).  And what more can be said except the LGBTQ community will approve what happens next between François and May in Act 2. 
The cast of 25 is awash with talent, with eleven making their Broadway debut.  One of those is La Barrie, who is triumphantly reprising her role of Nurse from the West End.  A couple of others are Ben Jackson and Philippe Arroyo, playing Romeo and Francois, respectively, with raw honesty.  Of course, there's also excellent stage veterans like Tony-nominee Sands (American Idiot, Kinky Boots) playing Shakespeare and Wolfe (Waitress) as his stage wife Anne.  Admittedly, Courtney has the real star turn as Juliet.  But the rest of the cast are no milquetoasts and rise to their own dramatic moments.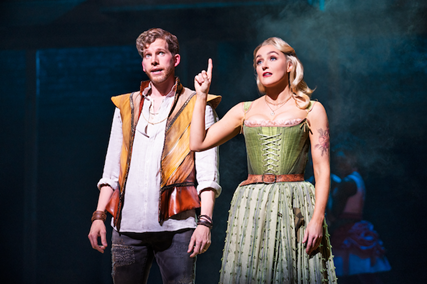 Stark Sands, as the up-and-coming London playwright William Shakespeare, and Betsy Wolfe, is his headstrong wife Anne Hathaway, in & Juliet at the Stephen Sondheim Theatre.
Photo: Matthew Murphy
The scene-stealing costumes (Paloma Young) are a mix of pseudo-Elizabethan and contemporary streetwear that could be plucked off the racks and counters of any Gap store.
Unlike many biomusicals--like Tina: The Tina Turner Musical or this season's A Beautiful Noise--that peddle the life and work of an artist, & Juliet is an original story (okay, it does borrow a bit of Shakespeare's 1597 play).  In any event, it's fascinating to watch the grieving Juliet turn feminist leaning against the sarcophagus of Romeo in Act 1.  While diehard Shakespeareans might object to Juliet having a post-Romeo future, the audience, on the evening I attended, seemed to be gung-ho on the protagonist having a second chance at love and life.
Admittedly, the show runs long at two and a half hours.  But nobody seemed inclined to look at their watch or eye the exit at any point in Act 2.  Under the adroit direction of Sheppard, the scenes move right along with such fluidity that one doesn't have a chance to do anything but follow Juliet and her friend's romp through Paris.
If any message is to be taken away from this show, it's that Shakespeare and Martin, born four centuries apart, are soul-mates.  Although Shakespeare is often mistakenly seen as an elitist playwright who wrote his plays for royalty and nobles, the truth is that he wrote for everybody—and thrived on theatrical innovation.  Martin, who is well-known as a pop song maestro, has broken into new territory here by repurposing his most loved song tracks for & Juliet.
In sum, the new jukebox musical, & Juliet, buoyed up by Martin's vibrant songs and Read's feminist narrative, and with a top-drawer multicultural cast, is one of the best new shows on Broadway this season.
Open run.
At the Stephen Sondheim Theatre, 124 West 43rd Street, midtown Manhattan.
For more information, visit https://andjulietbroadway.
Running time:  two hours; 30 minutes, with one intermission.