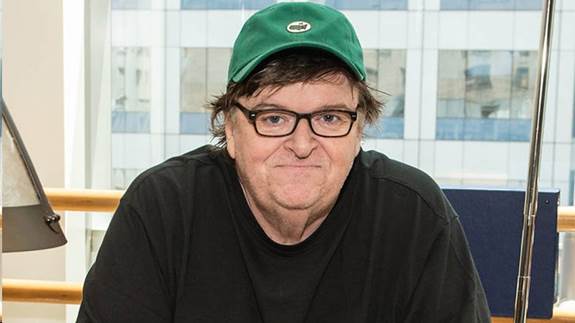 Can Art trump Trump?
The fodder spewing from the White House has spawned a new industry "Trump Bashing" for networks and cable alike.
A gag writers' dream, Saturday Night reclaimed its long lost grown up audience
New careers bloom,
(Whoever heard of Trevor Noah before?)
And theater
long the social commentary of conscience,
has grown its fertile garden of Trump cacti
from Connecticut
where Hartford Stage's revival of Shaw's Heartbreak House recast its bully in a yellow comb over wig
to Off Broadway
where Building the Wall had Trump presiding over immigrant concentration camps
to Central Park
where Shakespeare's Julius Caesar actually murdered Trump onstage
(hear that Kathy Griffin?)
To City Center
where Sondheim's cautionary tale had audiences squirming
through Assassins
To Broadway
 where George Orwell's 1984 presented huge portions of its text in a new anti-Trump light
And now, the most unabashed of all Trump critics, makes his unlikely Broadway debut in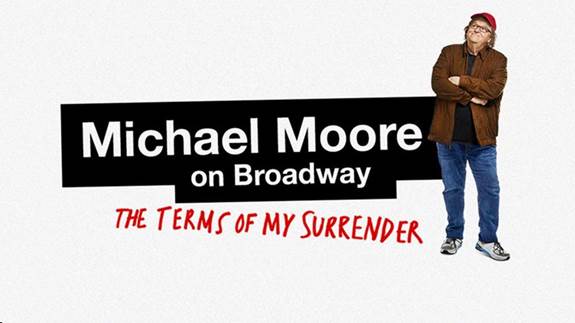 asking: Can A Broadway Show Bring Down A Sitting President?    
Moore doesn't think he can do it singlehandedly but feels his addition to that thorny crop of pricklers can help
"talking to about 1,000 people who have paid as much as $149 a seat"
"Very little of it is written where it won't change night to night," said director Michael Mayer, who called Mr. Moore "a natural raconteur."
What will he do differently?
Find out!
 the limited 12-week engagement began previews at Broadway's Belasco Theatre (111 W 44th Street) on Friday, July 28, 2017 with an official opening night set for Thursday, August 10, 2017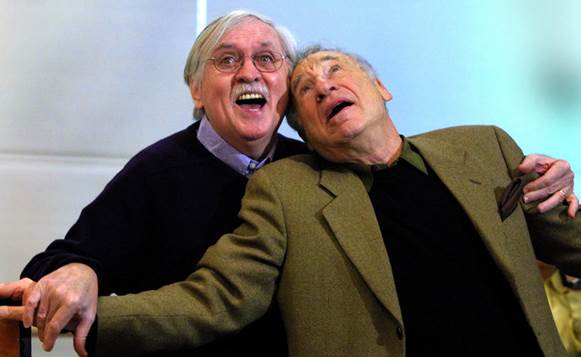 Thomas Meehan, left, with Mel Brooks in 2001 at a rehearsal of the "The Producers" in Manhattan.CreditSara Krulwich/The New York Times
Thomas Meehan, who won Tony Awards for writing the books for three of the most successful Broadway musicals of the past 40 years — "Annie," "The Producers" and "Hairspray" — died Monday at his home in Manhattan. He was 88.
The cause was cancer, said his wife, Carolyn Meehan.
Thomas Edward Meehan was born on Aug. 14, 1929, in Ossining, N.Y., and grew up across the Hudson River in Suffern. He had an ice cream truck in his youth and also worked at a drugstore, his wife said.
After graduating from Hamilton College in 1951, he secured an entry-level editorial job at The New Yorker, where, somewhat bedazzled by his good fortune, he arrived for his first day of work at 9 a.m. only to find that the office was empty.
"He thought maybe the whole thing was a joke," his wife said. "Of course, everyone wandered in later because nobody got to work at 9 o'clock."
Given opportunities to write for the magazine, he produced a short story titled "Yma Dream," which got the attention of Anne Bancroft, Mel Brooks and the lyricist Martin Charnin. They teamed up to work with him on a television adaptation, and the connections would prove fruitful.
In 1972, Mr. Charnin asked Mr. Meehan if he would want to work on a musical. Mr. Meehan said he was game. But then Mr. Charnin told him his idea: to adapt the comic strip "Little Orphan Annie." Recounting the genesis of the show in an article in The New York Times in 1977, Mr. Meehan wrote that his reaction was swift and succinct: "You've got to be kidding," he told Mr. Charnin.
Photo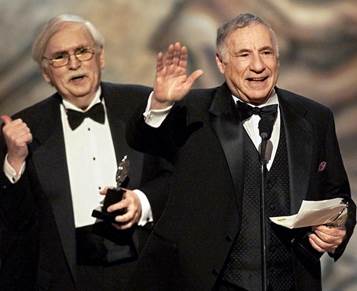 Mr. Meehan, left, with Mel Brooks in 2001 after accepting a Tony Award for "The Producers."CreditSara Krulwich/The New York Times
But he eventually agreed to give it a try, and once he read the comics, he realized that it would be harder than he had thought.
"Although I'd read 'Little Orphan Annie' as a child in the 1930's," he wrote, "I'd forgotten that it was basically nothing more than a series of totally improbable adventures, in which Annie, for example, was stranded on a desert isle or lost in the jungles of South America or held prisoner in a waterfront warehouse by a Fu Manchu‐like Oriental madman.
"We'd set out to write a realistic, three-dimensional musical," he continued, "and what I had to work from was a series of unrealistic, two-dimensional, two-inch squares."
The musical the men eventually fashioned with Charles Strouse, who wrote the music, took five years to get to Broadway. But once it did, in 1977, it ran for 2,377 performances. Today it is a staple of American musical theater.
Mr. Meehan went on to work with Mr. Brooks on other projects, including the 1987 movie "Spaceballs" and, perhaps most notable, their adaptation of the 1967 Brooks film "The Producers." The show became a Broadway juggernaut that dominated the 2001 Tony Awards and ran for more than 2,500 performances.
Mr. Meehan followed that with "Hairspray," an adaptation, written with Mark O'Donnell, of John Waters's 1988 film of the same name. (The music was by Marc Shaiman, the lyrics by Mr. Shaiman and Scott Wittman.) It opened in 2002 and ran for 2,642 performances.
Mr. Meehan, who lived in Greenwich Village, had two children, Joseph and Kate, with his first wife, Karen; their marriage ended in divorce. Besides his wife, Carolyn, whom he married in 1988, he is survived by his children as well as three stepchildren, six grandchildren, and a brother, John.
Carolyn Meehan said her husband had been astounded by his success, especially with "Annie." After the Tony Awards, she said, the trophy was taken away so that it could be engraved. When he picked his up later, he took it to Sardi's restaurant and just sat there with it, still in its brown paper wrapper, on the bar.
"To be able to be sitting at Sardi's with a Tony in a brown paper wrapper was just amazing to him," she said.
Inside: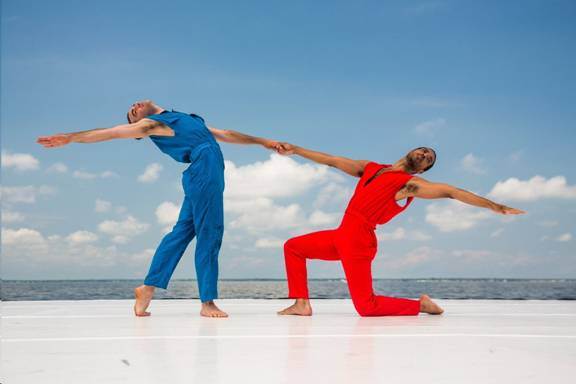 From the Fire Island Dance Festival in the Pines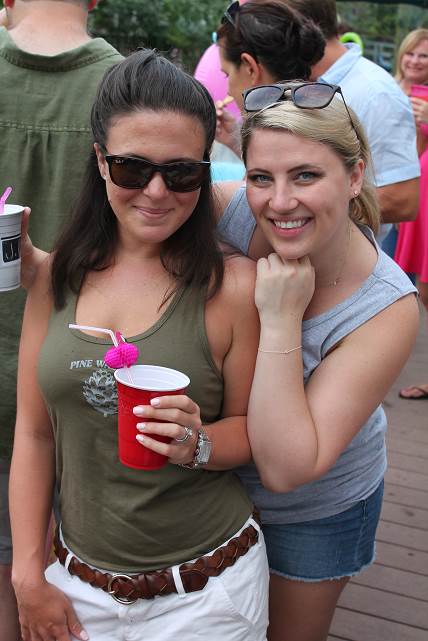 To Kismet's Party on Pine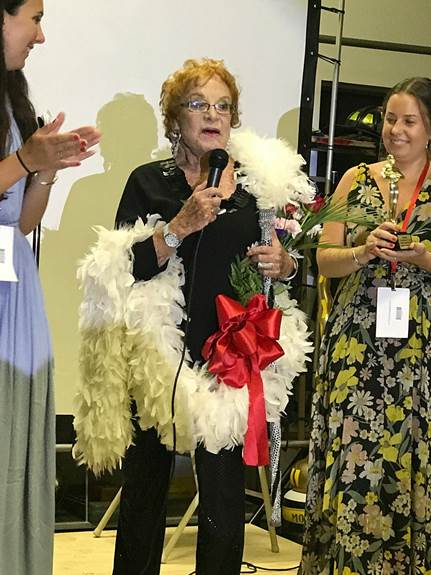 Kismet Honorees at Red Carpet Event
Latest Broadway and Off Broadway shows
The Invasion
And Fair Harbor's BridgeHenge to come
And so much more
….Stay Tuned
Jeanne Lieberman, Publisher