Broadway by the Season:
Celebrating the Broadway Seasons of 1940-41 and 1951-52
By Deirdre Donovan
Scott Siegel (Photo: Maryann Lopinto)
Scott Siegel, mastermind of Broadway by the Season, heated up the boards at Merkin Hall on a recent Monday evening to celebrate the Broadway seasons of 1940-41 and 1951-52.  Siegel created, wrote, directed, and hosted this event, following on the heels of his inaugural Broadway by the Season: 1925-26 and 1930-31 in June.  With special guest star Tony Danza in the lineup, and a roster of Broadway, film, and TV luminaries, the show proved to be a smorgasbord of surprises that took the audience on a nostalgic journey to yesteryear. 
With the reliable Ross Peterson as musical director/pianist and his Little Big Band on stage, Siegel provided audience members with a one-night-only history of the 1940-41 and 1951-52 seasons with a sampling of the songs presented on Broadway.  The two-act show, which clocked in at 2 hours, all breathed new life into the biggest hits and lesser-known works of the past.
In this second concert of the Broadway by the Season series, audience members got songs that chimed with the Roosevelt and Eisenhower eras. The first act largely consisted of some vintage musical numbers from the 40s, with songs from the likes of Hold on to Your Hats, How High the Moon, Lady in the Dark, Higher and Higher, Pal Joey, and Cabin in the Sky.
After the intermission, the 50s melodies were performed.  It worked like a charm, the two decades cheek by jowl, with their best musical treasures on display. In fact, one of the unique things about the show is that it invites audiences to hear Broadway's vintage hits with new ears or, if one's a newbie to musical theater, to listen to them for the very first time.  Indeed, the audience seemed to warm up immediately to the numbers, responding early on with smiles and applause, and later on, with a standing ovation.
Danny Gardner and dance troupe set the optimistic tone of the evening by performing "There's a Great Day Coming, Mańana" from Hold on to Your Hats.  If that pulled the audience in, Julia Murney's rendering of "Bewitched, Bothered, and Bewildered" (Pal Joey) completely mesmerized them, her voice caressing Richard Rodgers' music and Lorenz Hart's lyrics to perfection.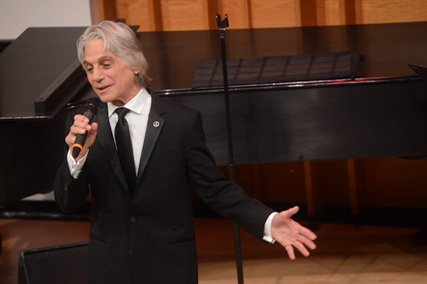 Tony Danza (Photo: Maryann Lopinto)
Of course, the incomparable Tony Danza ratcheted up the temperature in the auditorium even more when he entertained the audience with two songs, "It Never Entered My Mind" and "I Could Write a Book" from Higher and Higher and Pal Joey, respectively. (Danza actually did write a book about his real-life teaching experience in I'd Like to Apologize to Every Teacher I Ever Had: My Year as a Rookie Teacher at Northeast High) Danza suavely tap danced to the latter number, temporarily making the stage floor his drum. 
This was followed by "Taking a Chance on Love," with Murney delivering the vocals and Kendrick Jones the hoofing.  If there's such a thing as experiencing a moment in musical heaven, one simply had to see and hear these two as they found their groove together and created art.
At the top of Act 2, the likable Bill Daugherty provided the audience with a bit of wisdom as he launched into "Love is a Simple Thing."  Whether one buys into the song's sentiment or not, one can admire the elegance of Arthur Siegel's (no relation to our host!) score and June Carroll's lyrics that helped to make the musical revue, New Faces of 1952, shine.  Christiane Noll knocked it out of the ballpark with "Here's to Your Illusions" from Flahooley.  Douglas Ladnier soulfully performed "Wand'rin Star" from –you guessed it—Paint Your Wagon.  And Ali Ewoldt circled back to Flahooley with an A1 interpretation of "He's Only Wonderful."  There was comic relief as Murney tore into "If You Hadn't But You Did" from Two on the Aisle, cathartically tossing down index cards on the stage floor, one after another, as she went through a litany of her lover's faults. 
Kendrick Jones and Danny Gardner (Photo: Marianne Lopinto)
Gardner and Jones did a fast and furious tap dance duet to the beat of "Chiri-Bim, Chiri-Bom," showing off their impeccable balance and coordination.  There was a smooth transition to Paint Your Wagon's "They Call the Wind Mariah," poignantly performed by Ladnier.  The show fittingly wrapped up with Gardner and dance troupe performing the anthem "I'm on My Way" from the ever-popular Paint Your Wagon. 
Indeed, it was a dream of an evening for musical theater lovers, listening to songs from shows that soared and those that flopped.  Siegel, who for 21 years gave us nostalgic rides with his Broadway by the Year series at the historic Town Hall, is now continuing his tributes to show business with his Broadway by the Season spectacles.  One can only wish him well.
Broadway by the Season
August 7, 2023
At Merkin Hall at Kaufman Music Center.
For more information on the Broadway by the Season events, visit https://www.kaufmanmusiccenter.org
Coming Up: 
September 11 at 8 PM:  Seasons 1964/65 & 1972/73.
October 30 at 8 PM:  Seasons 1988/89 & 2013/14.