by Michall Jeffers
What more can possibly be said about Hamilton, the toast of the town? The show has been praised to the heavens, and only the prospect of winning a billion dollars has created more of a frenzy for tickets. It's original, educational, exhilarating, and acclaimed. It has shattered records for the amount of money it has generated. In the first three months alone, it raked in $57 million in advance ticket sales. Celebrities are routinely reported to be seen in the audience; President Obama attended the sixth preview performance.
The story of our first Secretary of the Treasury could be told old style, with noble speeches and wise foreshadowing. Instead, Lin-Manuel Miranda, who wrote the book, music, and lyrics, had a brilliant idea. As he read the 2004 biography by Ron Chernow, he realized the connection between the rebels of colonial America and the unquiet and uneasiness of our own immigrants today. Miranda's father came to New York from Puerto Rico; hardly a foreign country, but very different in the language and customs of his birthplace from Inwood, where his son Lin-Manuel grew up. The younger Miranda showed his talent early, and his 2008 Tony Award winner for best musical In The Heights proved that he was acutely sensitive to the variety of experiences and perceptions of his neighbors and their surroundings.
It took Miranda six years to coalesce his idea of showcasing our founding fathers as if they were alive today; fighting, scheming, and overwhelmingly ambitious, as well as dedicated and courageous. A mixed race cast of African-Americans, Hispanics, and Asians singing, dancing, and acting together onstage perfectly represents our city and our nation. And the language had to be unique as well. Hip-hop and rap combined with soulful ballads lent the score a fresh and daring view of the early history of what would become the United States.
In lesser hands, the concept might have fallen short. But the cast here is nothing less than phenomenally good. Miranda himself plays the title character to perfection; the difficult and often convoluted lyrics glide off his tongue. He is the undisputed leader of the group, and he elevates the entire proceedings. All the players supporting him are extraordinarily fine, but if some must be singled out, my vote goes first to Jonathan Groff, whose King George III provides comic relief. Smug, petty, and more than a little bitchy, this is a monarch who walks like a fashion model, with pointed toe crossing leg down the runway. He gloats at the news that the rustics who have so foolishly defied him are slated to fail miserably.
Daveed Diggs plays both Lafayette and Thomas Jefferson, as no one has ever imagined these icons of our nation's fight for freedom. Jefferson, totally out of the fighting in France, comes home to ask "What'd I Miss." Diggs has an almost manic energy and joie de vivre; the audience is immediately swept up in his enthusiasm. The scene is electric between Jefferson, claiming that in the South they plant and create, and Hamilton, countering with the fact that the South does produce cheap goods, but only because they use slave labor. These adversaries are too evenly matched for either to score victory points.
Women are well represented, particularly by "The Schuyler Sisters," who are widely regarded as the loveliest and best connected. There's the gorgeous Peggy (Jasmine Cephas Jones, who doubles as Maria Reynolds, Hamilton's paramour), who soon fades from view. Hamilton marries Eliza (Phillipa Soo), but is better suited intellectually with Angelica (Renee Elise Goldsberry). Goldsberry's voice is a thing of grace and beauty; this is an actor who just keeps getting better.
No story about Alexander Hamilton would be complete without his mentor, George Washington (Christopher Jackson) and his arch enemy, Aaron Burr (Leslie Odom, Jr.) These characters balance out the piece, and they are portrayed with all the necessary passion, drive, and conviction. Miranda has shared that it took him a whole year to produce the anthem "My Shot." The song drives the action forward, until we become aware of the irony of it in concert with the famous Hamilton/Burr duel.
It's difficult, and even painful, to imagine Hamilton in lesser hands. Director Thomas Kail pulls off the masterful trick of juggling this intense conglomeration of characters and music, and making it all look organic. Paul Tazewell's costumes range from traditional outfits appropriate to the period, to scanty corsets and shimmies for some of the lower class women. Scenic designer David Korins has created a tavern atmosphere, with steps and balconies that represent different locales. The choreography of Andy Blankenbuehler is an impeccable complement to the rap and hip hop dialogue and music.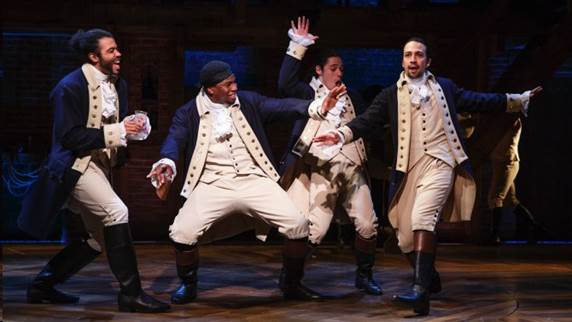 Lin-Manuel Miranda has said that at the heart of his opus is the question that he raps, seemingly without drawing breath: How does a bastard orphan son of a whore and a Scotsman dropped in the middle of a forgotten spot in the Caribbean by Providence impoverished in squalor, grow up to be a hero and a scholar? He answers with the brilliance that won Miranda a MacArthur "Genius" Fellowship. It takes a lot of hard work, drive, and an uncanny gift for being in the right place, at the right time, doing the right thing.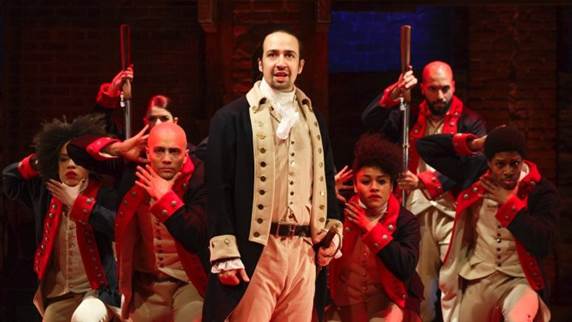 Will Hamilton go down in the annals of the theater as a great American musical like South Pacific, My Fair Lady, and West Side Story? Only time will tell. Is it worth it to spend the time, money, and effort to get the much sought after tickets? Hell, yes.
Hamilton, Richard Rodgers Theatre, 226 W. 46th St., 212-221-1211, www.hamiltonbroadway.com
Book, music, lyrics: Lin-Manuel Miranda; Inspired by "Alexander Hamilton" by Ron Chernow; Choreography, Andy Blankenbuehler; Director, Thomas Kail; Scenic designer, David Korins; costumes design, Paul Tazewell
Cast: Lin-Manuel Miranda (Alexander Hamilton), Daveed Diggs (Marquis De Lafayette/Thomas Jefferson), Renee Elise Goldsberry (Angelica Schuyler), Christopher Jackson (George Washington), Jonathan Groff (King George), Anthony Ramos (John Laurens/Philip Hamilton), Leslie Odom Jr. (Aaron Burr), Phillipa Soo (Eliza), Jasmine Cephas Jones (Peggy/Maria Reynolds), Okieriete Onaodowan (James Madison)