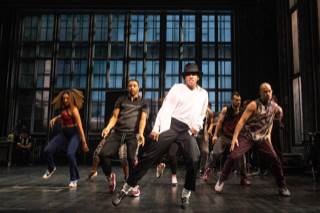 Myles Frost and cast
Photo: Matthew Murphy

MJ

                     by Deirdre Donovan


Christopher Wheeldon has pulled off the impossible with MJ. Indeed, the British director-choreographer has conceived a production on Michael Jackson that works well both on the biographical and musical level and leans lightly on his notorious demons.

The secret of Wheeldon's success is that he realizes that the King of Pop was, first and foremost, an artist with a capital "A." He focuses on his musical genius and the phenomenal achievements of the legendary performer, allowing the creative process to come to the fore. Relying on Lynn Nottage's excellent book, and drawing on his own eminent ballet background (Wheeldon won the 2015 Tony Award for Best Choreography for An American in Paris) for inspiration, Wheeldon presents Jackson as a man in love with his art, a self-made superman who would stop at nothing to achieve his dream.



Myles Frost in MJ
This is not to underestimate the spell-binding performance of Myles Frost, (making his Broadway debut), suggesting an indomitable will under a charming façade as MJ, or the terrific performance of Christian Wilson whose Little Michael is eye-popping as he goes through his dance numbers. Also admirable is Quentin Earl Darrington's doubling as concert director Rob and MJ's father Joseph Jackson, Whitney Bashor's Rachel, and Ayana George as Katherine Jackson.

Fortunately, the creative team are all on the same page. Derek McLane's capacious set, abetted by Natasha Katz' protean lighting, accommodates the breadth of the biodrama and ensures that all the dance numbers (Yes, we see Frost uncannily executing MJ's moonwalking with panache!) have the space to take off. Paul Tazwell's authentic-looking costumes are just right.

Gareth Owen's sound design, in synch with David Holcenberg and Jason Michael Webb's musical wizardry, ensures that we can hear all the rich vibes crossing the footlights without fear of rupturing our eardrums. And Peter Nigrini's projection design creates delicious ambience for the various towns and cities that MJ once lived in or visited over the years.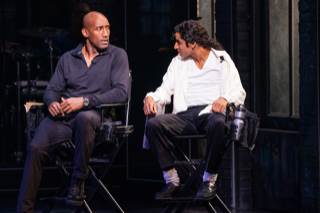 (From left): Quentin Earl Darrington, Myles Frost

Another nice touch in this production is the fluidity of its transitions, not only between scenes, but within scenes. Yes, forget time and space in this surrealistic work. Indeed, the character MJ, who serves as narrator, often insinuates himself into pivotal episodes, in which Little Michael or Middle Michael (the versatile Tavon Olds-Sample) are experiencing growing pains or perhaps contemplating their next smart career move in showbiz. No question that MJ's continual toggling between the past and present blurs the boundaries of time in the show. What's more, it symbolically points up that MJ's turbulent past was not forgotten and that it ever informed his present-day life.

Favorite moment in the show? It's unfair to single out any one episode when so many are memorable. However, when George's Katherine poignantly sings "I'll Be There" to Little Michael in Act One, it's difficult to top its tender maternal power. In fact, the audience became so mesmerized by the song that not a single cough could be heard throughout the entire theater as George teased out the sublime lyrics.

So why isn't this jukebox musical filled with more controversial material? Well, one of the reasons is that MJ is not a cradle-to-grave story. It takes place in 1992, right before the notorious allegations against Jackson exploded in the media in 1993.

It also may be worth mentioning that both Wheeldon and book-writer Nottage approached their MJ project with the intent of bringing balance to it. In a New York Times article (April 23, 2019) entitled "Michael Jackson Musical Creators: 'We're Not Judge and Jury,'" Wheeldon remarked that as he and Nottage developed their MJ project (which was approved by the Michael Jackson Estate), they attempted to "paint a balanced picture." Wheeldon added that they consciously decided to "lean into the complexities, lean into the darkness, but also recognize the great amount of music and film and choreography that Michael left behind."

In sum, MJ is not a piece of journalism. It's a creative work inspired by the astonishing art of Michael Jackson, with a score made-up of 28 of Jackson's most beloved songs, including the best-sellers "Beat It," "Smooth Criminal," and "Stranger in Moscow," to mention a few.

While some theatergoers may criticize MJ for its "selective memory," others will simply watch the amazing Myles Frost inhabiting the King of Pop and applaud him—and Wheeldon—for resurrecting the iconic artist at the Neil Simon.

At the Neil Simon Theatre, 250 W. 52nd. Street, Midtown.
For tickets and more information on MJ, visit www.mjthemusical.com
Running time: 2 hours; 30 minutes with one intermission.