The Fatal Weakness


                                   by Marc Miller
So, children, a brief history lesson on one George Kelly. Little-remembered now, he was a big deal indeed in the first half of the 20th century, a chronicler of the foibles and follies of upper-class Easterners. He knew whereof he spoke: A well-to-do Philadelphian, he was Grace Kelly's gay uncle. His first play, The Torch Bearers, a loving spoof of amateur theatricals, was followed by such hits as The Show-Off, Craig's Wife, Reflected Glory, and Philip Goes Forth. But his last work, 1946's The Fatal Weakness, was only a near-hit. A comedy-drama in equal parts, Kelly's examination of the consequences of adultery among the mid-century gentry provided a bright setting for another forgotten theatrical legend, the radiant leading lady Ina Claire, and ran 119 performances. And with one set and a cast of six, it's a prime slab of meat to throw at that invaluable preserver of fallen-by-the-wayside theater history, the Mint Theater Company.
The Mint's 2014 production of The Fatal Weakness is happily now available for viewing at its website, for free (but they'd welcome contributions, and deserve them). Deeply conventional, the sort of single-set frolic that abounds in well-timed telephone calls and doorbells, it's literate, philosophical, and, like most of the Mint's output, indispensable as a time capsule. We're in the well-appointed living room of Paul Espenshade, a very successful… well, what he does never comes up. Paul's not around much, but his wife, Ollie, is there a lot, mainly to receive guests. Primarily among them are her best pal Mabel, a lively busybody who likes to get involved in other people's business when she isn't dropping one-liners about marriage and errant husbands, and Penny, Ollie's nonconformist daughter, who's not very happily married to Vernon, an earnest young fellow, and the mother of a rambunctious three-year-old named, for some reason, Bunchy. Meanwhile, Anna, the maid, dashes in and out, mainly to utter "Yes ma'ams" and "No ma'ams" and move props around during scene changes.
It's Philadelphia Story territory, then—standards and appearances among society-column types, marital intrigue, high-tone folk acting in not-so-high-tone ways—but it's also more than that. In fact, Kelly appears to have written a better play than anyone at the time realized. The characters develop slowly, with Kelly adding layers until what first appeared to have been just types turn out to have unsuspected shadings. Nobody's entirely good or bad; Paul, seemingly just a philanderer, turns out to have reserves of romanticism and decency, while Penny's capriciousness is revealed to mask complex, understandable conflicts.

Kristin Griffith and Cynthia Darlow in THE FATAL WEAKNESS by George Kelly. Photo: Richard Termine
It's a funny play, too—though running through the dialogue, one fails to see a lot of laugh-out-loud moments. Credit director Jesse Marchese, who paces it at His Girl Friday speed, with the actors stepping on lines and scarcely taking time to breathe. Anna: "I always thought weddings were sad… especially when you know the way the majority of them are going to turn out." Not a knee-slapper on paper, is it? But it is here, and I had to wait for the credits to find out why: She's Patricia Kilgarriff, a reliable veteran who at one time played Shirley Valentine on Broadway. Anna normally wouldn't be a scene-stealer, but Kilgarriff makes her one.
Kristin Griffith, Cliff Bemis, and Cynthia Darlow in THE FATAL WEAKNESS by George Kelly. Photo: Richard Termine
And she's in fast company. Judging from Ina Claire's few screen appearances, notably Ninotchka and The Greeks Had a Word for Them, wouldn't we love to have seen what she could do with Ollie. But Kristin Griffith's pretty brilliant herself, employing an uncategorizable but mellifluous mid-Atlantic accent to emphasize Ollie's breeding, and letting her feelings creep through her upper-class reserve. Cliff Bemis, perhaps not the ideal physical choice for Paul (the other characters keep observing how sturdy and youthful he is; really?), underplays elegantly, and Sean Patrick Hopkins's Vernon is exactly the well-spoken, capable Ivy Leaguer Vernon ought to be. Cynthia Darlow belts Mabel out of the park: She's Eve Arden, Agnes Moorehead, and every second banana you relied on to knock some sense into June Allyson or Jane Wyman. Victoria Mack gets most of Penny right, though you might expect a girl of her breeding to be a little less flighty, and keep her emotions further below the surface.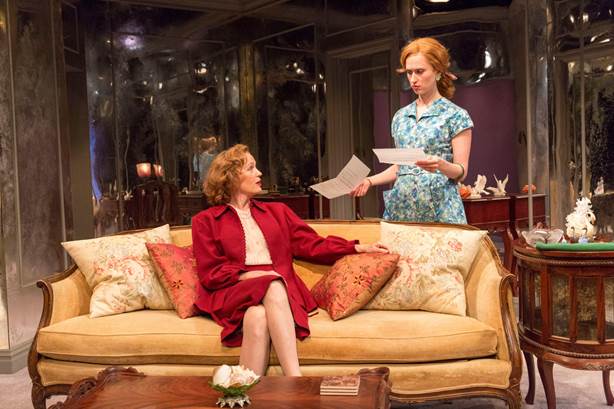 Kristin Griffith and Victoria Mack in THE FATAL WEAKNESS by George Kelly. Photo: Richard Termine
They're dressed to the 1940s nines by Andrea Varga, and Vicki Davis's heavily mirrored set looks just as a toney living room in a mid-century, mid-rise luxury building along Benjamin Franklin Parkway should. The Mint has taped the production astutely, except for a few odd long shots revealing a perfectly still audience in silhouette, looking a lot like the bottom of a Mystery Science Theater 3000 screen.
We should all take a moment to kneel and thank companies like the Mint (and Manhattan Theater Club, and Irish Rep, and so many others) for nurturing our hunger for evenings in the theater at a dark time when such evenings were impossible. Further complications aside, we'll be back in fifth-row center in a few months; meantime, this expert, well-bred, fast-moving Fatal Weakness is a lovely substitute.
The Fatal Weakness
Off-Broadway play
Running time: 2 hours 5 minutes
Available through June 27 at minttheater.org