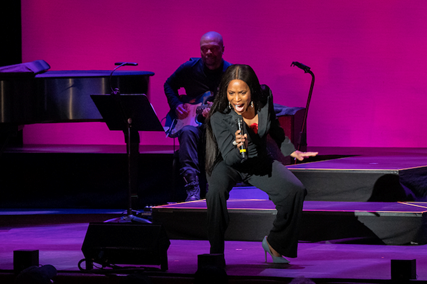 Valisia Lekae in What's Going On?: Songs of Change at the 92nd Street Y.  (Photo: Richard Termine)
What's Going On?: Songs of Change
By Deirdre Donovan
The 92nd Street Y's Lyrics & Lyricists series celebrated the African American Songbook in late March with a soul-stirring program aptly entitled, "What's Going On?: Songs of Change," co-directed by Warren Adams (Motown: The Musical) and Michael O. Mitchell (MJ: The Musical).  Created and conceived by Adams and Mitchell, this theatrical concert combined music, dance, poetry and visual art to tell the complex story of African-Americans.  Featuring Broadway talents Charl Brown, Patrice Covington, Valisia Lekae, Naturi Naughton, Ronvé O'Daniel, Ryan Shaw, and Eric B. Turner, it proved to be both a tribute to past African-American artists, and those who are now carrying their baton into the future.
Act 1 kicked off with a South African folk song, "Senzenina," an anti-Apartheid folk song from South Africa, performed by the entire company.  Simple and straightforward, it well-indexed what South Africans yearned for during apartheid: "Let Africa return! 
The next number was Billie Holiday's famous anthem, "Strange Fruit," hauntingly sung by Naughton.  The silence in the audience was palpable as Naughton crooned the line, "Black bodies swinging in the Southern breeze /
Strange fruit hanging from the poplar trees. "   Indeed, everybody was sadly reminded of those tragic days when lynching  of Blacks in the American South was commonplace. 
The program took a livelier turn when Covington tore into Aretha Franklin's 1967 megahit, "Respect."  No question that the audience were thrilled to hear the iconic song performed not on Spotify or YouTube but live.
There was a nod to Richard Rodgers and Lorenz Hart with the performing of their "Little Girl Blue," which was memorably recorded by Nina Simone in 1959.  As Lekae sang it for the 92nd Street Y audience, on the Saturday evening I attended, the song took became the aural equivalent of chicken soup, as she vocally caressed each consonant and stretched out all the long vowels until they echoed with the song's sad undertones:  "Ooh, and I know how you feel /I know you feel that you're through."
Naughton, Covington, and Lekae joined voices for Billy Taylor's "I Wish I Knew How It Would Feel to Be Free," famously recorded by Nina Simone in 1963.  Although the '60s are long gone, this song sounded relevant as ever, considering the murder of George Floyd in police custody on May 25, 2020. 
Eric B. Turner in What's Going On?: Songs of Change at the 92nd Street Y.  (Photo: Richard Termine)
The tempo of the program shifted again with Gil Scott-Heron's 1970 song, "The Revolution Will Not Be Televised," delivered with an almost hypnotic rhythm by O'Daniel.  The audience surely leaned in for this classic that urges folks NOT to be passive human beings.  Close listeners also might have detected that this '70s song anticipates the musical style of hip-hop.
Act 1 wrapped up with more '70s songs, revealing that Black musicians' creativity was red-hot during this decade:  Hank Cosby, Smokey Robinson, and Stevie Wonder's hit "Tears of a Clown;" Norman Whitfield and Barrett Strong's "Ball of Confusion;" and the program's eponymous song, Marvin Gaye's "What's Going On?" 
Act 2 led off with Childish Gambino's "This is America."  While this song is hardly a feel-good number, it's the perfect answer to the question: What does the Black Lives Matter movement mean?  The audience listened to this new millennial anthem and may well have reflected on recent headlines in the news involving systemic racism. 
Turner (affectionately dubbed the "soul doctor") and Sam Aristil's "Holding On" was appropriately delivered by Turner himself.   With its gospel tones and themes of faith and hope, it crossed the footlights like a lifering to anybody who might need a little buoyancy to get to tomorrow:  "See I was holding on / See I was holding strong /See I was holding on for better days.
Naughton, Covington, and Lekae followed with Stevie Wonder's anthem of anti-procrastination, "Love's in Need of Love Today."  This song was sung with a less gravely texture than what Wonder himself recorded in 1976.  But it still hit the mark, albeit with a feminine vibe.    
Okay, the show wasn't flawless.  It could easily have jettisoned Tracy Chapman's "Give Me One Reason," a folksy song with R&B quality, sung by Lekae midway through Act 2.  Perhaps Adams and Mitchell included it as an investigation of stasis, or a snapshot of an imbalanced relationship.  But why include it in this show whose central theme is change.
Things got back on track with Pharrell Williams' "Freedom."  Once used as a promotional video for Apple Music, this song, as sung by Shaw and O'Daniel, coaxed smiles from the audience.  But then who can resist this anthem that invites one to imagine that "your first name is Free / Last name is Dom."
Ryan Shaw and Charl Brown in What's Going On?: Songs of Change at the 92nd Street Y.  (Photo: Richard Termine)
Poetry graced the program with Daniel J. Watts "Black is Beautiful," with O'Daniel's soulful music intertwining with the words.  O'Daniel led the company through this number, demonstrating how the familiar slogan, Black is Beautiful, can be revivified and passed on to the next generation.  
The penultimate song, "Tomorrow (A Better You, Better Me)," with Naughton at the fore of the company, served as a kind of sherbert to the show's grand finale number, Stevie Wonder's "Signed, Sealed, Delivered."  Shaw had the honor of heading the cast for this rousing "farewell" anthem.   Although the audience had warmly responded to each and every song during the concert, everybody rose to their feet for this last number and boogied to the song.
No question that the show was a hit with all who attended.  The takeaway from the program?  Of course, it was what Adams shared from the stage when he introduced the program:  "The African American Songbook is the American Songbook.  We're all interconnected, and we want the audience to leave with the sense that this music is part of all our lives."
Lyrics & Lyricists series at the 92nd Street Y
What's Going On?: Songs of Change
March 25, 26, & 27.
For information on future shows, visit www.92ny.org
Running time:  2 hours including one intermission.