<![if !vml]>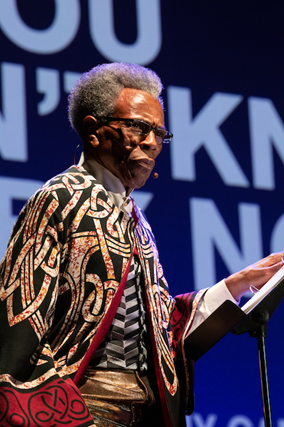 <![endif]>
André De Shields (Photo: Beowulf Sheehan)
Bob Dylan's Philosophy of Modern Song
By Deirdre Donovan
On July 17th at The 92nd Street Y, New York, musical gold was spun as André DeShields, Odessa Young, and Meshell Ndegeocello performed selections from Bob Dylan's Philosophy of Modern Song.  Directed by Michael Amereyda, the listen-along was proof positive that the best songs of yesteryear need to be dusted off, affectionately parsed, and presented in live stage performance.
The trio culled 10 chapters from Dylan's book, coupling excerpts from each chapter with a live rendering of the song itself, and then an interpretation of the musical piece.  To kick off the program and calibrate the evening's mood, André De Shields, dressed in a richly ornate robe, read an excerpt from the text of "My Generation":
"In reality, you're an eighty-year-old man, being wheeled around in a home for the elderly, and the nurses are getting on our nerves.  You say why don't you all just fade away.  You're in your second childhood, can't get a word out without stumbling and dribbling.  You haven't any aspirations to live in a fool's paradise, you're not looking forward to that, and you've got your fingers crossed that you don't.  Knock on wood. You'll give up the ghost first.  You're talking about your generation, sermonizing, giving a discourse.  Straight talk, eyeball to eyeball."
As De Shields' expressive voice fades out, the band, led by Meshell Ndegeocello who plays bass and sings most of the vocals, tore into the Who's song "My Generation."  Upstage a screen displayed a slide show that enhanced the song's lyrics and crystallized the cultural moment when the song was first released.  After the song faded out, Odessa Young added a few comments that dovetailed with Dylan's text: "Each generation seems to have the arrogance of ignorance, opting to throw out what has gone before instead of building on the past."
This pattern of De Shields leading in with an excerpt from the text, then Ndegeocello and the band performing the song, and Young acting as commentator worked well in the program.  Although De Shields and Ndegeocello both brought their artistic stature and years of experience to the stage, Young ideally balanced the program as an up-and-coming actress who already has distinguished herself in film (Looking for Grace, The Daughter) and television.
<![if !vml]>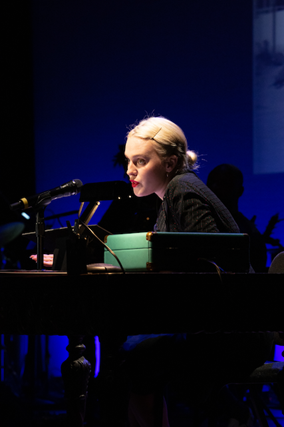 <![endif]>
Odessa Young (Photo: Beowulf Sheehan)
In a clever bit of stage business 20 minutes in, Young lifted a vintage record player from a hidden compartment at her station to play The Platters' 1956 hit song, "My Prayer," in sync with its time.  But before she set the needle down on the record's groove to play, De Shields read from Dylan's text on how this soulful song was likely composed: "A lot of songs written at this time had introductions built into them.  If you have two songs and don't know what to do with either one, you slap them together and the results can either be catastrophic or illuminating." No question that the Platters' song has been an illuminating one for folks over the years, recorded in "fourteen different languages and a hit in five different decades."  As the audience listened to the poignant lyrics and music waft over the footlights, a slide of Peter Paul Rubens' colossal painting, "Daniel in the Lion's Den," was projected on the large screen onstage.
It's impossible to choose which of the 11 featured songs was "the best" in the show.  However, there's no question that the audience seemed to lean in close for Eddy Arnold and Cindy Walker's 1956 single, "If You Don't Know Me by Now," which De Shields remarked has "a lot of realism" and serves as a "direct link between the Old World and the New World."  Dylan imbedded a mini-bio of Arnold in his chapter that notes: "Eddy Arnold grew up on a farm, but he also worked in the mortuary field.  He was managed by Colonel Tom Parker, who eventually dubbed him "the Mortician Plowboy."  
Although Young, as commentator, didn't quote verbatim from Dylan's text, she pointed out that this song has a grass-roots vibe.
"Here is where the story gets murky," André De Shields mischievously teased, referring to "Strangers in the Night," the Frank Sinatra staple that was composed by Bert Kaempfert, with lyrics by Charles Singleton and Eddie Snyder.  Although it might be hard to sift the facts from the fiction on this iconic song, it did top the charts in 1966, beating out the Beatles' "Paperback Writer."  Little wonder that when the band performed this classic, the audience came under its spell in a nanosecond, mesmerized by its sweeping romantic notes.
<![if !vml]>
<![endif]>
Meshell Ndegeocello (Photo: Beowulf Sheehan)
The program touched on the following chapters from Dylan's tome: My Generation, Detroit City, Gypsies Tramps and Thieves, If You Don't Know Me By Now, My Prayer, Dirty Life and Times, Don't Let Me Be Misunderstood, Strangers in the Night, Where or When, I'll Keep It With Mine, Good Day Bad.
The show was a joyous and loving reminder that Bob Dylan is still alive and kicking, and that we have much to learn from this master of modern song.
Bob Dylan's Philosophy of Modern Song
Performed on June 17.
At The 92nd Street Y New York, 1395 Lexington Avenue, Manhattan.
For more information on programs, visit www.92ny.org