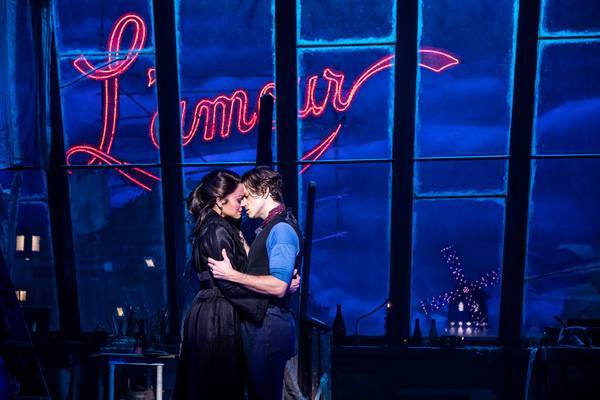 Aaron Tveit and Karen Olivo (Matt Murphy)
                              By Eugene Paul


There are no admonishments telling you not to take photos inside the theater which would be useless anyway since the aisles before curtain time are filled with awestruck jostlers clicking away.  And besides, director Alex Timbers  is ready for just that, so shoot  your fill. All those strutting,  smolder walking,  body writhing, hip thrusting, sexy slithering bedizened denizens  luring you into anticipation of what is to come are already working their wiles, so yes, shoot away. And if  you can  trouble to take your eyes off the newly embellished gilt, eye popping surroundings enveloping you inside   the Hirschfeld theatre to investigate who did what as cunningly laid out in your theatre program, it would simply take too long to untangle. Just go with the flow.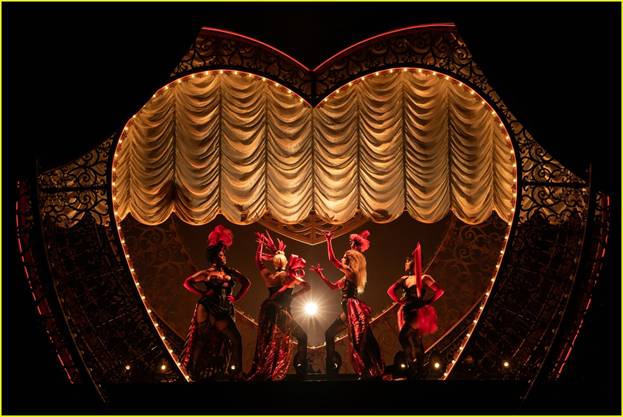 Scenic designer  Derek McLane has delightfully lost his mind. All over the place. Taking his cues, yes, from the Baz Lurhmann film but carrying those excesses to the point of caricature and we ain't even begun.  When we do, hold on to your whatevers because this frothy valentine to  the naughty Paris of the 1890's cancans harder than ever. It's the same La Boheme theme Luhrmann sprang so successfully several years ago bringing Puccini to Broadway. After which his film melded modern pop music into his period piece. Now, in this iteration,  somebody, presumably Luhrmann and book writer John Logan, have  gone whole hog. This time, instead of a single composer, there are 2000 words of credits listing the score of over seventy tunes, the much more accessible mass of pop music  from the 1970's driving the hundred thirty year old story, thus the ultimate juke box musical.
 ( Pumped at an incredible level by sound designer Peter Hylenski calculated to be inescapable.  People were turning in their hearing aids at intermission, overwhelmed by the volume.)
But  this time, the starving artists of Paris, including Toulouse Lautrec (splendid Sahr Ngaujah) happen to be the starving cabaret performers at the naughty Moulin Rouge  cabaret where everybody is delightfully naughty in utterly, utterly mad costumes (thank you Cathering Zuber) from frou frou to too too tutu. All in pursuit of delicious  Gallic depravity, sumptuous Gallic decadence, all to shock you. And shock you. And shock you. Aye, there's the rub.  In fact, there's plenty of rubbing, frottage and frottage.   But shockage?  Non, mes amis.  Non.  The only thing remotely shocking is that there are children among us in the audience, brought by loving parents. (I presume.) And what was shocking about that was that the kids were not shocked by any of the feverish goings on.
Satine (gorgeous Karen Olivo) the star and busiest body of the Moulin Rouge, is enlisted by  desperate cabaret owner Zidler (dandy Danny Burstein) to ensnare the wealthy Duke of Monroth (fine, dastardly Tam Mutu) as backer of their new show. The brilliant, new show is being created by the inspired trio of not only Toulouse Lautrec but also  tempestuous Latin Santiago, (dashing Ricky Rojas) and  endlessly creative American songwriter Christian (sturdy Aaron Tveit) who seems to burst into familiar 70's song every two minutes, especially after he falls passionately in love with the incredibly irresistible  Satine. Who  makes the terrible mistake of falling for the American songbird instead of the ravaging Duke. Which leads to complications and subterfuges, especially when the Duke invests his gold and takes over, lock, stock and Moulin Rouge.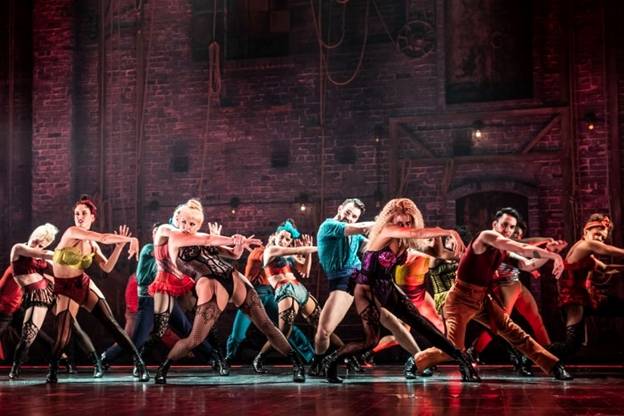 Throughout, there is superb dancing choreographed by resourceful Sonya Tayeh who leaves no step unturned, especially when performed by extraordinary Robyn Hurder. With his hands full of a feast of talents, wisely resourceful director Alex Timbers  deploys them all in constant profusion, surrounding his familiar story and his body of familiar songs with endless eye candy, from bouquets of settings to bouquets of performers. It's just too bad that what passes for present day society makes once thrilling Gallic depravity pale in comparison. The children in the audience are perfectly safe, except, of course, from what they were able to wangle at the concessions during intermission. And yet, hmmmm….There is that huge Blue Elephant…. What's that all about…
                                                          *
Moulin Rouge!. At the Al Hirschfeld Theatre, 302 West 45th Street, at 8th Avenue. Tickets: $99-$1043, 800-653-8000. 2hrs 35 min. Open run.