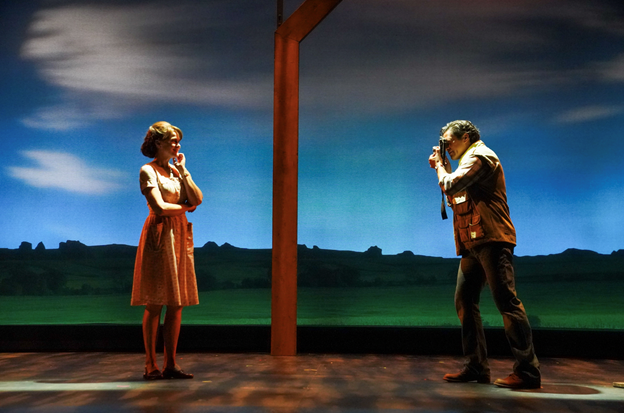 Kate Baldwin and Nicholas Rodriguez (Photo: Joan Marcus)
The Bridges of Madison County
Gorgeous revival makes a case for the romantic in all of us.
By David Schultz
Based on the insanely popular novel by Robert James Waller and film version of that book, this musical could in lesser hands have been an overly sentimental treacly mess. But lo and behold, this 2014 musical written by Marsha Norman (book) and Jason Robert Brown (music and lyrics) is quite the opposite.
The melancholy, operatic score digs deeply into these simple folks living their lives of quiet desperation a universal appeal. The lyrics and music gorgeously rendered by Mr. Brown gives this still slight tale a sense of momentum. Ditto Marsha Norman's book, which gives the main characters a humanistic demeanor, not the wooden caricatures of the novel.
Taking place in Winterset, Iowa in 1965, the musical is steeped in romantic nostalgia from the outset. The storyline follows a trajectory that is overly familiar to most weepy eyed, swoony lovers of this genre. That the plot diverges and takes the off-the-trail road with subtle changes in tone is one of the many delightful discoveries within its two acts.
The plot in brief: an Italian WWII war bride Francesca (Kate Baldwin) is sending her hubby Bud (Bart Shatto) and daughter Carolyn (Emily Pellecchia), and son Michael (Thomas Cromer) off to Indianapolis where they is about to enter her prize steer into a the State Fair to hopefully win acclaim and prizes. Francesca is looking forward to a few days of peace and solitude, time to catch up on a few books and recharge herself with inner reflection. One senses a bit of resignation and loneliness in her body language.
Cue the time-honored tradition…. Who is that stranger driving up in a beat-up jalopy and approaching her doorstep? Why it is a strapping young photographer, Robert (Nicholas Rodriguez) from The National Geographic on an assignment to take photos of the town's famous bridges. He has just one bridge left to see and capture but has lost his way and needs direction to finish his bridge photo assignment. Naturally, our heroine cautiously offers to show him the way. The slow, obvious attraction builds as Francesca invites him back for a cool lemonade after returning. Need I go on. Most of the audience are three steps ahead in where this scenario is heading. But that is completely beside the point.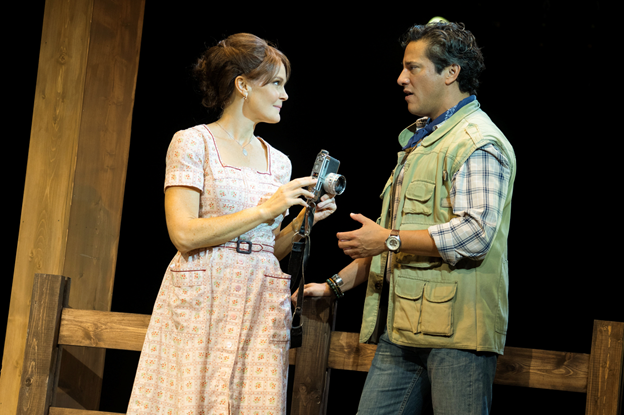 Kate Baldwin and Nicholas Rodriguez (Photo: Joan Marcus)
The completely sung through score gives an unexpected heft and gravitas to the storyline. The emotional affair that surprises these two souls swirls in gorgeously complex music and lyrics. The opposing needs and desires of this doomed couple at an intersection of their lives makes them reconsider everything that they have experienced up to now.
The other characters in the musical do flit in and out of the proceedings, but the emotional core and wildly romantic essence of the tale is firmly focused on these intense lovers. The ineffable sadness and sexual discovery they discover is perfectly captured in one of Mr. Brown's most densely written scores. Upon hearing this music a few times, I'd be tempted to think it is one of his finest scores.
The connection of the two leads adds immeasurably to the impact of the evening. Ms. Baldwin and Mr. Rodriguez have known each other professionally for over 20 years, and it shows in the sense of ease and playfulness on display. Add to that Ms. Baldwin's clarion voice and soaring arias mixed with Mr. Rodriguez's expressive baritone and you have a solid reimagining of this once tepid tale. Even people who loathed the book and film will find much to admire.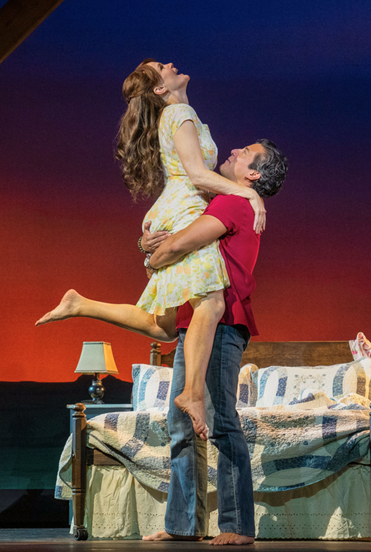 Kate Baldwin and Nicholas Rodriguez (Photo: Joan Marcus)
Anna Louizos's scenic design keeps things simple. The various set pieces are moved about in a graceful way by the actors on hand. The archlike visuals give a subtle nod to the bridges of the title. Costume designer Lauren T. Roark perfectly evokes the vintage look of the styles of the dusty 1960's Midwest. Kudos also to actor/director Hunter Foster who has an unusual feel and connection to the work. He essayed the role of husband Bud in the original 2014 award winning Production. Shockingly this impeccable musical was short-lived, playing a mere three months on Broadway.
Seeing this revival gives one hope that it can be remounted again in New York, perhaps Off-Broadway, to reach a well-deserved audience that can fully appreciate all its intricate complexities. If the same cast can be rounded up again it would be a miracle. If insipid lyrics and repetitive music have dulled the senses in your theatergoing, this classy, impeccable musical can only give you hope for the future.  
The Bridges of Madison County
The Bucks County Playhouse, New Hope PA  (215) 862-2121. Through Sept. 10
Buckscountyplayhouse.org Bus from New York: http://bcptheater.org/bus/