Emily Padgett as Daisy Hilton and Erin Davie as Violet Hilton
                                   by Eugene Paul
This heartbreakingly ambiguous entertainment, flecked with moments of beauty and laughter, is based on (a) a  true story, the wrenching history of Daisy and Violet Hilton, (b) a horror film, Freaks, the passionate brainstorm of Tod Browning, which ruined his career and (c) undaunted perseverance, there having been a series of successful revivals around the country since first it came to New York in 1997.That first time for Side Show on Broadway, it garnered four Tony nominations even though the show ran for only 91 performances. There was definitely something there. After changes and changes and changes, what has emerged is an excruciating, tinsel love story trimmed with all the songs, dances and settings, poised against the morbid fascination of the displayed   human anomalies exhibited and exploited in freak shows, up and down the country.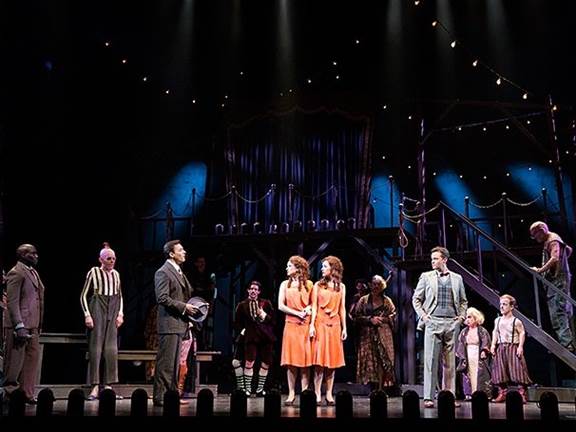 All photos by Joan Marcus
We are invited in the opening number to "Come Look at the Freaks", as Sir (graciously malevolent Robert Joy), standing in set designer David Rockwell's bleakly atmospheric  side show setting, where the owner known only as Sir invites us, introducing us to the Human Pincushion, the Dog Boy, the Bearded Lady, the Three Legged Man and on and on, all his collection of  human grotesqueries,  each in turn, as prelude to his star attraction, the Siamese Twins,  Daisy and Violet Hilton (extraordinary Erin Davie and Emily Padgett). Born conjoined, Daisy and Violet were sold by their unwed mother who didn't know what to do with them.  Their purchasers did. They were put on display. The girls were taught to be entertainers, to sing and dance and play musical instruments, put to work as children, adolescents, and now, young women. (The owners kept the earnings.)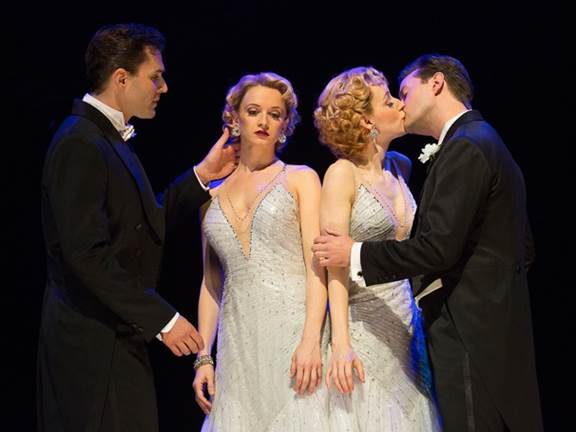 Ryan Silverman as Terry Connor, Emily Padgett as Daisy Hilton, Erin Davie as Violet Hilton & Matthew Hydzik as Buddy Foster
Ebullient Buddy Foster (perfect Matthew Hydzik) has talked his pal, Orpheum press agent Terry (gigolo handsome Ryan Silverman) into coming to the carney side show to see the girls.  He thinks they could be headliners in vaudeville. Terry's original doubts turn 180 degrees into flat out enthusiasm. Daisy and Violet are knockouts! He uses all his charms to persuade the girls to leave, that he'll put them in the Big Time. (Well, maybe in 1920 they never heard that line before.) But the girls can't leave.  Sir owns them.
 The complications which ensue in Bill Russell's book, amended and realigned with director Bill Condon's additional material take the girls out of the grunge of side show,  into inspired, delectable costumes that give costume designer Paul Tazewell – and us – a shot in the arm, under the pinkest of Jules Fisher's and Peggy Eisenhauer's lighting, bring on  fetching choreography by Anthony Van Laast, and swiftly move under director Condon's savvy pacing into full musical comedy mode, yet always, there's a touch of the macabre, basic to the original story. They become sleek, highly sought after vaudeville headliners, (Bob Hope was a dancer in one of their acts!)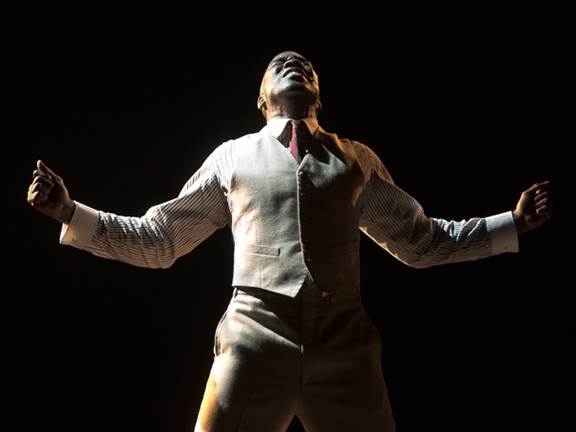 David St. Louis
 But we are never allowed to be comfortable as much as we warm to Henry Krieger's songs, the standout singing by David St. Louis as Jake, the carney who loves Daisy, the endearing duets by the sisters,   the strong singing by Ryan Silverman. Silverman as Terry, lost in his own conflicts, contemplates a dream dance, just him and Daisy, separated from her twin; it is both beautiful and skin crawling.  This is what is in their minds; this is what they will never have.
David and Lou Elsey have a field day with special effects in makeup.  Charles G. LaPointe wigs and wigs and wigs.  Cookie Jordan devises makeups galore, all their contributions to the atmosphere of the show vividly before us. No, I haven't forgotten about Tod Browning.  He's basic to the whole story, the successful Hollywood director that will turn Daisy and Violet into movie stars. The movie?  Freaks. Banned for thirty years. Director Condon uses him as another level of irony, careful to keep us focused on remarkable Erin Davie and Emily Padgett as Daisy and Violet.  This, not Tod Browning's, this is their immortality, a memorable, viscerally moving, Broadway musical with them at the very center.                                              
Side Show. At the St. James Theatre, 246 West 44th Street.  Tickets, $49-$145. 212-239-6200. 2hrs 20 min.  Thru April 25, 2015.