Tim Mooney makes cover of
LICA Road Warriors Magazine
Another Kismet Star is born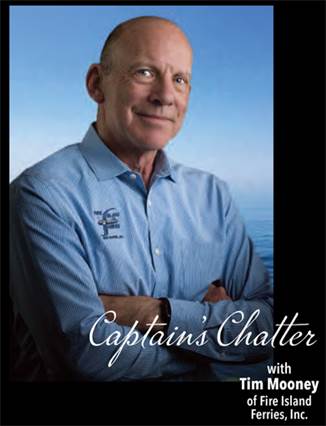 Like many Long Island land-based contractors, the ferry transportation business boasts several family owned operations. In Port Jefferson it's the McAllisters. Orient Point is the Rinowski's. And eastern ports of Fire Island are served by the Steins and the Shermans. So although the Mooney family of Fire Island Ferries, Inc. may not be alone, they are quickly building the next Long Island legacy.
Ever since 1948, there has been a Mooney on board or behind the wheel of a Fire Island-bound ferry, starting with Edwin (Ed) Mooney, Jr. (father of Tim and Michael) who began as a deckhand for the company just two months after the ferry service was launched. Ed, together with two partners, bought Fire Island Ferries in 1971, which interestingly enough, included a stipulation that forbid owners from bringing other family members into the business. Perhaps this explains why, by 1989, Ed would own Fire Island Ferries (FIF) outright and the Mooney family dynasty would begin in earnest.
OH CAPTAIN, MY CAPTAIN Currently at the helm of Fire Island Ferries is our cover subject, President Timothy E. Mooney—a casual but savvy businessman sporting an early spring tan and an even-keeled temperament (which seems to belie the "Captain Snake Wake" nickname he earned in younger years). Tim is a leader in transportation…simply the type without any roads. It is a difference made evident only by his work attire: leather loafers, khaki shorts and a crisp, open-collared dress shirt. Even his eyes are water-colored (be it more Caribbean blue than Great South Bay grey). But don't let the casual appearance fool you. This captain is a full-time businessman and part-time bassist who's continually charting a course to ensure his family's continued success.
BLOOD IS THICKER THAN WATER Ed, now officially retired and approaching 90, still shows up at the dock most summer days to "oversee" the dynasty he began building nearly 50 years ago. It is a right he has fully earned, according to Tim who now runs the business together with his brother, coowner and Vice-President Michael.
Michael—more of the construction man—works mainly behind the scenes, managing important aspects such as dredging, bulk head and dock repair (using much of their own dredging equipment). Tim, a licensed captain since 2008, has enjoyed his time on the water, meeting and greeting the wide variety of passengers (and pets) that Fire Island attracts. But these days, he has abandoned the wheel house, spending most of his time on terra firma, overseeing and expanding business operations
FULL SPEED AHEAD Last year alone, Fire Island Ferries transported more than 1.1 million passengers to and from eight western ports on the shore of an island which measures less than 10 square miles. An additional 110,000 travelers also use FIF's water taxi service (acquired in 2004) which provides private transportation and/or service for those who need to travel along the island or before and after regularly scheduled ferries. The taxi often carries home a full load of exhausted workers at the end of a long night—everyone from kitchen cooks and wait staff, to bartenders and band members—and has been unofficially dubbed "The death boat."
When you consider that the vast majority of the 1.1+ million travelers make the trip between 7:00 am and 10:00 pm during a brief three-month span from Memorial Day to Labor Day, you soon realize that kind of volume requires a substantial fleet of floating vehicles, a far cry from the original ragtag assembly of surplus military equipment and rumrunning boats used by FIF founders in the early days after World War II. While discussing the current count (28) and capabilities of his current fleet, a wry smile appears on Tim's face, telling me there's something more. Two more to be exact. And thanks to Road Warriors June publication date, Tim was willing to share some news which explained his excitement. This May, just in time for the 2019 summer season, Fire Island Ferries will welcome two vessels to their growing fleet including a new water taxi, worth close to half a million dollars. But the true "pièce de résistance" is the brand new 3.1 million dollar passenger ferry to be named "Isle of Fire" (paying homage to one of the original Fire Island Ferries vessels) which was custom built in Rhode Island.
Investment in their fleet is only part of their business strategy. When the local legislature controls passenger pricing (be sure to read "Navigating the Regulatory Waters" below) you need to find other ways to increase.
\margins and grow your business. And every ferry operator needs a land-based ferry terminal. Or two, as in the case of FIF, who owns both Bay Shore terminals, together with the adjacent pay-for-parking lots which are summertime gold for same-day Fire Island visitors ("daytrippers") who are the backbone of Tim's ferry business. For good measure, they also own the exclusive rights to four of the seven Fire-Island terminals they service.
TAKE A LOAD OFF, FANNY Daytrippers may be the bread and butter of their ferry business, but bagels and baggage are nothing to sneeze at. While Tim-the-bassist and The Band may encourage listeners to "take a load off," make no mistake that it's only the song which suggests you "take a load for free." Timthe-owner will happily help you carry your load, starting at around $6 a bag. And that baggage adds up… from booze and bikes to building supplies and barbecues. Many businesses on Fire Island are also regular freight customers, utilizing the service to bring supplies and perishables to their restaurants and shops on a daily or weekly basis. Part-time residents and long-term renters account for a piece of the revenue as well, despite loading up heavily only once or twice a season. But like the passengers they carry, the freight transported by FIF is often just as unique, such as the million dollar piece of artwork made from non-recyclable plastic bags. However, it's the small things that make the biggest impact. A Long Islander on vacation may live without their blow dryer, but don't mess with their bagels. Just ask Tim about the "bagel boat" which departs Bay Shore promptly at 5:15 am packed to the gills with some of Long Island's best bagels, making their way to multiple Fire Island food stores and eateries, ensuring that no visitors' lox will ever be lonely.
A BAROMETER FOR BUSINESS: HIGH PRESSURE PREFERRED Fire Island Ferries' strongest opponent and fiercest friend is one-in-the-same and belongs to neither political party… she is Mother Nature. According to Tim, weather can have the most dramatic impact on the ferry business, and it has nothing to do with traversing rough waters. A warm, sunny summer will provide the greatest increase in ridership, attracting more daytrippers, beach bunnies, bar hoppers, and happy campers (literally). Unseasonably cold or rainy weather can dampen an already short season and diminish profits just as quickly. Fewer beach-worthy days will discourage sun worshippers and impromptu family outings. Renters will likely have fewer houseguests while open air businesses and restaurants will have fewer patrons, taking a toll on both ferry ridership and local businesses, in turn reducing the need for additional freight services. So like all those whose livelihoods revolve around water, Tim continually hopes for high pressure with bright, sunny skies.
NAVIGATING THE REGULATORY WATERS Water-based transportation business faces additional challenges as well. Some say even greater than those of their landbased counterparts. Regulations, requirements, permits and licensing for Fire Island Ferries often involves the approval and/or assistance of a multitude of municipalities and state agencies including: • Towns of Islip and Brookhaven (the municipality which owns the waters they travel on, and where their two Bay Shore terminals and related parking areas are located) • Suffolk County (who technically owns the shorelines where they operate and regulates fares) • Army Corps of Engineers (for all things Fire Island-related which is part of the National Parks Department) • Dept. of Environmental Conservation (who issues maintenance permits for dredging and related work) • U.S. Coast Guard (responsible for enforcing regulations for both operators and passengers on the water) • Environmental Protection Agency and/or National Transportation Safety Board (which may come into play in the event of an incident)
However, unlike our competitive bidding system where contractors can calculate and incorporate these "costs of doing business" as part of their bid, it is the Suffolk County Legislature that holds the power of pricing for ferry operators. (Yes, you read it correctly). Although the ferry is privately owned and operated, passenger fees must be approved by the Suffolk County Legislature. That may explain why 2019 is the first time in four years that there has been an increase (currently $21 for a daily round trip, a fair price for the scenic 30+ minute trip). The process for proving and presenting your case to the legislature is long, so when something like fuel prices go out of control for several months and raise operating costs dramatically, the situation is often over by the time you get a chance to request an increase. It's just part of doing business.
Despite all these challenges, Tim seems at peace with the process. He believes the legislature has been responsive when needed so the system works. He also claims to maintain good working relationships with local leaders and the various agencies, noting the particular importance of a strong relationship with the Coast Guard, clearly respecting their authority and what they do to keep boats, boaters and passengers safe. Tim's biggest concern is the new minimum wage law, one which is also shared by many business owners on Fire Island. With the large majority of employees being young, inexperienced, seasonal workers, the impact of such dramatic wage increases will be felt by all. Tim understands higher wages for more experienced, full-time workers who are supporting families, etc. However he takes issue with such high entry-level wages for young, inexperienced, part-time workers, many who work only for a summer or two during school and of whom the main requirement is to simply "show up". It is an issue that he will be monitoring closely this summer and one that may require him to make another trip to the Suffolk County Legislature - sooner rather than later.
THE TIDES OF CHANGE While one of Tim's twins, Brittany, works in NYC for Michael Kors, his oldest daughter, Kelley, headed west toward the waters of the Pacific and is currently an investor in an 1865 silver mining town. But Tim and Mike —the second generation of Mooney's—continue to set a course for success, with the third generation of Mooney's already on board (literally and figuratively). Simply head down to the docks and you'll find Tim's son, Brendan, hard at work helping with parking and freight operations. Then hop on a ferry and keep an eye out for Brittany's twin sister, Morgan, who, by the tender age of 20 had earned her license and has since taken her rightful place behind the wheel, in the Captain's chair. Tides, and times, may change. But for Fire Island Ferries, it appears the Mooney legacy is here to stay and remains on course.
Q. Favorite Fire Island port?
A. Kismet
Q. Favorite time of day?
A. Early morning sunrise with calm, flat waters.
Q. Favorite vessel in your fleet?
A. The new "Isle of Fire"
Q. Favorite Fire Island "Fun Fact"?
A. The day after Labor Day is known as "Tumbleweed Tuesday" because of how desolate the island becomes just one day after the massive crowds and renters leave.
Q. Notable passengers spotted on board FIF?
A. Uma Thurman on occasion and even Supreme Court Justice Sonia Sotomayor
Q. Rowdiest groups to ride the ferry?
A. Bachelorette parties, believe it or not (Bachelor parties often pale in comparison)
Q. Most unusual pet/animal you've transported?
A. I've seen a lot but a recent standout was a dog dyed bright pink (below).
Q. Best part of your job?
A. The people you meet.
Q. Worst part of your job?
A. A few of the people you meet…
Q. Best & worst part about working with family?
A. Getting to see them every day (good & bad) and the fact that they are not afraid to tell you what's on their minds (again... good & bad)!
Q. Proudest accomplishment?
A. Raising four good kids with my wife Jane.
Q. Biggest challenge ahead?
A. The weather (think global climate change too). No amount of marketing can help you overcome bad weather.