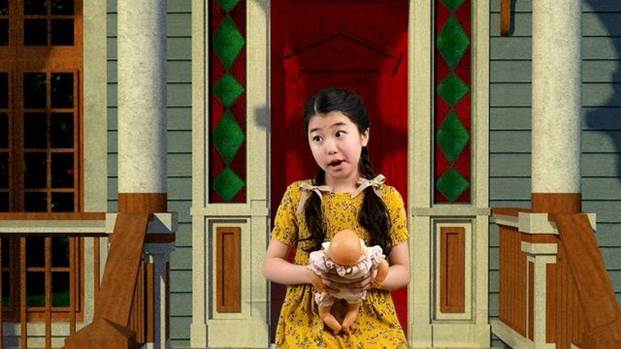 Kylie Kuioka, as Tootie
Meet Me in St. Louis
                    by Deirdre Donovan
Thanks to the Irish Repertory Theatre, theatergoers could shed their pandemic blues over the holidays and re-acquaint themselves with the heart-warming classic, Meet Me in St. Louis.  Adapted and directed by Charlotte Moore, the old chestnut took on a fresh look and flavor, with its "green screen" wizardry and talented cast. 
          If you need a refresher on the story, here it is in a nutshell:  An early 20th-century St. Louis family, on the cusp of seeing their hometown host the 1904 World's Fair, struggle with the reality of leaving their beloved city when paterfamilias Alonzo Smith gets transferred to New York.  The family try their best to pack up their belongings without getting teary-eyed for their Midwest home.  But, as they get closer and closer to moving day, they realize that it's not easy to say "goodbye" to those they love (including some "new flames") and the places they hold dear.
Having watched the other virtual offerings from the Irish Rep this season, I was wondering if this digital production would measure up to the same high quality of technical innovation and know-how of their earlier shows.  Well, not to worry.  This Meet Me in St. Louis delivered in spades.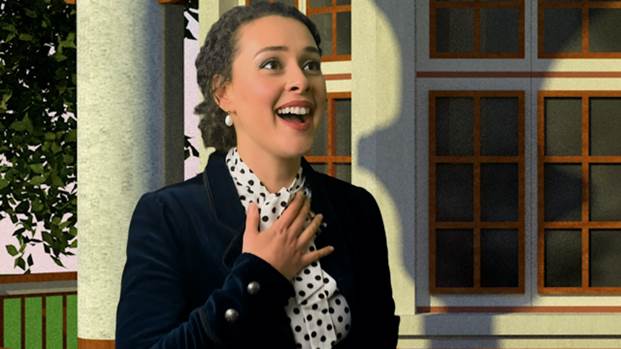 Shereen Ahmed, as Esther
There's nothing that replaces seeing a show in a brick-and-mortar theater.  But the Irish Rep has so seamlessly mastered the art of filming and editing remotely (the company has utilized "green screens" to make cast members seem as if they were performing in the same physical space) that their virtual productions this season have been real testaments to what technology and the human imagination can achieve.  And Meet Me in St. Louis may well be the capstone of their digital offerings to date. 
The real reason, of course, that this revival sparkled so bright was that Moore was at the helm with a steady hand.  Moore smartly abridged the text of the lavish 1989 Broadway musical adaptation (book by Hugh Wheeler) for her new streamlined version. The Broadway production was based on Sally Benson's Kensington Stories and—you guessed it-- the MGM motion picture Meet Me in St. Louis (starring Judy Garland as Esther Smith). 
Happily, Moore kept in the show's most popular tunes, including "The Trolley Song," "The Boy Next Door," and "Have Yourself a Merry Little Christmas" (songs by Hugh Martin and Ralph Blane, music direction by John Bell, and orchestrations by Josh Clayton).   While each song in the musical has its own magic, who can resist that tear-jerker "Have Yourself a Merry Little Christmas" (sensitively sung by Shereen Ahmed) in Act 2.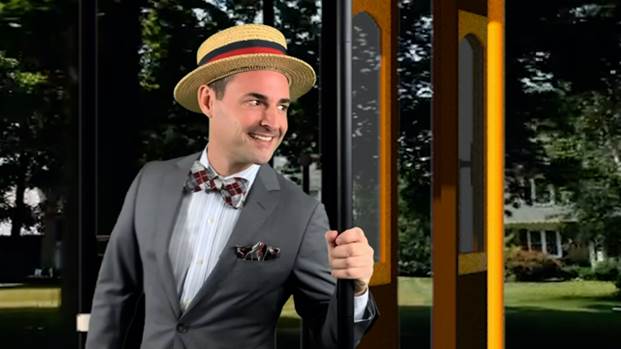 Max Von Essen, as John Truitt
You'll be forgiven if you didn't know that Moore, a two-time Tony-nominated actor, played the mother in the 1989 Broadway musical or that the Irish Repertory Theatre last presented Meet Me in St. Louis in 2007.  After all, it's difficult to keep up with all that Moore has artistically accomplished over the years since she left her Southern Illinois home (she got her master's degree at Washington University in St. Louis) and settled in New York.  But, that said, there's no question that Moore's deep familiarity with Meet Me in St. Louis enabled her to make it virtually hum and hum it did.
If the direction was excellent, the acting was spot on.  Rufus Collins, as Alonzo Smith, projected the necessary authority as the family's paterfamilias.  Melissa Errico, as Alonzo's wife Anna, balanced the strength and submissiveness that her maternal role demanded.  Ali Ewoldt, performed the oldest daughter Rose, with just the right amount of poise.  Shereen Ahmed played the slightly younger daughter Esther with the perfect blend of grace and grit.  Pint-sized actors, Austyn Johnson and Kylie Kuioka, playing the two younger daughters Agnes and Tootie, respectively, were appropriately feisty.  There was more acting muscle flexed with Max von Essen, William Bellamy, Ian Holcomb, and Jay Aubrey Jones performing John Truitt, Lon Smith, Warren Sheffield, and Grandpa, respectively.  And let's not forget Kathy Fitzgerald, as the maid Katie, who infused genuine Irish spirit into her role.  
Let's hear it for old-fashioned, feel-good musicals like Meet Me in St. Louis!  Indeed, nothing held a candle to it over the holidays.  It was a family show with something for everyone, with its romancing, childhood pranks, family misunderstandings (and make-ups).   And, oh yes.  For bringing this delicious classic back to New York during a most difficult time, let's raise a toast to Moore—and the entire cast and creative team.
Meet Me In St. Louis
December 11, 2020 – January 2, 2021
Running time:  85 minutes
For more information on the Irish Repertory Theatre and their upcoming productions and events, visit www.irishrep.org.