A Good Thing Going: The Stephen Sondheim and Harold Prince Collaboration. Lyrics & Lyricists , 92Y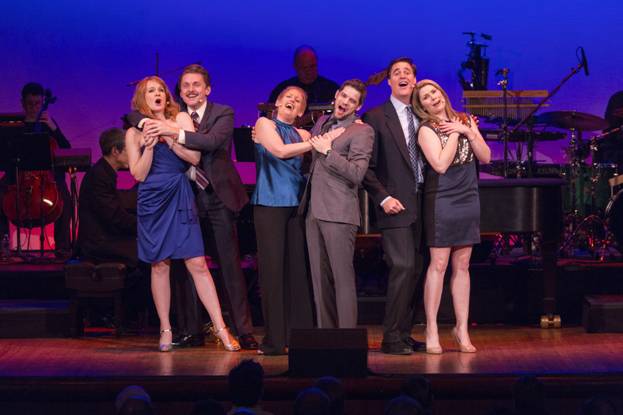 Photos courtesy of 92Y
by Joel Benjamin
The 92Y's Lyrics & Lyricists series shined its impressive lights on the six musical collaborations between Stephen Sondheim and Harold Prince that began hopefully with the stingingly insightful Company (1970) and ended with the disappointing disaster of Merrily We Roll Along (1981). David Loud, an actor, singer, musician and writer, who made his Broadway debut in Merrily was the smart host whose personal experiences enhanced what might have been a catalog show. Even a Steve Sondheim catalog show, however brilliant the songs are, needs organizing, careful curating and some spark of excitement. Here Mr. Loud was helped by his stage director Noah Racey and music director Joseph Thalken who led the six-member ensemble, dubbed the "Sondheim Symphony Orchestra" in richly witty arrangements.
Six fine singers skillfully, if not brilliantly, sang the more than twenty numbers. After the opening "Good Things Going" from Merrily, the show traveled chronologically through the musicals with Company represented by a smooth "Company," followed by such songs as the mordantly sad "Sorry-Grateful" sung by James Clow, Jason Danieley and Jeremy Jordan and the manic portrait of insecurity "Getting Married Today" sung by Kate Baldwin, Liz Callaway and Mr. Danieley. "You Could Drive a Person Crazy" was given the glossy nightclub treatment by Ms. Baldwin.
From the exquisite Follies, the sampling included a series of solos: Heidi Blickenstaff's heartfelt "Losing My Mind"; Ms. Baldwin's tart "Could I Leave You"; and Jeremy Jordan's youthful look at "The God-Why-Don't-You-Love-Me Blues."
The highlight of the A Little Night Music section was Ms. Callaway's breathtaking "Send In the Clowns" which was followed by the spirited "A Weekend In the Country" sung by the entire cast.
Why Mr. Loud chose three downbeat songs from Pacific Overtures and not "Someone In a Tree" is a mystery, probably having its roots in limited rehearsal time. The three numbers didn't capture the full dynamic range of this unique and colorful show, but were smoothly sung.
The Sweeney Todd: The Demon Barber of Fleet Street chapter began with a tensely sung "The Ballad of Sweeney Todd" followed by Mr. Danieley's luxuriously sung "Johanna" and Ms. Blickenstaff & Mr. Clow's lip-smacking "A Little Priest," the funniest show of the evening.
The Merrily We Roll Along section was the most involving because of Mr. Loud's blow-by-blow description of how the show was assembled and all the mistakes along the way: the constant changes, the firings and the overall confusion of a cast of young performers trying to act middle aged.
Liz Callaway, who also was in the original cast, sang a medley of "Old Friends" and "Now You Know."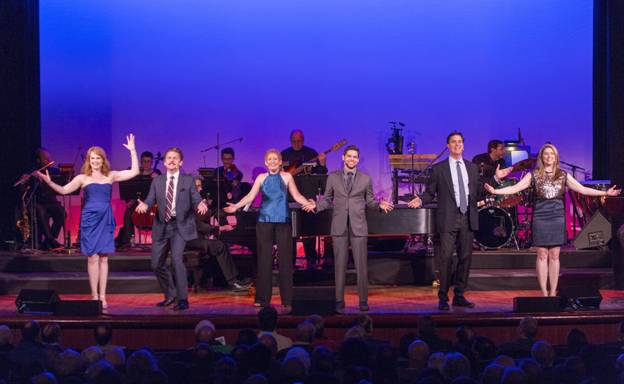 The program ended with a really beautiful staged "Our Time" in which each singer reprised previously sung solos all of which meshed hauntingly with that song. This was pure genius.
There are several Lyrics & Lyricist programs coming up quickly. Don't miss them.
92Y Lyrics & Lyricists
92nd St. Y
1395 Lexington Ave. between 91st & 92nd St.
New York, NY
Tickets: 212-415-5500 or www.92Y.org/lyrics