Gabriel Ebert, Maechi Aharanwa in The Misanthrope at the Prospect Park's LeFrak Center
Photo: courtesy of Molière in the Park

Celebrating the 400th anniversary of Molière's birth, Molière in the Park presents the playwright's supreme masterpiece, starring Tony winner Gabriel Ebert.

The Misanthrope

A Review by Deirdre Donovan

That rebel against society, Alceste, was recently resurrected in a multi-cultural mounting of The Misanthrope at Prospect Park's LeFrak Center in Brooklyn, under the aegis of Molière in the Park (MIP), in partnership with Prospect Park Alliance. Directed with sparkling comic finesse by Lucie Tiberghien (she's also MIP's founding artistic director), and starring Tony winner Gabriel Ebert (Matilda: The Musical), this fully staged production was both funny and fun.

Rusty on the plot-line of The Misanthrope? Or a newbie yearning for a first taste of the classic? No worries. Just go early to the show and get the virtual program that can be easily scanned when you pick up your tickets (they are free to the public). In it, you can read the program note by Tiberghien that points up the ambiguities that lie at the heart of this social satire and a broad outline of the story. Or as she puts it: "Is it a play about a commendable, honest man Alceste, who heroically sacrifices everything to denounce the lies of his peers and loved ones? Or is it about a reprehensible extremist, a madman, who would rather destroy everything in his path, including the woman he loves, rather than compromise even just a little? Molière never tells us where he stands and therein lies the beauty and humor of this rich and opaque portrait of eight aristocrats in 1666. Except that in our production, 400 years after Molière was born, the time is now."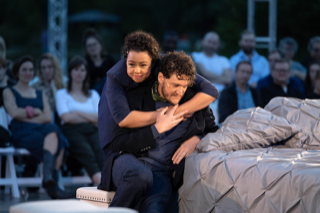 Margaret Ivey, Gabriel Ebert in The Misanthrope
Photo: courtesy of Molière in the Park

Transposing a 17th century play into the new millennium is a tall order. However, Tiberghien managed to do it quite well here, thank you. For starters, she assembled a cast that has the chops to deliver the iambic pentameters of Richard Wilbur's sublime English translation, not to mention the acting talent to pull off this comedy of manners in an outdoor performing space.

Obviously, a production of The Misanthrope greatly depends on the aptitude of the actor playing Alceste. And, fortunately, Ebert gave us a first-rate portrait of the quixotic hero, impersonating him with the requisite righteousness, spleen, and histrionics.

No, Ebert wasn't the only one who was watchable on stage. Maechi Aharanwa, as the coquettish Célimène, blended wit and charm to naughty perfection. The rest of the energetic company—Margaret Ivey, Janie Brookshire, Chris Henry Coffey, Danaya Esperanza, Nate Miller, Aline Salloum, and Kate Siahaan-Rigg—put their New York signature on their respective characters.

Of course, it's unfair to single out any one of these supporting thespians as "best," given that they all held their own on stage. Still, Coffey, as Oronte, did shine brightly as the dull sonnet writer and unsuccessful wooer of Célamène. And Ivey's gender-bending Philinte and Esperanza's Éliante almost stole the show at the denouement as they tried, in good conscience, to determine who should be romantically entwined with who.

The production values were all in place. Teresa Williams' minimalist set, lit by Stoli Stolnack, was dominated by a plush silver-quilted bed at center stage, with four stools at each corner of the rectangular platform stage. Dina El-Aziz' coherently eclectic costumes were a blending of haute couture and urban chic. And, oh yes, let's not forget Célemène's fabulous white platform shoes that allowed her to strut her stuff and literally increased her stature on stage. Gimmicky or not, they were eye-catching.

It may be worth mentioning that Molière himself played Alceste and his young wife Armande Béjart played Célemène at the premiere of his play on June 4, 1666, at the Théâtre du Palais-Royal, Paris. Molière purportedly wrote the part of Alceste for himself. And, in a clear case of art imitating life, the playwright's young wife Béjart had a reputation for being promiscuous. Little wonder that The Misanthrope sizzles on stage.

On the Saturday evening I attended the show, the weather was unseasonably warm—and yet it felt just right for watching a play under the stars. The freshly leafed trees framed the stage perfectly and audience members looked pleased as punch to be in the outdoors together.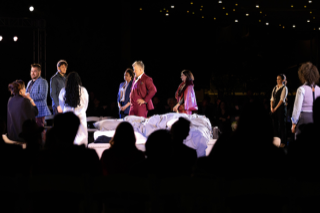 The full cast of The Misanthrope
Photo: courtesy of Molière in the Park

In fact, during the show's intermission, I had the opportunity to chat with a young woman sitting next to me, who evidently was enjoying the al fresco entertainment. And why? She shared that she simply loved being able to watch a show in Prospect Park for free, especially after being cooped up for so long during the pandemic.

So say what you will about the fancier Broadway shows playing across the bridge in Times Square, nothing beats enjoying a Moliere masterpiece completely gratis, in the good company of Brooklyn-ites.

The show clocked in at just under two hours, and following a triumphant curtain call, the audience members slowly drifted out of Prospect Park to return to their homes.

And, dollars to donuts, each and every one of them will forever remember this revamped Misanthrope that breezed into the LeFrak Center in mid-May—and left all too soon.

May 13th through May 25th.
At Prospect Park's LeFrak Center at Lakeside, in Brooklyn.
For more information, visit www.moliereinthepark.org
Running time: 1 hour, 40 minutes with one 10-minute intermission.