Fed plan to drill for oil off LI draws bipartisan protest
Dozens of speakers oppose Trump administration proposal to open New York waters to offshore drilling.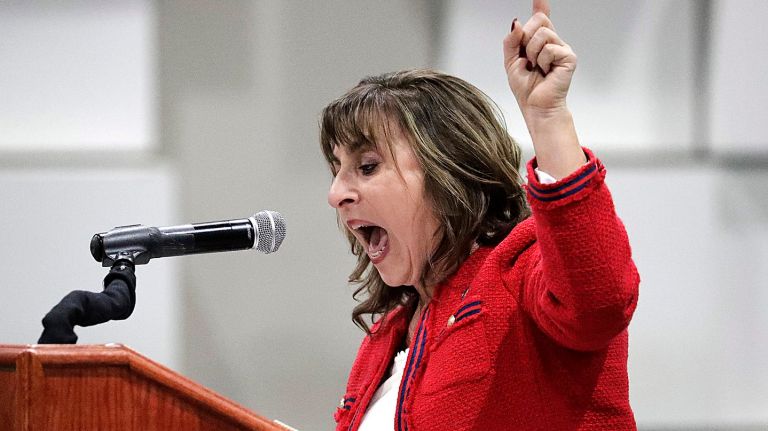 By Sophia Chang sophia.chang@newsday.com @schangnewsdayUpdated March 3, 2018 8:12 AM

Drilling for oil in Long Island Sound and nearby Atlantic waterways would be catastrophic for environmental and economic reasons, dozens of speakers told federal officials at a hearing Friday in Brookhaven Town Hall.
Rep. Lee Zeldin (R-Shirley), who opposes offshore drilling in the region, organized the hearing for residents ahead of a public comment deadline next Friday on a Trump administration plan to open nearly the entire U.S. coastline to oil and gas drilling, including two zones near New York.
Representing the Department of Interior were John Tanner, director of the Office of Congressional and Legislative Affairs, and Kate MacGregor, assistant secretary of Land and Minerals Management.
Zeldin told them "there is no evidence of these resources even being located off of Long Island" and that Long Island Sound supports an estimated $37 billion economy that would be harmed by offshore drilling.
"Protecting our environment goes hand in hand with protecting commerce in our region, where so many jobs and small businesses depend on scenic beaches, parks and clean water to attract visitors and economic growth," Zeldin said.In January, Gov. Andrew M. Cuomo asked Interior Secretary Ryan Zinke to block drilling off New York's shores..
Zinke has agreed to protect Florida from the list of potential drilling sites as he issued a new oil-rights leasing plan to replace a five-year plan ending in 2022 that was issued in November 2016.
The new plan proposes selling nine leases in the Atlantic region, where none exist currently.
Hundreds attended Friday's hearing to voice their objections, including politicians from both parties.
"This is a bipartisan opposition," said Brookhaven Town Councilman Kevin LaValle, a Republican. "We are all Long Islanders. We all use and enjoy our waterways."
"Are we willing to industrialize our pristine coastlines?" asked state Assemb. Christine Pellegrino (D-West Islip). She drew cheers as she told the Interior officials, "Long Islanders will not stand idly by as the federal government endangers our coastline."
Afterward, Zeldin said he hopes Zinke heeds the criticism.
"I'm confident that after today's testimony that we'll be in an even stronger position than we were before to successfully remove our area from the next draft proposal to be released," he said.